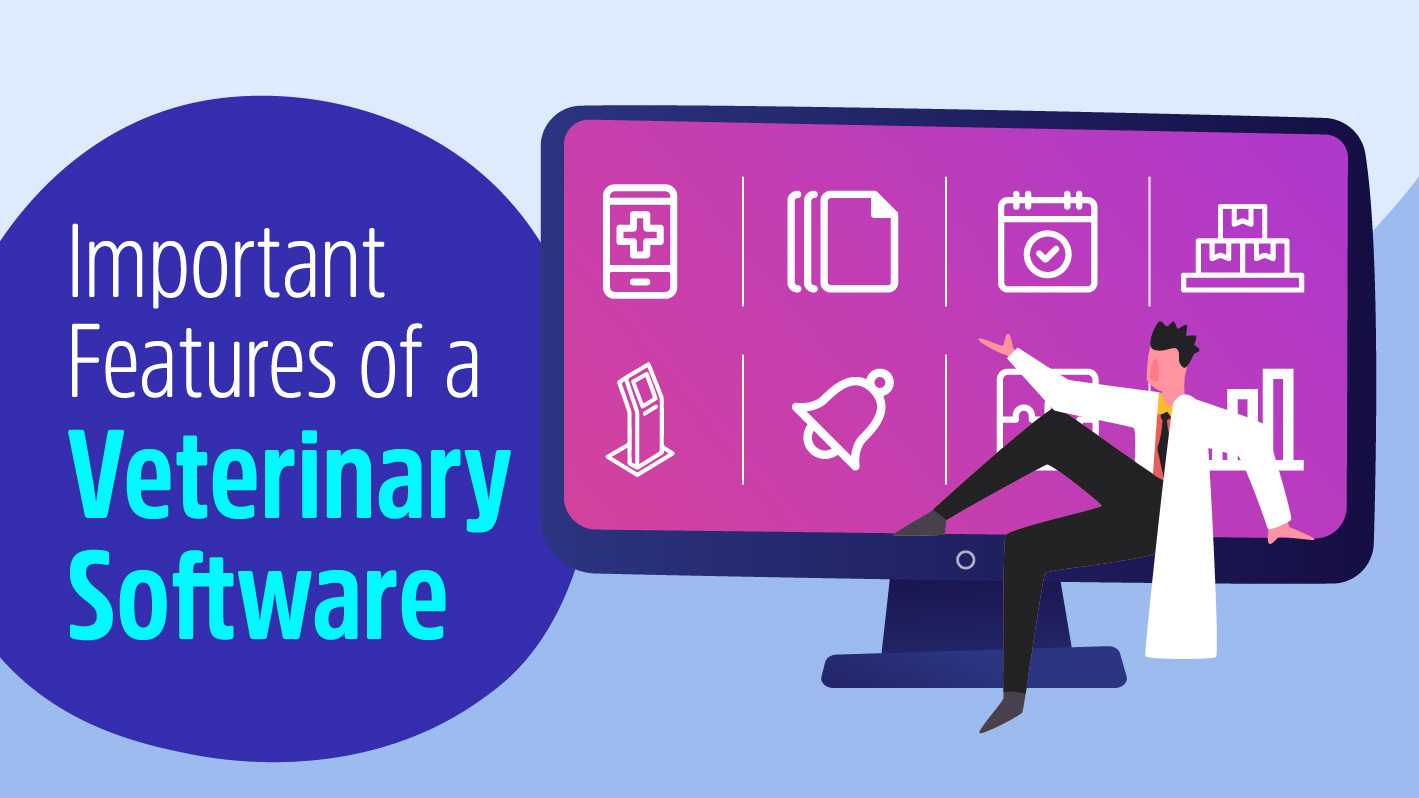 24 June 2021
Must Have Features in Veterinary Software You Need
---
Just like other healthcare systems, managing veterinary practices is also a daunting task. Having an improper management system can cause delays in scheduling appointments and pet treatment besides other things. In such cases, veterinary software comes handy. It helps vet clinics and animal care professionals to be more productive at their work.
What is Veterinary Software?
A veterinary practice management software resembles a customer relationship management software (CRM). However, the key difference between the two is that a CRM software has basic features to allow organizations to access customer data and streamline customer interaction; whereas, a veterinary software is meant specifically for vet clinics. In addition to the basic features, it is also packed with advanced medical features to help improve the efficacy of veterinary clinics and ensure better pet care.
It's important to have a sound knowledge of veterinary software and its uses before using it. This blog aims to discuss in detail all the important features and benefits of using veterinary software.
Why do you need a Veterinary Practice Management Software?
Veterinary clinics can use veterinary software for various purposes. Let's have a look at some of the major ways in which this software can benefit you.
Keeping records/Data management:
Managing a veterinary practice isn't easy. From data management to keeping records, everything has to be handled carefully and with complete accuracy. With the help of veterinary software, practices can keep a record of pets, their medical history, and vaccination details without any errors. They can also use this software to keep track of inventory including medicine stock.
Better Time Management:
Veterinary practice management software ensures productivity by helping clinics with time management. Easy data access helps administrative staff to resolve customer queries without any hassle. It also helps doctors to stay focused on treating pets without worrying about managerial issues. They can provide the best treatment to pets by accessing their medical reports and records of their past treatments. It will result in better pet care and the overall growth of veterinary practices.
Data Backup:
Digital records are always better than paper ones as they are more secure. Vet clinics can create backups of their data at multiple locations to prevent it from getting deleted or lost. There are many backup software options available in the market that can be embedded with a veterinary software management system. Apart from this, digital backups also help reduce paper waste and ensure sustainability.
Easy Communication:
Since veterinary software is like a CRM software, one of its needs is to promote easy communication with clients. Using this software, clinics can easily connect with their clients, keep them up-to-date about the latest vaccinations, notify them about their upcoming appointments, and help them with regular pet health checkups. Also, vet clinics can also use this platform to improve their services by recording client feedback, running market surveys and campaigns.
Important features of a veterinary practice management software
There are many important features of veterinary practice management software. Below are some of them.
1. Telemedicine:
There are times when pet owners find it difficult to visit veterinary clinics in person due to a busy schedule and various other reasons. Moreover, nowadays people avoid going out as much as possible because of the pandemic. In such scenarios, telemedicine helps in timely treatment from the convenience of one's home.
Remote diagnostics and treatment of pets are possible only if your clinic has the required data of the patient. By looking at the previous records, you can easily understand a case over a phone or video call or other platforms like Google Meets to help the patient with appropriate remedies. Hence, telemedicine is one of the most important features of veterinary software, especially in the current times.
2. EMRs:
Another important feature of veterinary software is maintaining Electronic Medical Records (EMRs). With the help of this software, vet clinics can keep e-records of pets and their medical history. As a result, you can easily access these records and make well-informed decisions without missing any critical points. EMRs are also safe and secure besides being easily accessible.
Moreover, you can make real-time edits to EMRs, collaborate to discuss a complex case, or download these records to share them with pet owners.
3. Reports and Analytics:
A good veterinary practice management software helps clinics to track their growth and development by generating multiple reports and running data analysis on the clinic's performance. This feature can help clinics measure their growth in different parameters like customer retention, the number of new customers, clinics' rating and feedback, revenue generated, client communications, and various others.
Using reports and analytics features, you can evaluate comprehensive reports in the form of pie charts, bar graphs, and other tabular forms and export them in the form of HTML, PDF, JPEG, and other formats to your digital team or data analytics professionals to gain useful insights.
4. Calendar Schedule and Online Booking:
With veterinary software, clinics can also organize their schedule, work calendar, and help pet owners with online bookings. Effective veterinary software options come with customizable calendars that can be easily synced with Google and iCloud calendars.
This feature can also keep clinics updated about last-minute cancellations and new appointments. Also, clinics can also make a record of different events using color-coding and other interesting options to map the events in order of priority or other factors.
5. Third-Party Integrations:
Many veterinary practice management software support third-party integrations to make data management and medical processes easier. With some veterinary management systems, you can integrate up to 10 or more third-party tools from the software's marketplace to leverage the process.
Practices can help patients make easy payments by embedding multiple payment gateways with veterinary software like a credit card, debit card, and other modes of online payment platforms. Apart from the payments, veterinary practices can also integrate the software with labs like Gribbles and VetScan to get quick access to lab results.
6. Inventory and Supply Management:
Having an inventory and supply management feature is another benefit of veterinary software. You can keep records of medicines and other medical supplies and equipment in stock, the ones that are out of stock, medicine that have expired, etc. to take appropriate actions.
7. In-built Reminders:
In-built reminders is another amazing feature of veterinary software. In-built reminders are useful to notify the veterinarians regarding appointments, new bookings, last-minute cancellations, and other important events. Reminders can also be set to notify staff about the supplies that go out of stock. Practices can also send timely reminders to pet owners regarding their booking schedules. In short, in-built reminders make your task a thousand times easier.
8. Patient Portal:
Most veterinary clinics follow a patient-centric approach these days. If serving your patients in the best possible way is also your mission, then the patient portal feature of a veterinary practice management software will make you achieve it. It will help clients to keep themselves updated about their booking information, checking lab results, scheduling appointments, print prescriptions and bills, and function at their own convenience by accessing the patient portal.
9. Self-Check-In Kiosk:
Self-check-ins are beneficial for both clients and veterinary practices. In situations where staff is busy with other things, clients can make appointments themselves through the self-check-in Kiosk feature of a veterinary software. As a result, time is saved for both your staff and clients.
10. Client Communication Module:
One of the main features of veterinary software is the client communication module. The software makes possible two-way communication between the clinic and clients. Clients can easily connect with customer support through calls or chat, check their booking history, and other things.
The clinic can also send reminders to clients regarding their upcoming appointment, regular checkups, vaccination schedules, and other such things. Effective communication between clinic and clients is necessary to a clinic's growth as customers like sticking to clinics where they get a timely response.
11. Automatic Read-Write Capabilities:
With the help of the automatic read and write feature of veterinary software, you can work as a team. You can simultaneously make edits to the EMRs, assign tasks to your staff and your staff can also write their schedule as per their availability. Veterinary experts can also easily collaborate on different projects by accessing EMRs and other important data in real-time.
Conclusion
Management of a veterinary clinic is as challenging as any other clinic. Without a proper management system, you can face a lot of problems in terms of data keeping and client communication besides other things. However, with good veterinary software, you can make your workplace more efficient and productive.
Veterinary practice management software comes with many useful and amazing features that are not only easy to use, but also help save a lot of your time. This blog is a great place to get started if you are planning to get veterinary software for your practice. Before making a decision, make sure your veterinary software is checking off all the boxes on your best veterinary software checklist.
Related Articles
Streamline your practice with VETport
Sign up Now!!!