Improve Client Communication With VETport's SMS Integrations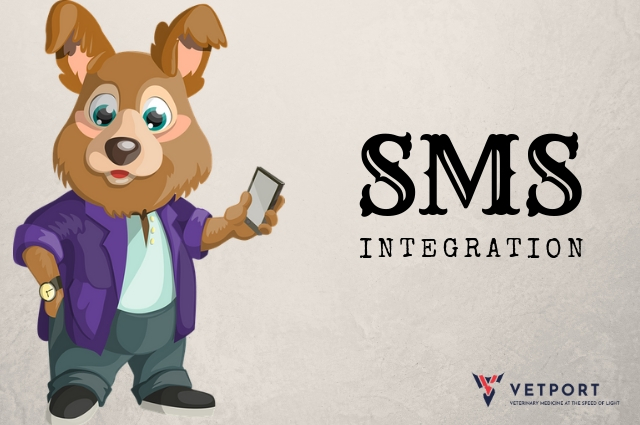 5 August
Improve Client Communication With VETport's SMS Integrations
---
Patient no-shows are a common problem that most veterinary practices face. The incidence is generally higher when appointment bookings are handled manually – reminders are typically the onus of the staff who need to ensure that clients are reminded of their upcoming appointments well in advance. Such manual dependencies often cause errors especially when the staff get held up with other work and forget or fail to send timely reminders to clients. Short Message Service, popularly known by the acronym SMS, is a simple but effective tool that helps bring down patient no-shows through quick reminders. Through a veterinary practice management software, veterinarians can send SMS-es to clients directly from the portal, without the need to rely on a standalone software. Here's a look at how this is possible through VETport.
VetSMS
VetSMS is an in-house integration by VETport that allows veterinarians to send 2-way text messages to clients. This easy to use app gets integrated directly into your VETport account and can be used to send automatic appointment reminders and more. VetSMS lets you choose a custom contact number from which the message gets sent. The app can also be used to communicate details about promotional purposes. For e.g., you can use this SMS integrations to quickly promote a free health check-up campaign for pets. You can also use the app to communicate seasonal alerts to clients – when seasonal illnesses or diseases are prevalent, you can use this text messaging app to quickly educate pet owners about its existence as well as precautions to be followed. Such SMS-es can also contain links to blogs, websites etc. for marketing purposes.
VetSMS can be configured into your VETport account at basic minimal charges. The app works on a monthly + unit cost model and is available under three pricing plans as follows.
PRICING TABLE
All text messages sent to clients can be downloaded as reports available under SMS/Text Msg Log in the
Statistics & Reports module
. Reminder messages can be retrieved quickly through the Reminders section available under Settings.
Message Media
In addition to in-house integration, VETport also supports third-party integrations into its cloud-based veterinary practice management software. One such integration is Message Media, a global messaging solution for business and enterprise. This integration is free and can be accessed from within VETport using your Message Media user ID and password. The app can be used for the following purposes
1. Appointment reminders
Two-way SMS-es that remind clients about upcoming appointments, and allow them to confirm, reschedule, or cancel such appointments. The messages can also include click-through web links that redirect users to payment gateways or other web pages as needed.
VETport makes it easy for you to communicate with your clients from time to time. The software also lets you custom design templates and give text messages a personal touch.
2. Alerts
Critical and real-time SMS triggered in the event of an emergency, cancellation, fault, and so on.
3. Notifications
General communication, transactional messages, and updates about events, offers, changes to general business communication or details etc. Such notifications can also be scheduled in bulk for mass broadcast. These kind of text messages can also be used to share test results of pets, communicate about payments pending or received, and so on.
4. Feedback and survey
Text messages are also powerful tools that can be used to collect feedback on the clinic's function. As a marketing tool, Message Media service helps clients rate their experience through follow-up messages requesting feedback or an SMS review. Such campaigns are easy to implement and help you measure customer satisfaction with ease.
Easy Communication through VETport SMS Integration
VETport makes it easy for you to communicate with your clients from time to time. The software also lets you custom design templates and give text messages a personal touch. All such SMS-es can be sent from within the system, by simply clicking the Send Message option that appears next to every client's contact detail. Combined with other forms of communication such as emails and postcards, VETport's text messaging features equips your practice with increased power and enables you to transform your business for better outcomes.
To know more about how to use 'SMS Communication through VETport', write to us - sales@vetport.com
Try VETport
VETport is a Veterinary Software / Practice Management Software (PMS) which allows veterinarians to organize & manage their practice flawlessly. Here are some interesting features of VETport:

Offers 30 Days of FREE trial for Veterinarians who are new to Practice Management Softwares. There will be no contracts, no obligations, & option to upgrade, downgrade or cancel anytime in that 30 days.
A personalized dashboard with the option to customize as per your need & convenience. Just drag & drop.
Easy appointment fixing with just one click. Send automated reminders to clients as well as providers through call, SMS & Emails.
Task manager to manage & prioritize tasks to be carried out in the clinic.
Integrated with most of the labs to fetch reports without hassle. Options to connect labs like Idexx, Antech, Gribbles, AdShoot, and many more.
Integrated with most payment gateways to easily manage your payments. Receive payments through Credit Cards, Cash, Debit cards, Cheques, etc.
Manage clinic's inventory directly from the dashboard of the Software. Place orders, add vendors, change pricing with inventory management.
Analytics on Accounting, Finance, Marketing, Communication & what not. Get reports on anything & everything that is happening in your clinic.
VETport Marketplace offers applications to add more features to your PMS account.
The option of online booking for your clients.
Free Support, Demo & Training.

sign up for free trial