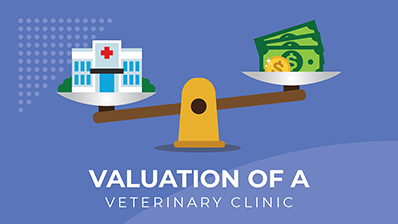 19 June 2020
Valuation of a Veterinary Practice
---
The trend of vet clinic acquisition has made hospital owners wonder what would be the valuation of their practice. Today, more than 15% of veterinary practices in the US are run by corporate groups. There is no stopping to it.
This trend is growing and getting bigger. Our research on past trends revealed that more than 50% of the veterinary practices across the US would be corporatized by 2030.
Jeff, one of my very close friend who is also a practice owner, became curious after seeing our research.
He asked me right away, "What is the selling price of my veterinary clinic?"
I told him it is not simple to answer, it's complicated. But, I also promised him to write an article on the valuation of veterinary hospitals to help owners know the true value of their practice and stay prepared for a hostile acquisition.
And, here it goes.
Buying & Selling of Veterinary Practices
Putting a price tag to business or otherwise called valuation is done when the business owner is interested in selling his/her business and there are potential buyers out there in the market.
When we go ahead with the transaction, it can be either a merger or an acquisition.
There are multiple approaches to do the valuation of a business. But, the underlying principle is usually the same, i.e. both buyer and seller should benefit equally from the transaction.
For example:
Let say the business A wants buy business B. Business B is worth 10 Million Dollars. However, after the acquisition, the worth of business A will increase by 20 Million.

That means, this extra 10 million addition to the net worth of business A because of this transaction should be split equally among both businesses.

Hence, although the worth of B is 10 million, A must pay it 15 million (10 M for business worth + 5 M for the value it adds to business A) for buying this business.
However, when it comes to veterinary practice acquisition, the buyer plays clever.
The seller is usually an individual practice owner who doesn't have enough financial knowledge to know the true value of his clinic.
It is not very difficult for the buyer corporate group to get a deal that favors only themselves. The owner finally ends up in a lousy deal.
Valuation Procedure — The Multiples Approach
Also called the market approach or comparable analysis approach, this is a widely used method to put a price tag on a typical veterinary clinic.
The logic is to compare the valuation of similar veterinary clinics in the market to their operating margin. This ratio is called 'the multiplier' which is multiplied with the operating margin of your clinic to arrive at the valuation of your clinic.
Here is a sample calculation:
Let's say there are 10 clinics similar to your clinic in the region
| Clinic | Valuation (in Million $) | EBITDA(in Thousand $) | Multiplier (Valutaion/EBITDA) |
| --- | --- | --- | --- |
| Clinic 1 | 8.23 | 748 | 11 |
| Clinic 2 | 5.72 | 544 | 10.5 |
| Clinic 3 | 11.68 | 1123 | 10.4 |
| Clinic 4 | 18.91 | 1574 | 12 |
| Clinic 5 | 19.32 | 1954 | 9.9 |
| Clinic 6 | 9.64 | 984 | 9.8 |
| Clinic 7 | 13.80 | 1274 | 10.8 |
| Clinic 8 | 15.59 | 1329 | 11.7 |
| Clinic 9 | 20.96 | 2135 | 9.8 |
| Clinic 10 | 7.47 | 785 | 9.5 |
| Average Clinic 10 | 13.13 | 1245 | 10.5 |
So the multiplier for your veterinary clinic should be 10.5, i.e. the valuation of your clinic is somewhere close to 10.5 times of your operating margin.
Let's say last financial year, the operating margin (EBITDA or earnings before interest, tax, depreciation, and amortization) was $761,000. Then, the fair valuation would be:
10.5 * 761,000 = $7,990,500
Or, roughly 8 million dollars.
However, the valuation also largely depends upon whether the operating margin of the veterinary clinic is going to continue in the future.
Veterinary practices are usually sold when one of the co-owners decides to move out. In those circumstances, there are high chances that your business may not perform that well as it used to.
There are other factors to consider:
When Considering to Sell Your Veterinary Practice
Let's say you are considering to sell your practice. The reason can be anything:
you are old,
you are not able to manage it well,
you are looking for investments, or
your practice is not doing well.
But, you should have a clear picture of how much your veterinary clinic is worth.
Here are the steps you can follow to get a fair idea on the same.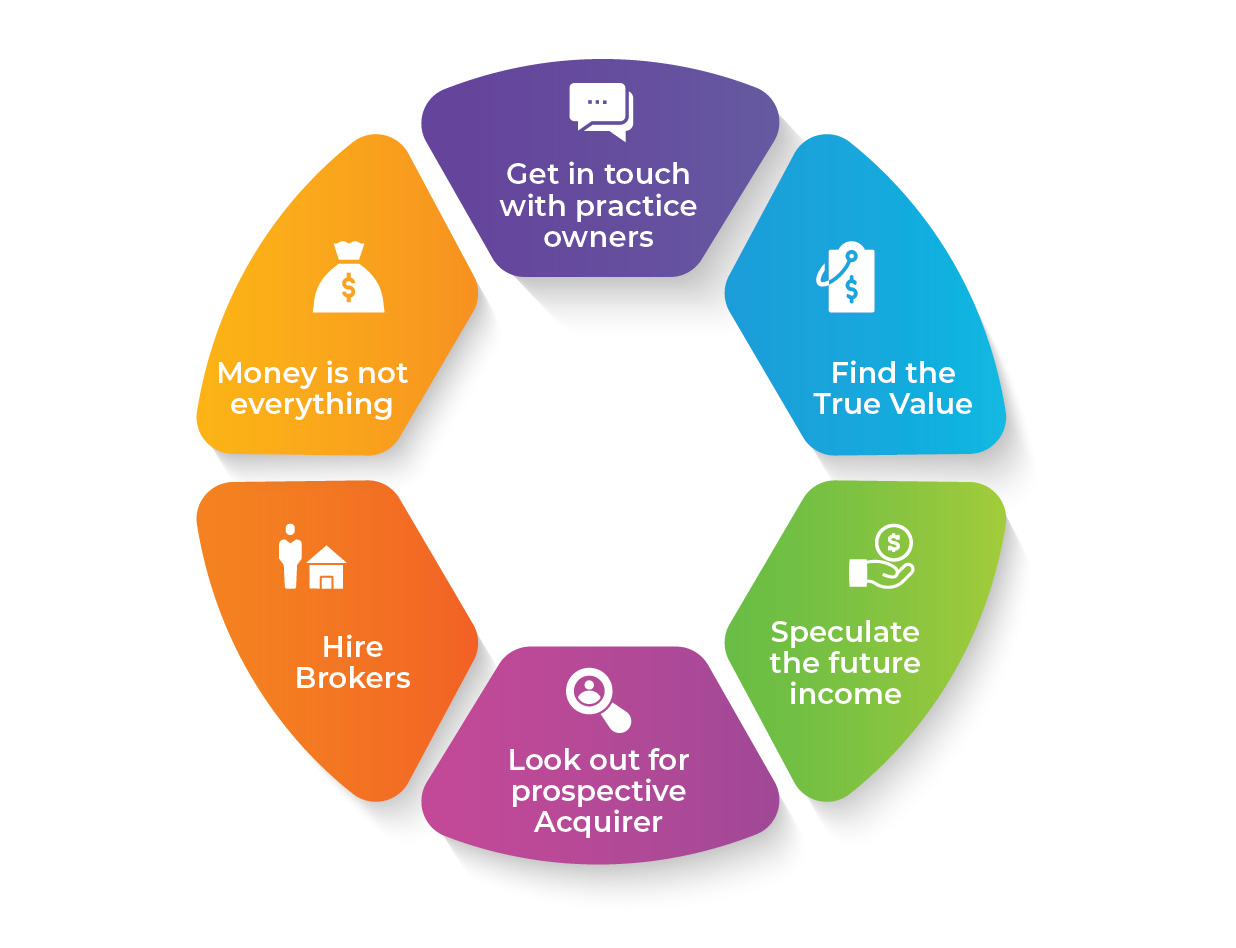 1. Get in Touch With Other Practice Owners
i). Start connecting with the practice owners in your area.
ii). Find out what is the valuation of their clinic and what is their operating income.
Create sample data sets of similar clinics along with their valuation and EBITDA (operating income). The sample data should include clinics that are similar to yours.
For instance, if you are a 2 vet clinic that doesn't have boarding, then consider the clinics which have two vets only and do not have boarding.
2. Find the Value of Your Veterinary Practice
Once you have the data for about 10 clinics, you can calculate the multiplier using the method I showed above.
Typically, the multiplier stays in a range of 6-10 for veterinary clinics with 1 to 2 vets. For a large veterinary hospital, this multiplier may go up to 20.
You will get a rough valuation of your clinic by multiply the multiplier with your operating income (EBITDA).
Let's say the multiplier you found for your region is 9 and your clinic is earning 1 million dollars a year, then the rough selling price you are looking at is 9 million.
3. Project the Future Income
After getting sold, your veterinary clinic may witness better business. You must take those factors into consideration and bargain for a higher figure on selling price.
Similarly, if part of your staff leaves the clinic after getting sold, the business may reduce and you should consider those things as well.
4. Look Out for Prospective Acquirer
Make a connection with the veterinary groups who are acquiring in your area.
Invite them to your clinic. Get them familiar with your staff. Ask for your staff's opinion about the acquisition.
Do not restrict yourself to a single veterinary group, reach out to everyone who is in the business. There are single veterinary clinics also who are on the lookout for acquisitions. Get in touch with everyone.
5. Hire Brokers
There are brokers or consultants who act as a facilitator of these kinds of transitions. They will help you get a better deal than you would get by yourself.
These consultants have huge industry connections that you can leverage for sure.
6. Remember: Money is Not Everything
Do not simply go ahead with the investor who is offering you more money. Look out for those veterinary groups who will add value to your clinic and at the same time respect the legacy you have built over a long time.
Every acquisition they make, it increases their worth much more than they have paid for. So they might just buy your clinic to boost their net worth.
What if they have no interest in the future of your veterinary clinic? What if your staff does not like the way they operate?
It will be a disaster. Do not go ahead with such deals.
Only choose trustworthy investors who will take forward your lifetimes' work that is your veterinary clinic.
I always say that veterinary clinics are delicate business units. They run on trust.
Selling a veterinary clinic is a critical decision. The wave of corporatization is spreading throughout the globe.
If your veterinary clinic is doing well, then there is no doubt you will be approached by veterinary groups one day. It is better to stay prepared before that happens.
I would also recommend every vet practice owner to maintain the balance sheet, income statements, and cash flow statements properly.
Also, if you are closely analyzing key performance indicators of your clinic, it will be very useful during the negotiations.
The use of business analytics tools or sophisticated veterinary practice management software is highly suggested. VETport has a very good business analytics module where you get graphs and pie-charts on Accounting, Marketing, CEO's dashboard, and many more.
Finally, I would like to thank you for reading this post. I wish good business for your veterinary clinic.
Want to try VETport for FREE?
No Credit Card Required
FREE Telemedicine App till Covid Crisis
Access to VETport PMS Email Course
Related Articles
Streamline your practice with VETport
Sign up Now!!!