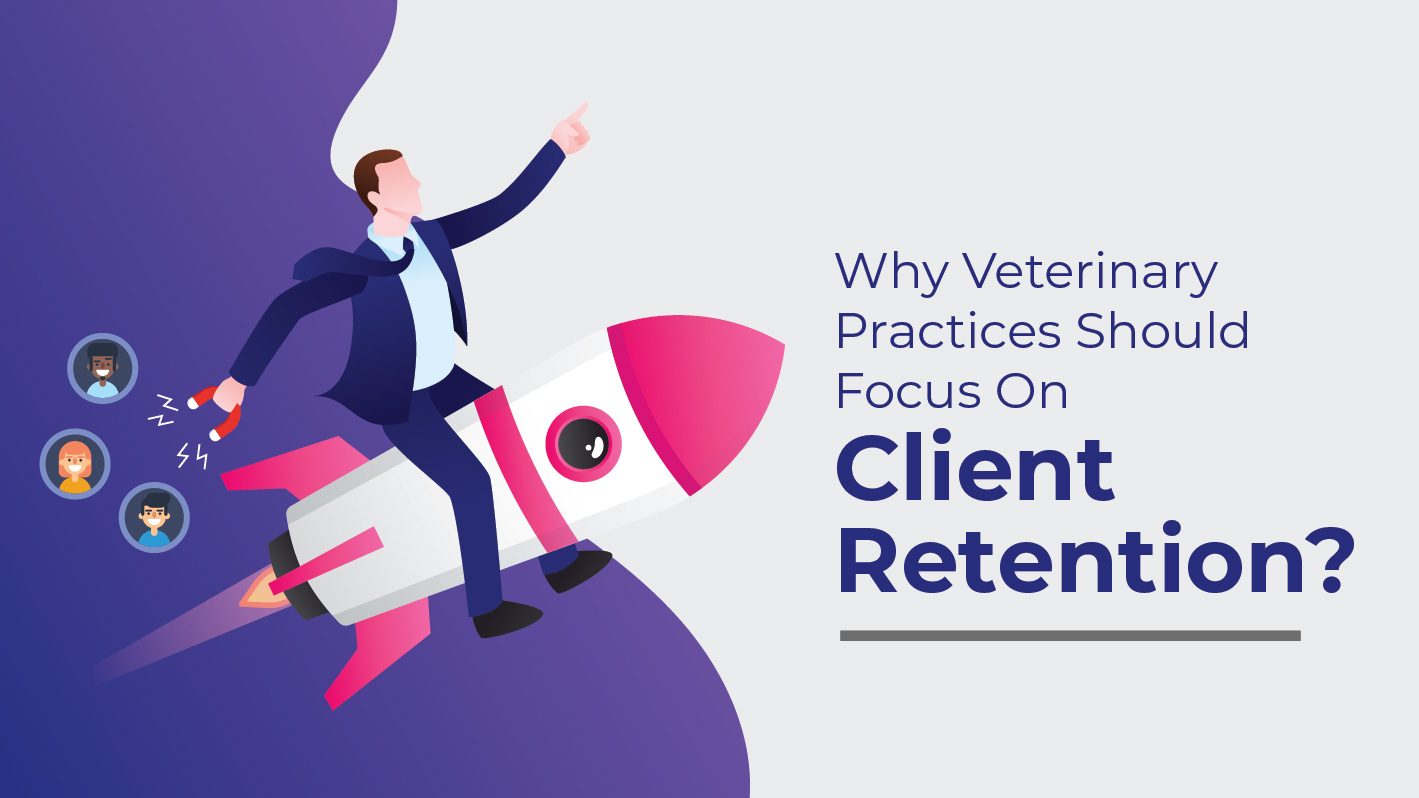 1 May 2019
Client Retention - The Key To Bring Massive Profit for Your Veterinary Practice (And Yourself)
---
Your task is to fill this bucket: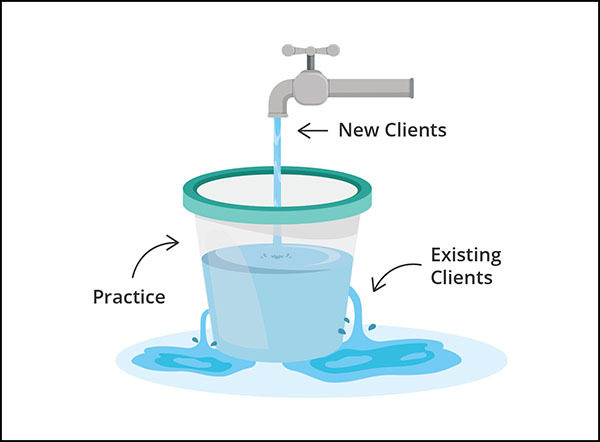 You can either increase the incoming water flow rate or plug the leaks.
What will you do first?
I'll try to increase the incoming water rate
I'll plug the leaks first
Now if I add, bringing more water is not as easy as just opening the tap? You've to take the water in a cup from a river which is 100 m away.
Whatever your answers are, let's see what this has to do with a veterinary practice.
Here your practice is the bucket.
...Water is your client.
...Incoming water refers to acquiring new customers.
...Plugging the leaks is the metaphor for client retention.
For a business, acquiring a new client is five times costlier than retaining a client.
I think you can see the point now.
You should focus on client retention before you expand. Client retention is a symbol that the client has a delightful experience in your practice.
Only then you should think of ways of bringing more clients to your practice. Here we've shared such 4 effective tactics.
Retention for Profit
Here is another key reason why you as a practice owner should focus on client retention: According to a research by Bain & Company, increasing customer retention by 5% can lead to an increase in profits of 25% – 95%.
Let us see two more ways clients retention helps in profit:
The studies prove that the more clients are retained, the less is the need to invest in the new ones. In addition, loyal clients tend to stay for a long time and are willing to spend more at the clinic. According to Marketing Metrics, there's only a 5-20% chance of selling to a new customer compared to a 60-70% probability of selling to an existing customer.
It also ensures that the clinic has an intangible wealth called goodwill and a year-long customer basis to serve. Goodwill ensures that the clinic is always in the subconscious of the clients, and the loyal clients more often refer to the clinic to their friends and family.
Here we've explained with the example of Dr John and Dr Selena, what leaking clients do to your practice.
Dr Selena, who focused on client retention, had 4 times more clients base than Dr John, who didn't.
Why do Clients Leave?
The past few years have been a challenge for veterinary business; running a successful practice isn't as easy as it used to be.
38% of patients never return after a first visit.
The main reason is lack of attention from the practice and too little of the veterinarian's time (source: wedgewoodpharmaacy).
We have put down some of the reasons as to why clients fall out. They are poor response to feedback, unprofessional on-field experiences, poor reminding practices, operational inefficiency like high waiting time for clients, inadequate facilities to manage the pet, etc.
Let's now move on to how can we rectify these shortcomings.
How to Retain Clients
1. Start by making it a priority for your practice's team
Polish the soft skills of the internal staff to be efficient, courteous and engage in a conversation with the client post-visit. One study found that only 35% of employees think retaining a customer is a priority. Therefore, the staff should be trained on the importance of client retention. The dashboard we recommended in this article in this article will help you communicate this with your practice team.
So how can your team achieve this goal?
Reiterate with your team the importance of passing a welcoming smile to pet parents, addressing the pet with their names, and ensure a proper appointment and reminder mechanism.
2. Use Reminders Effectively
Have a follow-up system to send timely reminders to the pet owners. It is very likely that they forget the appointment.
It has dual benefits. It reiterates your goal for patient's care, and it is a good experience for the pet owners too.
Most practice management systems have in-built features to send reminders.
This is how it looks in VETport: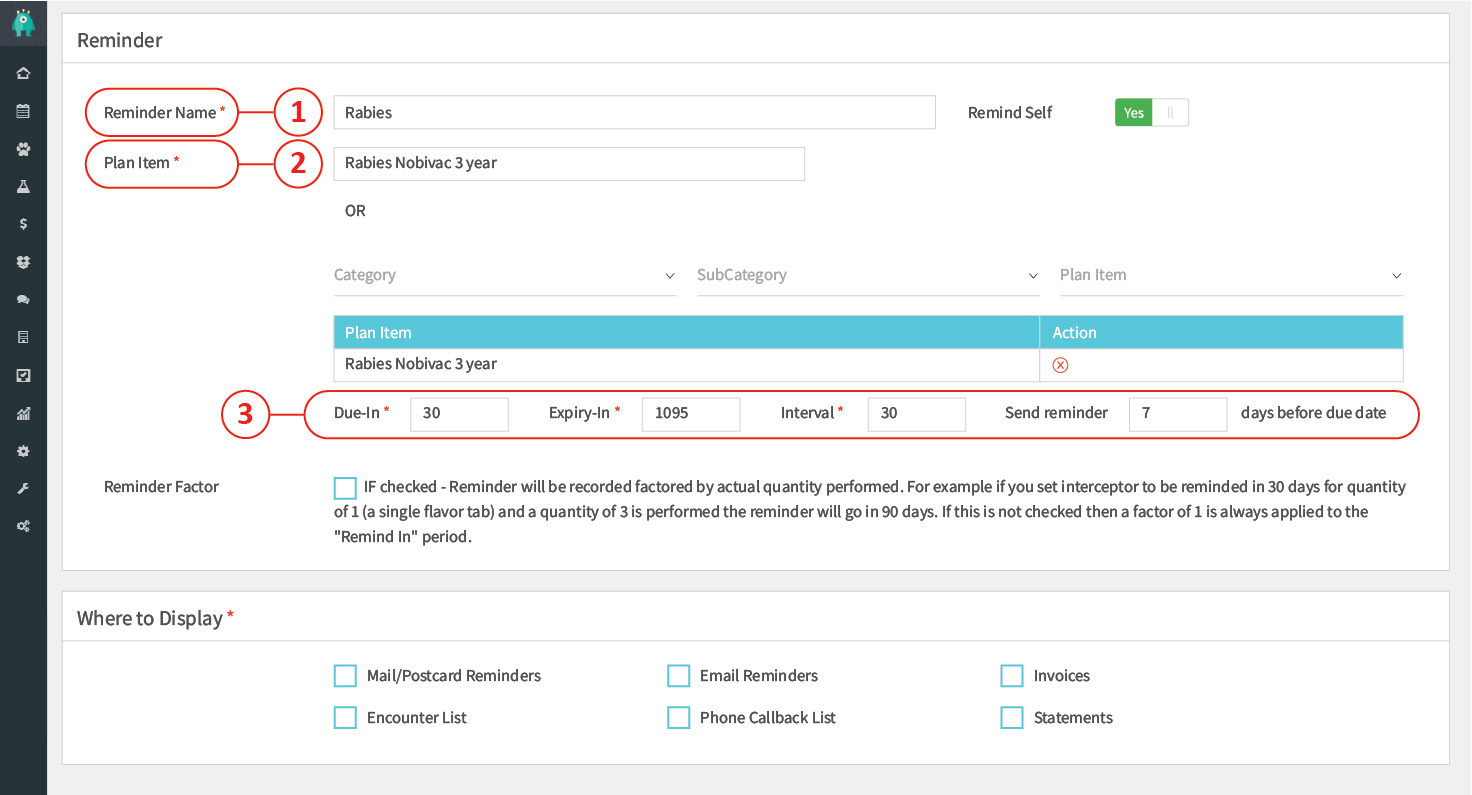 It is very easy to set up and saves countless hours, freeing up your team for more important tasks.
You'll find most of the reminders that you may need on the list already. If you need anything, not in the list, we help you set it up during onboarding.
3. Feedback System
Feedbacks help you see things that you missed.
You should ask for feedback every time someone visits your practice. (Haven't you seen those feedback emails from Uber everytime you take a ride, or from Amazon when an order is delivered?)
You can keep a feedback book on the reception or send an automated message asking for feedback after every appointment.
In VETport, setting up automatic feedback email after every appointment is extremely easy.
Remember, once you have the feedback, it is important to act on it. In this article, we've discussed 9 ways to get clients' feedback with ACAF framework.
Get back to them with the action taken at your end. It gives the client satisfaction of being heard. It also gives you a second chance even if something has not gone as expected by the client.
Remember, once you start ignoring the client feedback, it is the beginning of the end.
4. Setting the Right Fees
Calculate and rationally decide the clinic fees. As fees are such a sensitive matter than can either make or break the relationship with the client. So it's better to finalise terms of fees or charges and stick to it. According to Vet Practice, fee rises must correlate to the level of client service you are offering, with consumers always comparing the value received to the value given.
Along with it, a discount mechanism to retain clients is also necessary. It incentivizes the client and should be decided keeping in mind the cost involved.
5. Promotions and Loyalty Programs
Specially designed promotional offers and loyalty programs are a great way to bring those who you haven't seen in awhile, back into your clinic.
It is not necessary to give a coupon which has a discount on it. The clinic can have a referral coupon wherein if the client refers the clinic to his/her friends and family then they might get a pet grooming session free. Hence, both the clinic and clients win from the coupon.
6. Personalized Service
It is highly appreciated when a clinic offers personalized services to the client.
A study done by Evergage says that 88% of US marketers reported seeing measurable improvements due to personalization – with more than half reporting a lift greater than 10%.
Here are some ideas to make your practice stand out:
Call clients and pets by name.
Send personalized postcards to clients.
Offer customized pet products.
Start a loyalty program
Do–and promote–housecalls
A Delightful Client Experience - The Key to Client Retention
In a study by Deloitte, one of the largest consulting firm in the world, 50 per cent of consumers said that the overall enjoyment of their experience was important in their decision to buy a product or service. The key reason for being loyal to a brand, was overall client experience. beyond value for money, trust, quality, convenience and customer service, respondents regarded
Let us know your experience of implementing client retention measures at support@vetport.com.
Related Articles:
Streamline your practice with VETport
Sign up Now!!!