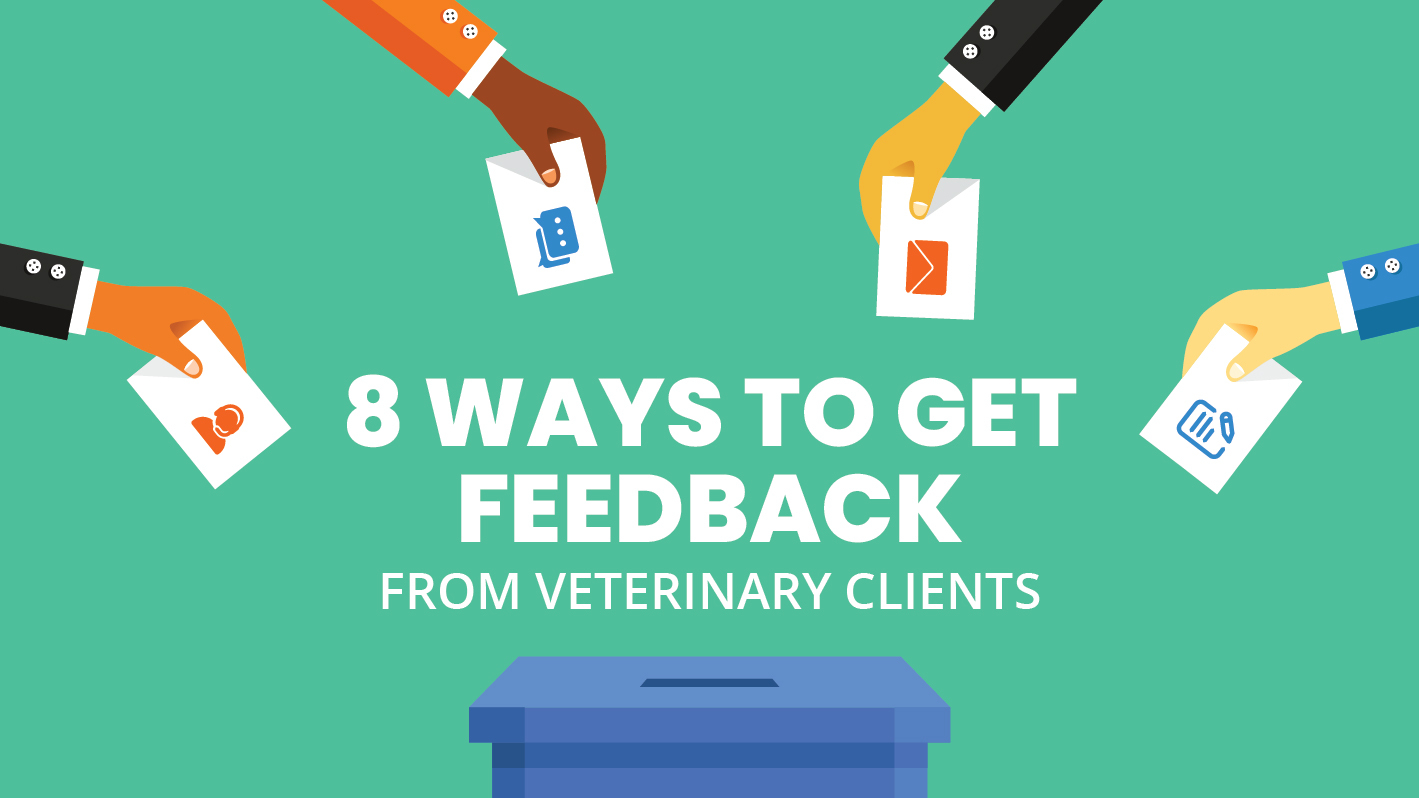 Last Updated: 11 May 2020
8 Ways for Veterinarians to Get Clients' Feedback (with ACAF Framework)
---
Clients' feedback helps you improve the client experience. Every practice owner has this knowledge.
But how to actually get regular feedback from clients?
Very few practice managers know the art and science of engaging pet-owners for feedback.
In this post, we'll show you 8 ways of getting feedback from your clients using the ACAF framework. But before we dive into those ways, let's see...
Why is Client Feedback so Valuable?
Feedback informs you about the level of client satisfaction and determines your loyal client base.
A single dissatisfied client can ruin the potential customer base of 8 to 10 people.
Officevibe, in a study, found that 4 out of 10 workers are actively disengaged when they get little or no feedback. Hence, it ensures staff engagement in the clinic.
Harvard Business Review found that the act of just asking for customer feedback in itself is enough to keep customers from churning and coming back for more — even when they do not respond to your request.
If the client experience is the key to differentiate your business, then feedback is key input required to provide a delightful client experience.
You can see here how feedback directly affects the revenue and profit of your clinic.
The ACAF Framework
The feedback process is like a wheel with four strokes. These four strokes help the feedback loop go and keep the clinic growing. The strokes are ACAF, i.e,
ask for feedback,
categorize the feedback,
act on the received, and
follow up on the implementation.
All the feedback strategies and ideas should ideally follow this ACAF process to ensure optimum utilization of the feedback.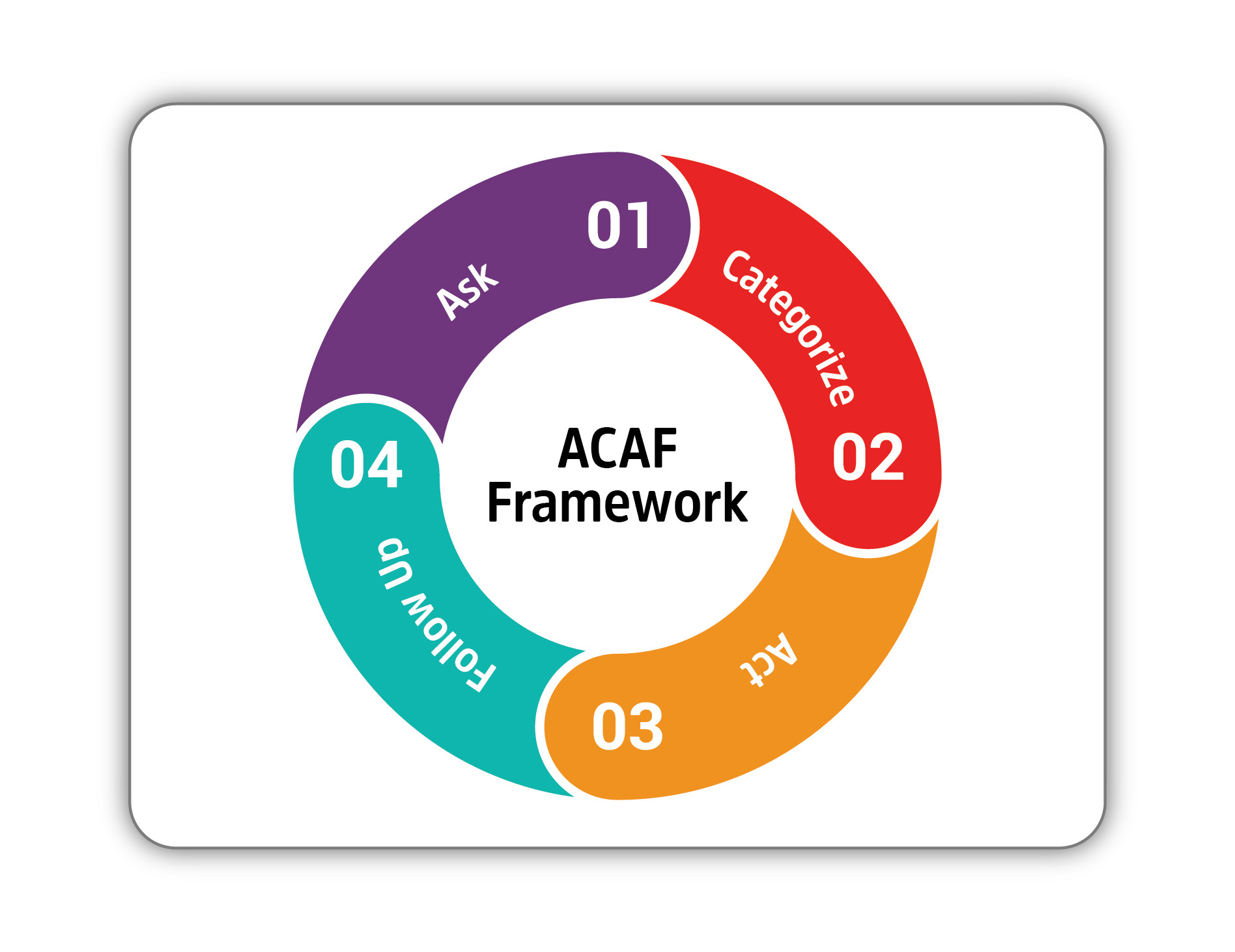 Want to see VETport in action?
Try Now FREE
Some veterinary practices use similar strategies for asking feedback through surveys, ratings, etc. But these strategies have issues like low response rate, or having only qualitative or quantitative data, or non-credible feedback, etc.
Let us dive into specific steps that can plug these loopholes.
8 Kickass Ways to Get Your Clients Feedback
1. Start by calling customers regularly
A call to the client from the clinic serves two purposes:
It helps the practice brand recall value.
It gets the much-needed feedback.
It is seen as a good method because the feedback is taken then and there. Hence, the response rate is high.
Kristin Smaby, author of the book Being Human is Good Business, says "When customers share their story, they're not just sharing pain points. They're teaching you how to make your product, service, and business better." So, it helps in building the clinic's profile as well.
Caution: Some clients shy away from telling their bad experiences. Sometimes they are busy and may hurry to end the call. Hence, the accuracy of this method may be low.
2. In-house live chat support
Have you noticed the live chatbot of "May I help you?" that appears on a website? It has numerous advantages over conventional methods:
convenient to clients,
wait time is negligible,
faster problem resolutions, and
saves resources for you also.
A survey by Toister Performance Solutions found that 61 percent of people expect a response from a business within one day, while about 30 percent expect a response within four hours. It is manifested in the success of Amazon how the prompt reply to an unsatisfactory experience can build the company.
Caution: It may not work well for older demographics. The first response time expectations are high within the young clients.
Although the pressure of being available is less than with the phone, you will still need staff during peak hours.
3. Keep a vigilance on social media platforms
Social media is generally used to spread awareness about the practice. So the traction and feedback on it should not be ignored.
Ambassador states that 71% of consumers who have had an excellent social media experience with a brand are likely to recommend it to others. This strategy is well adopted by Hyatt where it engaged the audience on its social media platforms actively.
Thank them for their positive feedback. Encourage them to share their experience with their friends and family.
Caution: Since your prospects can see your response to queries and complaints by your clients, this is not an option and must be done by every clinic. You can read our article on how to handle negative reviews for your veterinary clinic?
4. Create social media polls
When was the last time you checked your social media platforms? It wouldn't be a long time.
You know how big social media platforms are. So, you can run a poll and get your customer's feedback about your service.
You can read our detailed article on social media details here: Social Media Fundamentals for Veterinary Clinics
5. Ask for feedback immediately after the visit
Would you be willing to give feedback to a company from which you had shopped a month ago? In high probability, you won't be.
We can learn the art of perfect timing from Zomato, the food delivery app. It asks for the feedback just at the moment the food is delivered, when the experiences are fresh and clients are more willing to share their positive and negative experiences.
This is so because the memory of the experience is fresh, so the feedback will be genuine and not fabricated. Herein, you can use VETport which can send on the spot feedback form to the client and save the future hassle.
6. Analyze customer retention
The more the customers are retained, the better the service offered. Client retention, therefore, acts as an indirect feedback mechanism about the clinic.
You can manage client retention effectively through various platforms; one of them is VETport. It'll help you by giving timely reminders to the clients, managing their next visits, giving them personalized support in case of a complaint, and so on. VETport, a fully-fledged practice management system helps you retain your clients and give you an insight into the health of your practice.
Want to try VETport for FREE?
Try Now
7. Initiate SMS/Email or Whatsapp surveys
The more convenient the feedback submission is, the better is the accuracy of the response.
Like rating your Uber driver is very simple and convenient. Similarly, the clinic should adopt secure response collection methods like SMS or WhatsApp surveys which will get quicker and better feedback than lengthy and inconvenient surveys.
Herein, you can resort to SurveyMonkey, which helps in formulating a professional feedback survey which you can send after every purchase.
8. Utilize the waiting time in practice
The most unproductive time at the clinic for the client is their waiting time. You can smartly engage them by asking for feedback.
This practice is beneficial in getting a high response rate and at the same time, keeps the client engaged. Apple has mastered this strategy of not wasting its client's time just by keeping them engaged.
Feedback, both positive and negative, should be dealt with differently. If you want to grow your clinic, you should not shy away from accepting and addressing negative feedback.
Accurate and regular feedback is of immeasurable value. It serves the following benefits: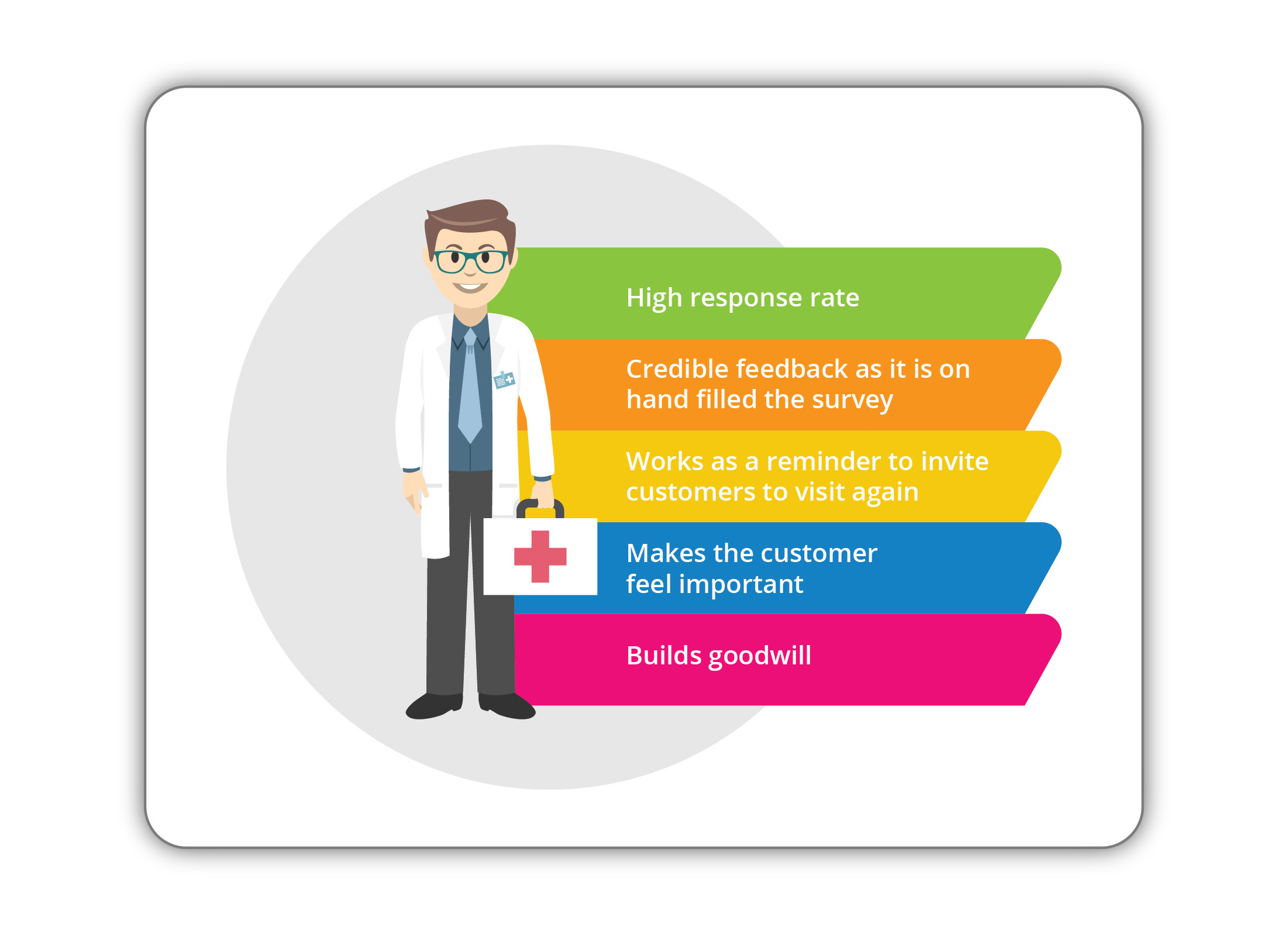 Therefore, now is the time to pick up your pen and paper and jot the method to get valuable feedback from your clients. In short, without customer feedback, the practice is destined to fail.
Go. Get feedback. Get growth.
Want to try VETport for FREE?
No Credit Card Required
FREE Telemedicine App till Covid Crisis
Access to VETport PMS Email Course
Streamline your practice with VETport
Sign up Now!!!