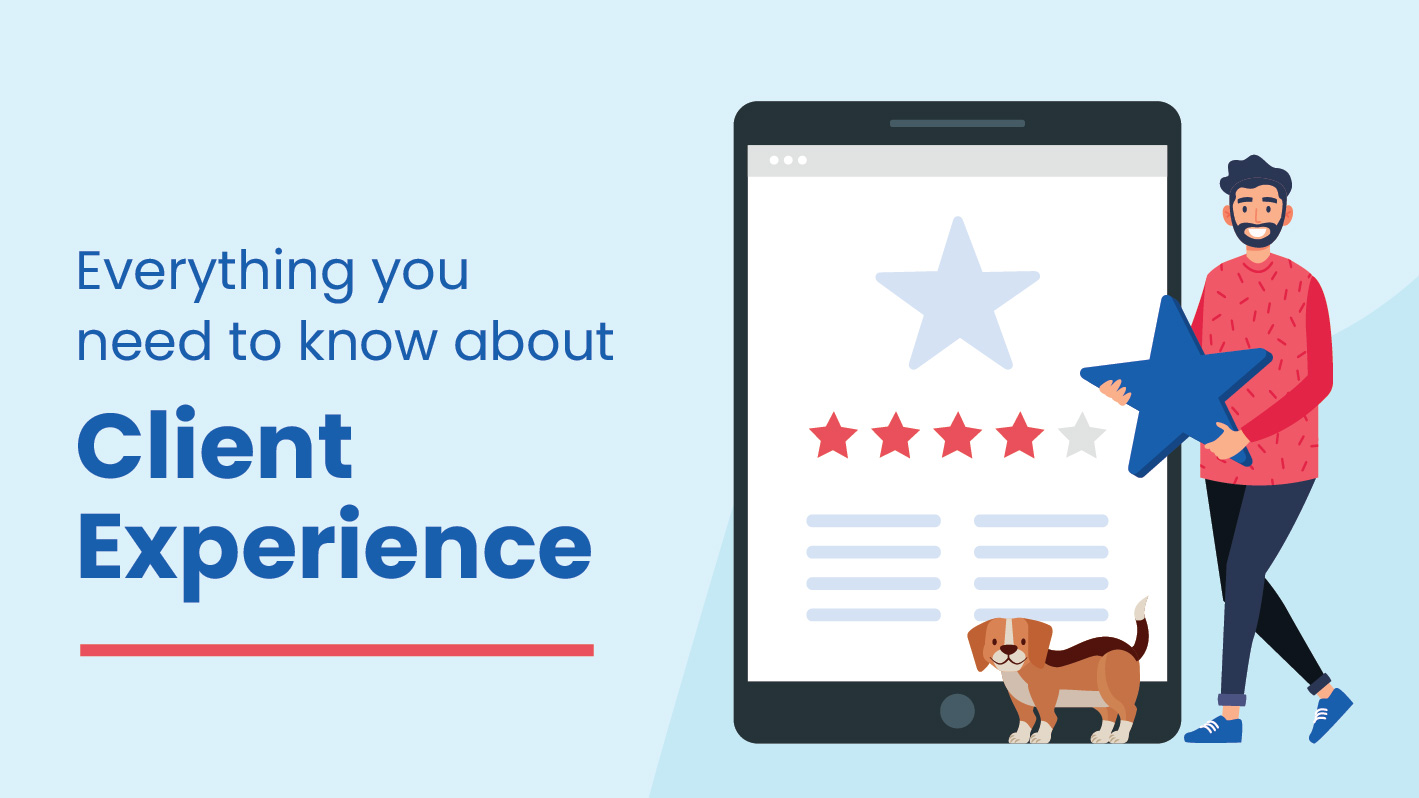 05 May 2020
Client Experience - Everything You Need to Know
Make Your Practice the Ultimate Choice for Pet Parents
---
When it comes to business growth, those with the best technology won't win.
Those with the largest budget won't win either.
Neither will the ones who have a strong marketing strategy.
Well, who then?
It will be those who can differentiate themselves in this crowd.
The key differentiation factor in business today is the client experience (CX). This is especially true for veterinary practices, where emotions are always running high. Your clients may forget everything, but they won't forget how you made them feel.
According to the market research firm Gartner, 81% of businesses expect to compete on the basis of CX.
This means that by delivering a delightful client experience (CX), you can get miles ahead of your competition.
Hence, the most important thing for businesses today is Client Experience.
Single bad client experience and they will go elsewhere. Businesses lose 20 percent of their clients every year because they are not focusing on existing client relationships which negates client retention.
On the other hand, if you make them feel good, you'll be their first choice when it comes to availing veterinary services for their pets.
In this article, we've discussed why retention is the key to profit. In this article, we'll discuss how to get your clients addicted to the delightful experience of your practice.
What is Client Experience?
CX is the client's perception of your brand based on their interactions with your practice.
Now let's see all the places where your clients interact with your practice:
A. Online: Over social media, and your website, for example: chat, contact us, etc.
B. In- Clinic: Outside your practice, while parking; at your front desk, when they enter the clinic; the waiting area, while their pet is being treated, while billing, and when they leave your practice.
C. Bidirectional communication: Through channels like emails, SMS, phone calls and direct mail - either when you send promotional messages, reminders, or when they contact you for any particular issue.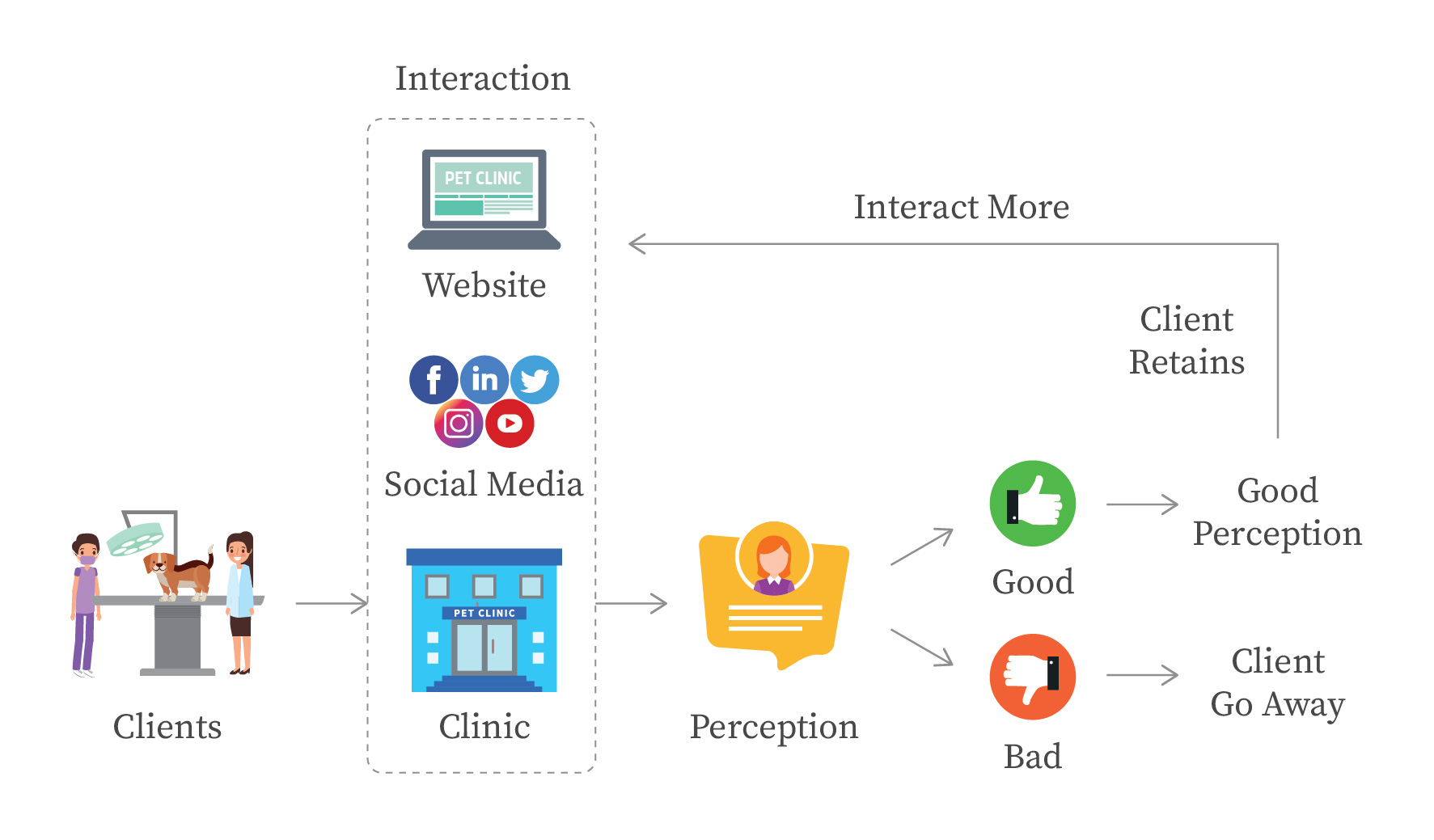 You have to make each of these interactions very smooth.
Let's see how we can enhance the client experience at each of these interaction points, and some common mistakes overlooked by practice managers, and how to avoid them:
Fundamental Elements of a Great Client Experience: Omni-channeling and Personalization
There are two fundamentals of great client experience:
1. Creating an omnichannel experience: Pet owners are used to moving between channels without noticing it. So it makes sense have your presence on all these frontiers.
But there can be a problem when you are on multiple channels, that off inconsistency which can be a trust destroyer.
71% of consumers want a consistent experience across all channels, but research suggests that only 29% say they actually get it.
So consistency matters a lot while omni-channeling.
Train your staff on how to answer the regular clients questions, so that they can get a consistent experience on all the interaction points in your practice: from replying to your clients queries on social media to answering a question on the call.
2. Offering a personalized experience: According to Accenture, 33% of consumers who ended their relationship with a company last year did so because the experience wasn't personalized enough.
Everybody wants to feel special. Everybody wants their pet to be treated as special.
When you treat your clients and their pets as unique individuals with unique demands, you will make them seen, heard and understood.
Ensure that the entire experience makes your clients feel connected to your practice.
Little things matter like:
Remembering a patient's name, connecting with them through the channel they prefer or addressing their concerns, no matter how superfluous they seem to you.
Your clients want to feel nurtured and cared for. You will be surprised to find out that a touch of kindness, understanding, and human behavior can go a long way in inspiring your customers.
Some examples of bad client experience:
The most common cause of bad CX in vet practice is when your clients don't get what they expect.
Social Media: When your social media posts are not helpful to pet owners and always sales-y, or when you don't reply to a pet owner's comments on your posts - you are delivering bad CX
We recommend replying to social media comments within an hour. It helps you engage with your audience on a personal level. Moreover, this shows the rest of the pet owners that you care for your clients.
Website: In this post, we've discussed that pet owners come to your website for various reasons. This can mean checking what services you provide or what your operating hours are. We've also discussed what information you need to provide, what should be the design of the website so that they can find what they are looking for and how to make this interaction perfect with the help of a chatbot.
Inside the clinic: The three main ways that destroy the experience inside the practice are: long waiting time, extended response time to queries, and rude employees.
Communication: Sometimes, clients complain that they keep getting reminders for appointment even after they have attended it. In this way, a system that is supposed to improve CX ultimately becomes an annoyance.
Bad Customer Service:
Other aspects of poor CX include too little attention, automaton responses from employees, and disregard for client concerns.
Make Each Interaction A Delightful Experience
A consistent CX includes remaining constantly in touch with clients, reliability, training the staff extensively on various aspects of pet care, and improving consultation experience.
Your vets, nurses, and customer care executives should embody the mission and vision of your practice.
"Don't skimp on parking,'' says Randy Spencer, who has expanded to 4 veterinary hospital and won the Hospital of the year award.
Reduce effort and time
At its very core, it means that your clients shouldn't have to wait a long time to connect with you at any time.
This includes contact over phone, email, chat, messages and social media or any other portals. According to Edelman Digital, more than half of consumers expect a response from customer service within an hour, even on weekends.
Ways to Ensure a Smooth CX:
&nbsp&nbsp&nbsp&nbsp Ensure seamless online scheduling
Calling and visiting clinics to make an appointment is old school. Most clients don't respond to these methods now.
Online scheduling is an unmissable part of client retention.
Make sure your clinic has automated appointment confirmation via text, email, messages, and calls. This will also reduce the administrative load on your staff.
&nbsp&nbsp&nbsp&nbsp Create an outstanding mobile experience
43% of Millennials contact customer service from a mobile device. More than half (52.2%) of all website traffic worldwide was generated through mobile phones in 2018.
Additionally, 60% of companies think they're providing a good mobile experience, but only 22% of consumers feel the same.
It is, therefore, essential to have a seamless mobile platform for your clinic. You can create an application that sends pet health news, and that allows your clients to schedule an appointment with the touch of a button.
&nbsp&nbsp&nbsp&nbsp Online reminders
Most vet practices have a way of reminding their clients of their upcoming appointments via calls. This can be cumbersome for some clients. And if they are unable to take a call at the time, the staff has to call them again.
An easier method is to text or email them.
Tip: Many customers are also annoyed by repeated reminders. You can improve this aspect of CX significantly simply by asking clients how often they want to be reminded. It will also make the whole process more personalized.
Want to see VETport in action?
Feedback is Key to Improvement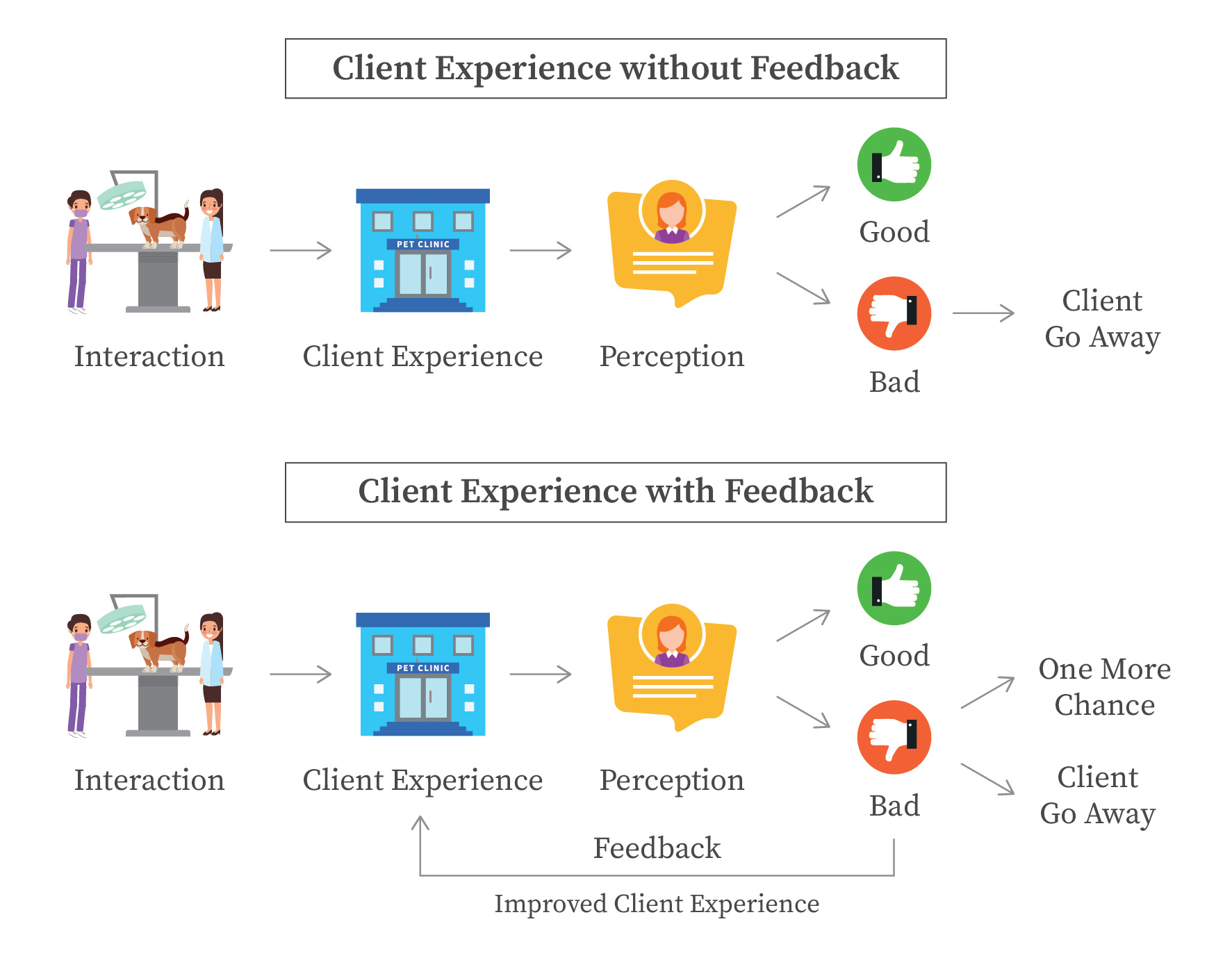 The most important aspect of improving CX is paying attention to what your clients want and reducing friction.
No matter how big your business has grown, if you don't pay attention to the demands of your consumers, you will fail.
It is essential to develop a system that allows you to collect customer feedback, analyze it and discover solution on a regular basis.
Create channels for clients to provide you feedback. Ask them to rate their experience. Make personal calls to get their honest response. Identify problems that may be specific to a particular client and the unique challenges that may be faced by them.
If you are looking for ways to get clients' feedback, you can read this article on 9 ways of getting feedback from pet parents (+ ACAF framework to implement on it.)
Track customer response. Recognize any areas of friction. Try to solve the most common complaints first.
And when you do find out what your clients need, act on it.
Practical solutions to improve CX in the clinic
&nbsp&nbsp&nbsp&nbsp
Reduce time:
Complete the paperwork related to every client before their appointment. This will save everyone's time.
&nbsp&nbsp&nbsp&nbsp
Make an effective script:
Have an online script that you use for confirming appointments. It should be a template that does more than confirm the appointment.
For example, for dog owners, it can include:
"This is your doctor calling from ABC Veterinary Hospital to confirm your appointment with me tomorrow at 12 p.m. We request you to bring a stool sample of your dog that is not older than 3 hours, as well as any medicines your dog is taking currently. If you have any questions or want to reschedule, please call us at 555-222-3333."
These scripts do 2 things:
Increase compliance - for bringing meds and necessary samples
Prevents no-shows at your practice and encourage your clients to arrive on time.
Make it comfortable within the clinic:
Install a water dispenser and store paper cups and paper bowls so that the pets can drink water when they are thirsty.
Have an umbrella stand where you keep some extra umbrellas. Offer to walk your clients to their car so that they and their furry friends don't get wet.
Ensure a smooth start:
Employ a receptionist that stands up and greets the clients with a smile.
Use business cards:
Every client should leave with a business card of your clinic. Every member of your staff should have a card too.
Why?
Here are some good reasons:
Veterinary assistants could offer their business cards to dog and cat owners so that the clients can call them in case of any queries.
Technicians can offer their cards to surgery patients, so that clients can call them if they have questions about aftercare of the animal.
Service providers can hand out their cards after a tour of the hospital. If the client wants to make an appointment after the tour, they can simply call the service provider they saw.
Ensure smooth departures:
Once the appointment is finished, you can present a report card of your findings. This will also include any precautions the client needs to take, as well as information regarding further appointments.
Service first, price last:
Once the appointment is finished, and the clients walks to the checkout counter, greet them with a smile.
Next, read out the list of services they used and inform them what the total sum is. Do not read out price of every service and product used.
At the end, you should ask the client if they need refills for any other medications, vaccines, food, or an appointment for any other pet.
This helps the client see the value of your services.
Offer multiple payment methods:
It will make things convenient for everyone.
Provide door to car service:
When a client is discharged, make sure someone accompanies them to their car. This is especially necessary when the pet has been surgically or dentally operated on.
Additionally, you can ensure that the client places the pet carrier in the back seat.
Why?
If there is a sudden stop, it can cause the carrier to fly forward in the front seat, and can deploy an airbag. This should be avoided at all costs. Moreover, pets can also distract the driver.
Offering A Variety Of Payment Options
Not every client wants to pay via the same method. They all have their own preference. So it is necessary that you take that into account. Also, you can provide financing options, for example, veterinary healthcare credit cards, in-house financing, and pet insurance.
Tip: One of the best options we've seen is table side payment . It is a fantastic CX. Customers love not having to trundle back to the front desk to wait in another line to pay.
Final Thoughts
When client experience is well taken care of, client retention will naturally increase.
And it has another benefit.
A happy client will talk to his friends and family about your clinic. Word-of-mouth referral is one of the best sources for acquiring new clients.
When this happens, you know you are on a growth path.
Related Articles
Get 15 Days FREE Trial
No Credit Cards Required. Sign up Now!!!