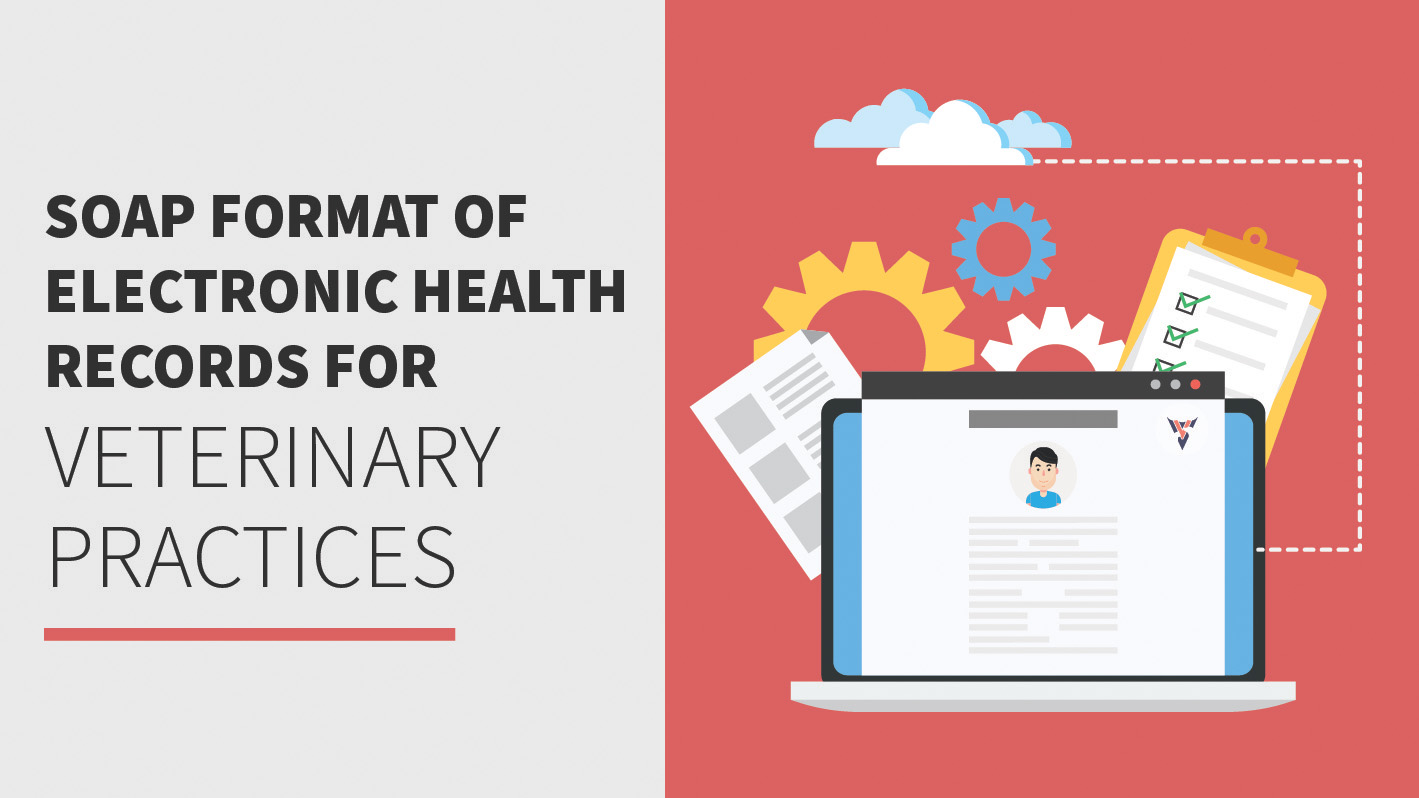 24 June 2020
SOAP Format of Electronic Health Records (EMRs) for Veterinary Practices
---
SOAP format for recording patients' progress is a format that is widely used by veterinary clinics.
However, before we dive deep into SOAP it is essential for us to understand the parent document to which SOAP belongs in more detail. The parent document in the above reference is the Problem Oriented Medical Record (POMR).
In most modern settings today the POMR is in a digital format or electronic medical record (EMR).
An EMR POMR is a patient-centric record that makes information accessible and available to authorized users in run time.
Users in this context could include labs, specialists, pharmacies, etc.
It is not rocket science to understand that this is a highly beneficial mechanism to store records leading to improved patient care, better coordination, and cost savings.
An EMR or EHR contains a wide variety of information like treatment history, medical records, patient progress, etc.
SOAP finds its usage in recording patient progress. SOAP or SOAP notes as they are widely called also find extensive usage in veterinary practices.
It is a way for clinics to record, document, and store patient's medical information in a systematic way. It also gives the practice a framework to evaluate information without losing even the tiniest bit.
This is an essential document for the clinics as well as a good piece of information used by various people to communicate about a patient's health.
SOAP is an acronym which when expanded stands for Subjective, Objective, Assessment, and Plan.
Let's understand the detail of each below: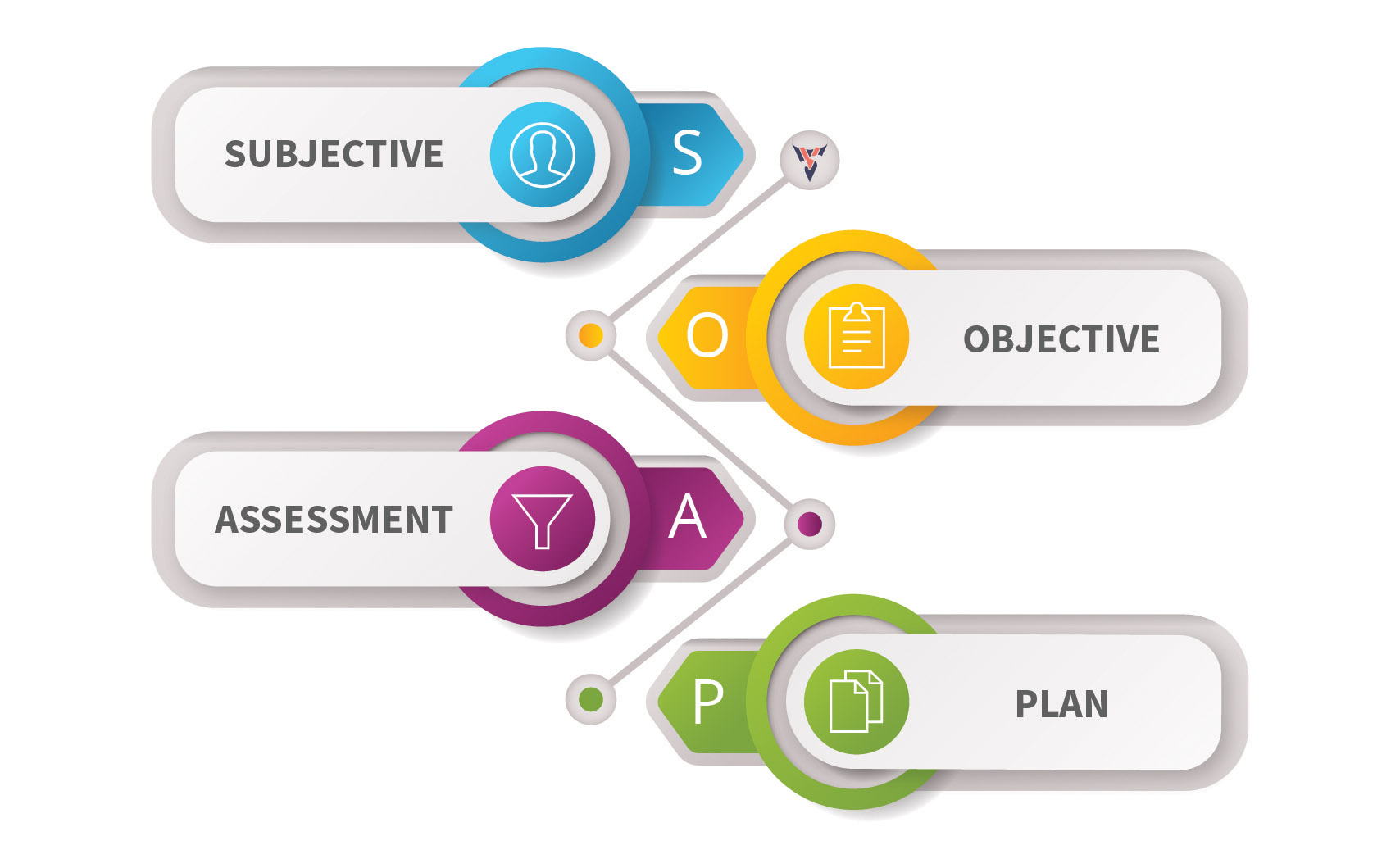 Subjective (S)
Subjective in the case of clinics refer to the narrative of the patient in the form of its ideas or feelings. It can also be understood as a description of how it sees the current condition of their health. It is not easy to get a layered answer for this.
It is required to ask intelligent questions from the patient's answers to get a clear subjective idea.
Failing this could lead to getting vague answers that might be dangerous to the overall well being.
Subjective information includes broadly the below items:
Understanding Past Medical History
Longevity and history of present illness.
Analysis of Symptoms.
Social History
Family History
There are a few mnemonics, which can help a practice to get this info. The most popular being OLD CHARTS: Onset, Location, Duration, CHaracter, Alleviating factors, Radiation, Temporal Pattern, Severity.
Objective (O)
Objective as we might understand is those are the vital statistics of a patient. All the data points that are measured in the physical examination, x-rays, blood tests, urine tests are collected at this step.
It is at this step that the basic data like weight, heights are recorded too.
Some of the common data points that are included in this are as follows:
Vital signs
Findings of the physical examination
Lab data and results
Imaging (X-Ray) results
Recognition, review, and recording of other doctors' results
Any other diagnostic data
Assessment (A)
This is the step where most of the consolidation work happens. The subjective data collected in the first case and the objective data in the second step are critically analyzed, relevant portions taken and the practice tries to make the diagnosis here.
The main challenge at this step is that different subjective and objective data can lead to different diagnoses; veterinary doctors must use their wisdom to the fullest to lead to a focused diagnosis, which serves as the input to the next step.
The assessment is also likely to have possible etiologies of the patient's problems. The practice should also mention the overview of the patient's progress since the last visit made to the practice.
Plan (P)
Once the clinic makes the assessment notes, the next step is to decide the course of action. This course of action comes in the plan.
The plan includes all the details, which the veterinary wants to suggest or instruct the patient in order to solve the problems of the patient - and preferably reach a diagnosis. The plan can include recommending more tests in the lab, more radiological work, referrals, procedures, medications, etc.
Also noteworthy is the point that if there is more than one problem in the assessment phase, the plan is to be made for each as well.
A comprehensive SOAP document has to factor in all subjective and objective information, accurately analyze it, come up with an assessment and make plans based on all of these as inputs which eventually solves the patient's problem. SOAP is advantageous since it more or less standardizes the process.
It is a well-organized document that has a natural progression from Subjective info to Objective info to Assessment and Plan. It structures the patient's progress over time in a simple and clear format that is understandable by anyone in the veterinary field.
From a patient's viewpoint, a SOAP note provides an efficient way of reflecting the patient's progress, which is simple, concise and compatible with data from common assessments.
A certain section of the industry also feels that since the structure of a SOAP note is sequential, at times the integrated approach may be ignored. However, the format gives the complete scope to be modified to have an integrative approach.
In short, SOAP is an excellent structured format to be practiced by clinics and practices for working a problem and achieving a diagnosis. Having said that, the integrative approach in diagnosis is more sacrosanct and if it requires the format to be modified a little, it is recommended that the required modification be done.
VETport's EMR – The Game Changer
Managing a veterinary practice is a time-consuming and difficult task for most veterinarians.
Skills required, are outside the medical domain i.e. extensive process mapping along with effective control systems to monitor the processes, coupled with resource management, customer service, marketing, inventory management, auditing, and financial management.
All this may seem intimidating to most vets but VETport has managed to create a simple way to consolidate all these areas.
VETport's EMR is the starting point from which other functions that manage a Veterinary practice are triggered viz. supply chain, finance management, resource management, scheduling, patient care, marketing, etc. and not the other way around.
VETport's problem-oriented medical record approach to creating the electronic medical record (EMR) is the highest standard for medical record keeping. This system has been designed keeping in mind key areas such as usability, efficiency, mobility, and flexibility.
About VETport's EMR
The VETport EMR is an JSON based document making data exchange between differing systems a far smoother process. This facilitates the software's detailed and fast reporting and analytics.
It has been designed to be logical to use with lots of predefined medical data preloaded viz. Subjective History forms, Objective forms, Lab Report Templates, Generic / Brand Drugs with default dosages, usages, routes, frequency & directions, preventive medicines and more.
Further, we allow Automatic Prescriptions to be generated with Automatic Drug Processing to calculate the Dosages. Differential lists help achieve best practices and move towards a Clinical Decision Support system.
All this is template driven and can be added to and modified in the hands of the user.
An EMR system with a difference, the VETport veterinary practice management software has been designed in such a way that it can be individualized for each user's veterinary practice thus creating a valuable knowledge base of intellectual property.
This is the base on which one can scale their operations i.e. multiple clinics.
The electronic medical record (EMR) helps trigger automated email reminders, aids decision-making when managing resources and scheduling, automates educational information and integrates seamlessly with in-house lab equipment and external labs.
Specialist practices can view and work on patient records of a general practitioner and vice versa can get Referral practices to work within their environments.
About VETport
VETport is an effective online veterinarian practice management software solution, created to improve the business practices of general practice veterinarians and veterinary specialists the world over through its EMR system.
VETport integrates the veterinarian ecosystem without the need for any complicated hardware. It is cloud-based software (hosted online) and accessible from anywhere, anytime, and from any device.
VETport is known for its depth of functionality and is constantly innovating with new features at a blinding pace.
Related Articles
Get 15 Days FREE Trial
No Credit Cards Required. Sign up Now!!!