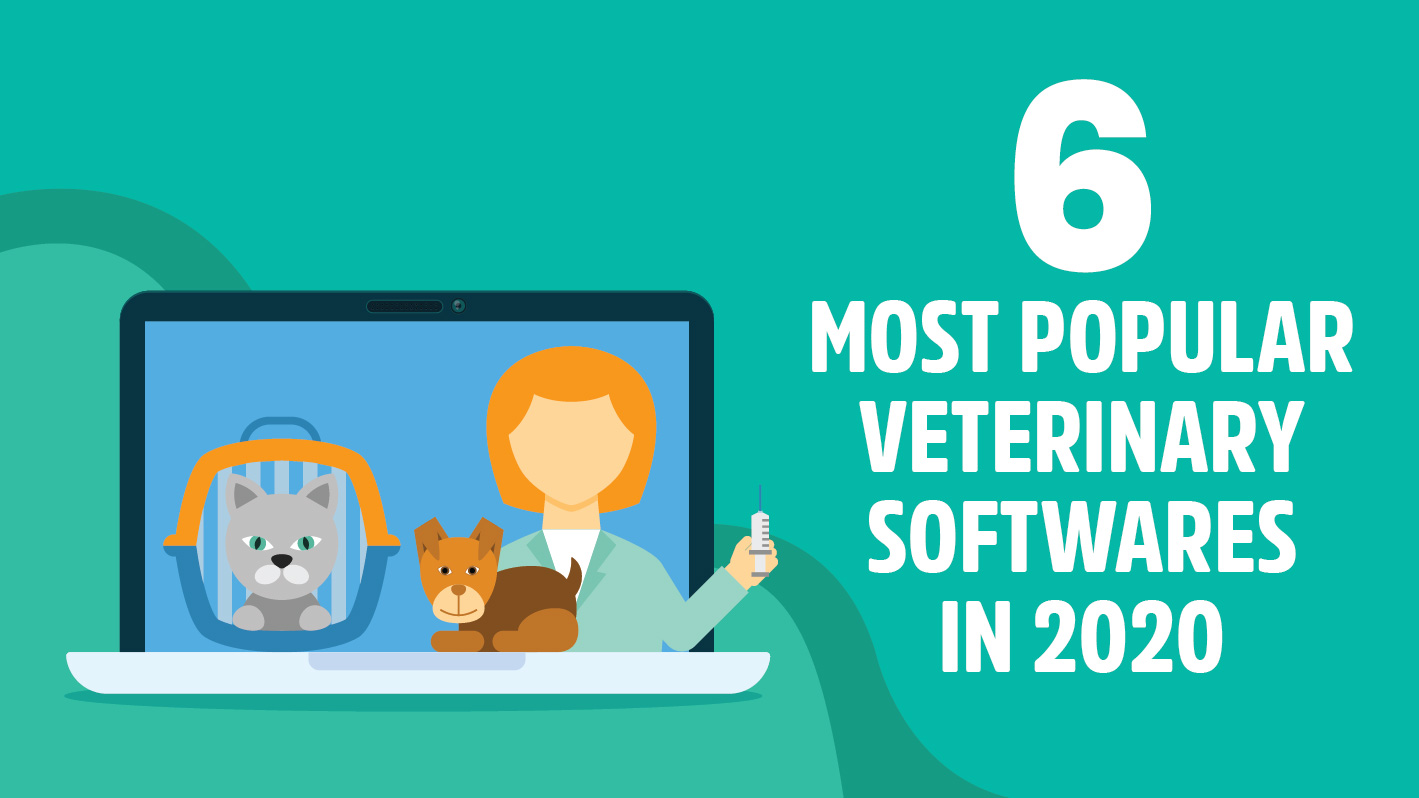 1 October 2020
Top 6 Veterinary Practice Management Software [October 2020]
---
With the plethora of veterinary software available in the market right now, it is easy to feel overwhelmed on what to choose.
In such cases, the best thing you can do is look at some of the top applications available in the market and see what works for you.
Because there are software designed specifically for mobile clinics, and ones that are integrated with radiology software companies.
All of them can organize data, plan treatment, manage patient info, etc. But what will work for you, will be determined by the nitty-gritty details.
To that end, here's a look at some of the top ones in the market right now:
1. VETport
Equipped with the cloud-based technology, VETport is one of the most affordable veterinary software out there.
Here are its key features:
Ability to make paperless Veterinary Electronic Medical Records
Manage inventory with a single click. Modify quantity and price of items, manage vendors, and get reminders of missing items
Unlimited Analytics that report information in a digestible, easy to understand manner
Multiple modes of communication for appointment scheduling, reminders, etc
Pros:
The most affordable veterinary software in the market with an easy payment system
Allows clients to book appointments via phone and tablets
Ability to view the key performance indicators of the clinic
Extensive reports on matters related to finance, marketing, accounting, etc
Excellent customer support
Cons:
Does not come with a mobile app
Not integrated with Dragon Veterinary
Does not have a client portal
2. Cornerstone Practice Management
Veterinary software Cornerstone is an integrated system that can solve all your managerial and clinical needs.
Created by IDEXX, the key features of Cornerstone are:
An appointment management system that lets you view details without clicking.
Once a treatment plan is complete, the charges are added to the invoice automatically.
Color coding is used to indicate the status of a treatment plan.
Enhanced medical notes for easy access and seamless integration with patient records.
Online pet pages with access to vaccination records, prescriptions, etc
Pros:
Robust veterinary practice software with seamless integration of services
Continued improvement of the user interface and functionality
Remote access to client records
IDEXX Learning Center provides the perfect platform for training new staff
Fantastic customer support
Cons:
There is no way to track PTO accruals
Reporting and Analytics can use more options for capturing data
The software is not well-designed for paperless practices. There is no Physical Exam form or Breed Information Sheets.
3. AVImark
A part of the Henry Schein Veterinary Solutions, AVImark is an established name in the market.
The key features of this vet software include:
Electronic medical records, patient reminders, invoicing
Dental charts, estimated costs, appointments and boarding calendars
Automatic lab integrations
Comprehensive treatment lists and SOAP notes that help in tracking problems and preparing treatment pans
Practice analysis tool and mobile app
Inventory management and security features to control what functions can be accessed by staff members
Pros:
Perfect for paperless practices, as it features a host of services and integrations with lab machines like Abaxis, Hemavet, Hemagen, Idexx etc.
Medical notes, lab results, and attachments can be viewed within the software seamlessly and can be stored without any physical paper.
Features like special notes allow staff members to see special information about a client and creates a smooth flow of information.
Sales data and appointment information is easy to access and log in.
Cons:
Merging of accounts belonging to different staff members can be a little difficult.
The software is a bit expensive.
Customer support can be a bit busy and some issues may not be resolved immediately.
The software is not consistent with adding monthly finance charges.
4. eVetPractice
The cloud-based software for veterinary practices is known for its integrated Covetrus tech and service-based solutions.
Some of the key features are:
EMR management, appointment schedules, and communication tools for vets
Document storage, customized lab forms, and test history storage
Pet owner portal that allows clients to access personal info, account balance, payment history and appointments
Dashboard with configurable calendar, appointment lists, and medical records
Integration with ANTECH diagnostics technology and IDEXX labs
Pros:
Can be accessed from any device. All you need is an internet connection.
Records can be emailed, looking up info related to clients is quite easy, and inventory setup and editing is streamlined.
The user interface is intuitive and friendly and customer support is quick and efficient.
Managing workflow in large clinics, along with finances is extremely smooth.
Cons:
Sometimes you need to click through multiple times to get a simple function executed. This can be frustrating.
Updates are slow, and there may be some glitches following a few days after the update.
When medical history is long, it takes a couple more minutes to load than normal.
Medical history pages do not have patient alerts and client notes.
5. Vetter
The cloud-based software for veterinarians is known for its 256-bit encryption system that ensures security and safety.
Here are the main features of this application:
Electronic vet record tool that allows you to see consolidated patient record.
Ability to import lab results and share the using email or fax.
Inventory management via automatic updates, electronic ordering, and customized alerts.
Appointments automatically include charges, along with taxes.
Customizable templates for reminders and appointments.
Pros:
Affordably prices, easy to learn and use, intuitive interface
There are several ways to access a single function
Client support is fantastic and quick
The tutorials for the software are good for training new staff
Security features allow an added layer of protection
Cons:
The reminder system is not always up to the par. Sometimes, it can miss some items.
The layout of patient records could be improved
There is no mobile app for the application
6. Hippo
Designed to be used by vet clinics of any and all sizes, Hippo is an independently-owned, cloud-based veterinary clinic software.
Here are its key features:
Color coding for different appointments to identify and track changes
Tracking of margins, checking stock levels, and addition or removal of items in the inventory
Appointment schedules can be modified, and appointment reminders can be sent to clients directly via Hippo
Integrated POS system allows you to enter transactions and accept payments in the form of coupons and gift cards
Can be accessed via the internet, and comes with unlimited storage and unlimited patients and users
Pros:
Intuitive user-interface, an easy to learn layout and easy to set up applications
Quick access to patient records, high document storage capacity, and easy of accessibility of client records
Accessible from multiple locations via the internet
Ability to store and view DICOM images in the medical records itself
Knowledgeable, friendly and supportive customer service agents
Cons:
Redundant clicking makes it frustrating to access certain features
Character limit on reminders makes it impossible to send more than basic info. If a patient is due for multiple vaccines, you will need to send multiple emails to the client separately reminding about each vaccine. This gets tedious.
Closing Thoughts
Right off the bat, I can tell you one thing – there is no one right answer when it comes to the best veterinary software.
Each clinic has a unique set of problems and what works for one, may not for another. Each vet practice uses a different set of tools and management options. To that end, you have to assess for yourself what is best suited for your needs.
Related Articles
Streamline your practice with VETport
Sign up Now!!!