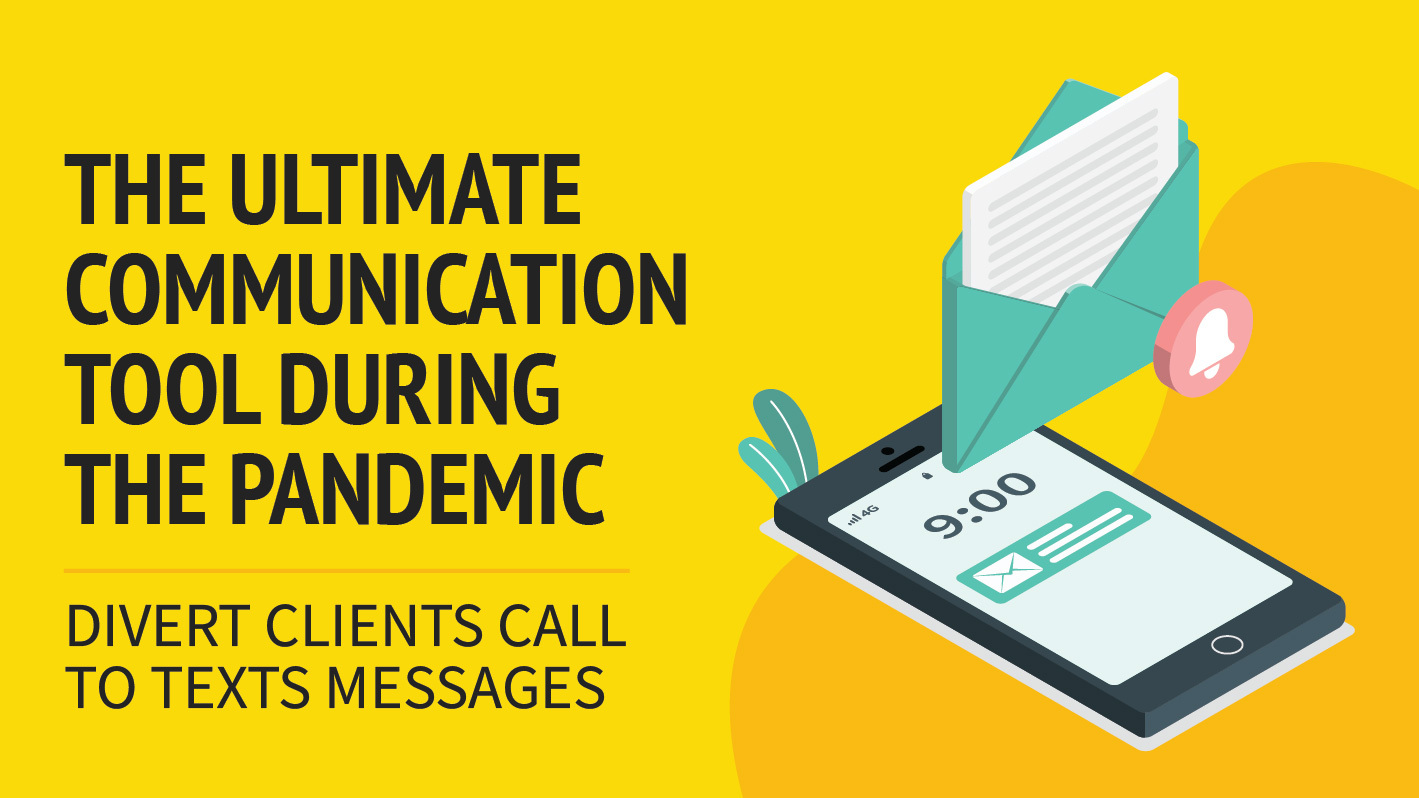 01 June 2020
The Ultimate Communication Tool During the Pandemic - Part I
Divert Clients Call to Texts Messages
---
This is the first part of the series on how you can use your practice management system to communicate with your clients during the pandemic and afterward.
In these posts, you'll learn simple and highly effective ways to communicate with your clients.
Phone calls have been used as the main communication channel by veterinary practices in the past. The front-desk staff calls the clients for things like updating the schedule, appointment & vaccine reminders, test & lab results, payment reminders, etc.
But over the last few years, a fundamental change has taken place that has impacted the effectiveness of phone calls as a reliable communication channel for veterinary practices: Many pet owners now prefer to send & receive a text instead of making & receiving a phone call.
And this change is for the better as there are many advantages of two way texting over calling, for example,
Higher scalability
Convenient for both pet owners as well as your staff
Improving the client service is easier with texting
More effective for certain things
High staff productivity

Diverting clients call to text messages not only helps with client satisfaction, it helps you to boost your top and bottom line as well.

2 Way Texting vs Phone Calls

Here are benefits that vet practices get with 2 way texting offers over phone calls.

i) Texting is Highly Scalable

Phone calls take time.

When the clients make a call they may have to wait:

To connect with the front desk staff.
When they are put on hold.

On the other hand, messaging is fast for clients and your practice staff alike.

While texting, you or the client just type and send it.

Also, the response rate is good for texting. This is because clients always have their phones in hand.

Take a look at these stats:

Clients read 95% of text messages within 3 minutes. (Forbes)
The average response time for a text message is 90 seconds. (Gallup)

Since messaging is so much faster than phone calls, your team can answer a much larger volume of clients' requests and queries.

ii) Texting is Convenient for Both Pet Owners as well as Your Staff

Long gone are the days when phone calls and voicemails were a convenient form of communication.

Check this out:

In a survey by TrueCaller, 64 percent of pet parents didn't answer a call from a number they didn't recognize.

That's not all.

Leaving a voicemail is no longer a sure shot way to reach your client. More than 30% of voicemails remain unopened for three days or more. Plus more than 20% of Americans don't check their voicemail at all.

Here's why:

Timing is a big issue with phone calls.

Consider the impact of this for a vet practice that still relies on phone calls as its primary patient communication method.

Since texting is less intrusive than a call, it is convenient for both parties: practice staff and the client.

Texting saves a lot of effort when it prevents situations where many calls are required due to the client being busy. Or when the clients call your practice, but the line is busy.

By embracing two-way texting as a communication channel for patient engagement, veterinary practices can achieve significant improvements throughout their operations.

iii) Improving the Client Service is Easier with Texting

Although phone calls can be recorded, analyzing these calls to get insights for improvement is a very tedious job.

For a practice owner or manager who is already short of time, listening to recorded calls and analyzing call data can be labor-intensive.

With texting, it is easier to skim through the whole conversation. Also, reporting on messaging is a lot easier.

Detailed reporting allows teams to pinpoint areas for improvement, make adjustments, and determine whether changes have been successful.

iv) Texting is More Effective for Certain Things

Texting works better than the phone call when you require some information from the clients like their email address, or to confirm the appointment time, or any other details.

With calls, there are higher chances of error. Also, the client doesn't need to repeat it many times since they were in a noisy environment. Or because you double-checked to be sure. It also prevents the regular irritating "b for banana, o for orange, n for national…" conversation.

Certain things like sending a link to your website FAQ page or sending the link to your Yelp review page works better with texting.

Sometimes pet owners have to send files and they don't have a pen-paper to note down your practice email address.

Not convinced yet?

Here one more case:

If the client is in an office or a quiet place, texting is the only quick option you have.

v) High Staff Productivity

While multitasking is good for businesses, a phone call requires your undivided attention.

While undivided attention is required for certain tasks like complaint resolution or explaining the prescription to a pet owner, there are simple tasks that don't require such intense focus.

In many conversations, staff experience lags in response as pet owners look up prescription numbers or confirm dates with a spouse or family member.

While your staff waits for this information, they can quickly handle another easy task, like replying to a simple query from another pet parent.

Once the first pet owner sends you the required information, your staff can continue the conversation without ever letting them know.

Multitasking, one of the most unique advantages of texting ensures that your vet clinics staff achieves their peak productivity and completes a larger number of tasks.

Ways Texting Can Help You Communicate With Your Pet Owners

Here are ways texting can help you communicate with your clients

i) Payment Related Communication.

Do you mail letters to your clients regarding overdue payments?

Instead, you can send a polite text notifying them that a payment is due. You should include a link to make the payment online (if you accept online payment.)

Then, you'll have less to mail, saving you money.

In fact, the largest payment collector, credit card companies, and banks use the exact method.

ii) For Getting Online Reviews

Online reviews play a major factor for a new client to decide which practice to go. Hence, you should have a mechanism to constantly get good reviews and ratings.

Texting is a very effective way to get positive reviews about your practice online.

Here's what you can do.

First, send a link to your feedback form after each appointment.

Now you can send a link to your Yelp or Google page to those clients who rated to 5 (Out of 5.)

And you can call those who gave you 1,2, or 3 ratings to find more on what went wrong. (Note: Remember we are not saying you should avoid calling at all. Here we are saying many things can be done in a much efficient way with texting.)

If you are interested in getting feedback from your clients, here is a detailed post on the topic.

iii) Increase Compliance and Adherence

Texting also is a great way to check if clients are giving the proper medication to pets and following the instructions.

Here are some ways to use text messages for reminder tasks:

Surgery instructions: Hi George, please make sure Tank does not eat after 9 p.m. tonight. Surgery drop off is between 10 and 11 a.m. tomorrow. Please call or text us on this number with any questions.
Prescription refill ready alerts: Hi George, Tank's prescription refill is ready. Please call or text us on [Practice Phone Number] with any questions or concerns. Thank you!
Negative Test Results: Hi George, we wanted to inform you that Tank's blood results came back negative. Please call or text us at [Practice Phone Number] with any questions. Thank you.
Vaccination Reminder: Hi George, Tank is due for Rabies vaccination. Please call for an appointment.

If pet owners reply that they are not in compliance with your prescriptions, your clinic staff can reach out and clear any doubts that they may have.

iv) Provide Health Alerts

You can send text messages to the clients notifying them about breaking news that could affect their pets' health, for example, a rabies outbreak in your area, or a pet food recall.

During the pandemic, many of our clients have used this for proving such health alerts. And it had been a very delightful experience for the clients as well.

v) Introduce New Products & Services

Introduced wellness care at your practice recently? Send text messages to your clients. Now your clients can see their pet's information on the patient portal. Let your clients know by texting.

Let clients know about your dental promotions, the new pet food, or that you are also offering in house lab testing.

You can see how it can help you with upselling and cross-selling pet products.

vi) Educate Clients

Two-way texting is an easy way to educate your clients about pets' health best practices. Pet parents lose information you handed over to them. This is a way to engage out to them again.

Sending a text with a link to additional information available on your website is a great way to steer patients to relevant resources.

If you want patients to view a youtube video, read appointment-related instructions, or go to the patient portal to view lab results or discharge instructions, include the link in the message.

vii) Provide updates regarding schedule changes

Texting is a fast and efficient way to update patients about changes to their appointment, for instance, due to a local weather event, or power outage, or doctor illness.

You can inform pet owners that their appointment needs to be delayed or canceled by sending a text message.

Now compare this to calling each client.

You won't be able to reach every client. They will likely show up at your door, only to be frustrated to learn then that their appointment is canceled.

It is stressful for your staff too.

Finally, since more than nine out of 10 of all pet owners own a cell phone (Pew Research Center), texting is an effective communication option for most pet parents.

Long story short: Two-way texting is a channel that should be considered as a key part of any veterinary practice's communication strategy.

Related Articles
Streamline your practice with VETport
Sign up Now!!!