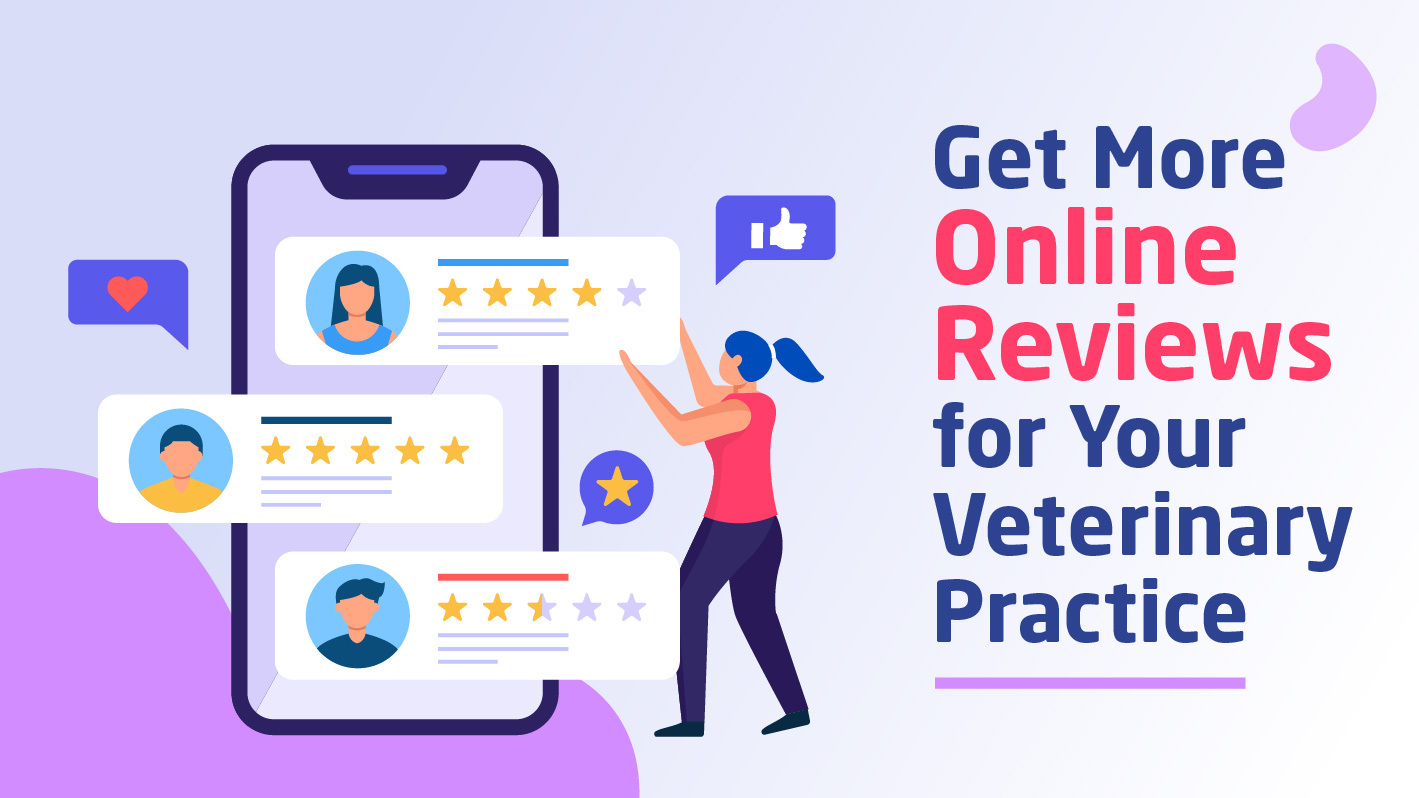 Published: 22nd March 2021
How to Get More Positive Online Reviews
---
If you're in a competitive industry, online reviews are not just nice to have, they are a requirement.
The first thing that anybody does today before buying something, visiting somewhere new or looking for good services, they simply google it. When people google something, they never miss out on checking the reviews.
Four out of five customers read online reviews before deciding on whose services would they like to choose. More than 60% of people gravitate towards Google reviews than Yelp or any other review sites.
Now before understanding how you can generate more of these reviews for your veterinary practice, let have a look.
WHY are reviews so important or HOW can they make a difference in booming your business
Let us do a review of these reviews-
THE POSITIVE
75% of the reviews posted on review websites like Yelp, Google my business, etc. are positive.
72% of people agree that reviews convince them to choose a particular service or product.
After search, ratings and reviews are the second most important site feature.
THE NEGATIVE
90% of the unhappy clients will not prefer to go for the same services again.
86.5% of people say that they would prefer the word of their family, friends, or acquaintances over online reviews.
83% of people say that they would believe a user review over a critic.
It's simple, customers who love you and are satisfied with your services can market you better than you can market yourself. Getting online reviews from your happy clients is a great way to market your veterinary practice.
This must make you wonder what exactly can you do to get more of these online reviews for your veterinary practice. Well here are a few steps that you can follow-
GOOGLE Yourself
A lot of time you might think that focusing on the review websites is what's the most important but truth be told only 2 out of 5 people would go to such a website and look for reviews. Also, not all people are aware of such websites.
The most basic thing that anyone would do is GOOGLE. They type your clinic's name and then there it is, google reviews. For this, you also need to make sure you're on Google my business.
So, make sure you keep a check on your google ratings and what reviews people are giving out about your clinic on google.
All You Need To Do Is Ask
Don't shy away from asking people. You have provided someone your services so it's your duty to ask them if they're satisfied with it or not.
Communication – the human connection- is the key to personal and professional success. Communicating with your clients and asking them to give out reviews for you is something you must do. You can always pleasantly ask them to put out online reviews and ratings for you. If they liked your services, they will happily do so.
The wise thing to do here is to first ask them how they liked the services, in person and then accordingly decide to ask them for online reviews. After all who would want negative reviews to be displayed on their website or anywhere for that matter.
Reward Them
In today's time, nobody is willing to do anything for free.
A good way to lure them into putting out online reviews and ratings would be to give them small discounts or coupons every time they post a review online. You could also give the pets some treats or pet toys as a reward for their owner's writing a review.
And never forget to say THANKYOU. Your customers are not obliged to give you reviews so make sure to be polite and thank them for their valuable time and words.
Earn It
Customers would be more willing to write reviews if they truly love the services provided. You may request them to give their reviews but they may not actually post them if they're not satisfied with your services.
So, the first and foremost thing to do is to make sure you are providing top-notch services and here's how you can do that-
Manage your customers. Don't make them sit in the waiting area for long hours.
Always be polite with them and make sure to greet them properly.
Make sure to always ask them about their experience with you and also follow up with them later via calls and emails.
Respond
You should regularly check and respond to any negative reviews you come across. Make sure to see what the client didn't like and take care of it.
Interacting with your customers is essential and should not be confined only to the clinic. Responding to their queries, thanking them for their generous words, politely replying to negative comments is something that will help you communicate with your clients virtually.
This will also let your potential clients know about how much you care about your clients and how active you are in your practices.
Keep Reminding
It is very common for clients to forget to give online reviews even after you have requested them to do so. In such scenarios, you must follow up with them and remind them. But make sure you are not annoying them.
The best way to do so is by sending them emails and text messages after their appointment. You can add a link to the page where you want your clients to drop a review in your emails and messages. That way, you are increasing your chances of getting a review.
DEALING WITH NEGATIVE REVIEWS
A client who is taking out the time and efforts to go up to the internet to write a review for you is either exceptionally happy with your services or highly disappointed with them.
If it's the latter then you must know how to deal with negative reviews because these are as important as the positive ones. These negative reviews can be the deciding factor in making or breaking your business's reputation.
Here's a few things you can do-
Research
Once you see a negative review online the first thing you should do is get out all the details of the client who has written the review.
Study their case, look at where they have complaints to make, and then try to contact them. If you are not able to contact them for some reason then make sure to send them a polite message via email or text, letting them know that they are heard and then discuss their complaints with them.
Compensate
No matter how good your services are some people will always find something to complain about. Even after you have addressed their complaint and apologized for their inconvenience they will still be complaining about something or the other.
So, the best way to deal with such clients is to offer them some compensation. It could be a small discount on their next visit, some free pet food, or a little toy for their animal.
This way you can show your clients that their reviews matter. Also, this will show your new customers how thoughtful you are about all your clients.
Always Be Polite
It can be quite frustrating to hear complaints even after providing people with the best services you can provide. But keep in mind, "client is always right".
No matter how rude or harsh your clients get you must never forget to put out your best behavior and be polite to them.
Discuss With Your Team
Discuss with your team about the negative reviews and how you can tackle those. Your team's opinion is important as they deal with your clients first hand and they can have some good ideas to handle such negative reviews.
Sometimes your team is behind a client's negative review. Usually, clients complain about not being treated properly at the reception, their pet is not getting proper attention, they feel the staff is not polite to them. To prevent such negative reviews, hold regular meetings with your team. Discuss about your clinic's procedures, how a client should be treated and work on your team's client communication.
CONCLUSION
At the end of the day, everyone just wants to provide the best services they can and be appreciated for their efforts from time to time.
So just remember to communicate often with your clients, reach out to them after their appointments and ask them to do a little favor by just writing an online review for you.
And then no matter what the review is, just respond and let them know that you are thankful to them for choosing your services.
Be sure to be available on all social media and review sites like Yelp, Facebook, Google and keep interacting with your clients and you are sure to be on the top of the game.
Related Articles
Streamline your practice with VETport
Sign up Now!!!