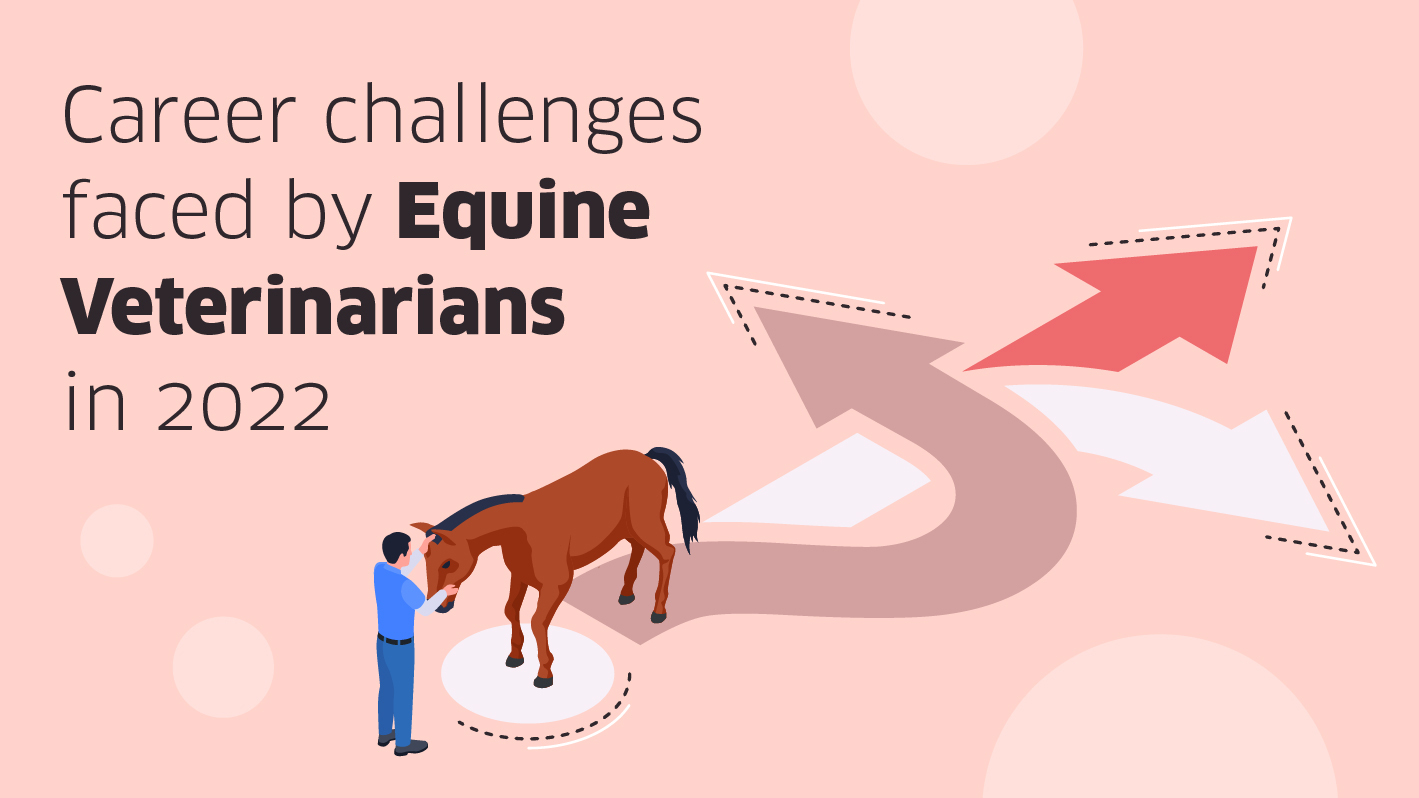 08 August 2022
Early Career Challenges Faced By Equine Veterinarians In 2022
---
"As healthy as a horse", is a famous idiom. But horses do fall sick, and to heal a sick horse and rehab an injured mount can be fulfilled only by expert equine veterinarians!
Equine veterinarians are trusted by recreational horse owners and trainers as miracle workers, as they can administer vaccines, provide nutritional consultations, heal sick horses, and keep them healthy.
With the Covid-19 pandemic that wreaked chaos on the global economy and remote healthcare services were affected, specialisations in veterinary practices such as telehealth and remote monitoring solutions witnessed a silver lining in the scenario. However, equine veterinarians face more obstacles than others.
Read on to know more about the roles and responsibilities of an equine veterinarian and the challenges they face!
Equine Vets Or Large Animal Practitioners
Equine vets have licensed animal health practitioners who are well-trained and experienced in diagnosing and treating horses. These experts work with both their equine patients a well as with their human owners.
An equine vet performs basic tests to diagnose a horse's health problems, give routine vaccinations, draw blood, and prescribe medications. Also, an equine vet is responsible for evaluating and treating wounds, conducting surgeries, and also providing post-surgical tests.
When Can Equine Vets Be Reached Out To?
You can reach out to an equine veterinarian if you require to perform a pre-purchase exam, monitor the reproductive health of breeding horses (stallions and broodmares), and assist with foalings (a female horse or a broodmare gives birth to a foal).
In conjunction with these responsibilities, an equine veterinarian can also work with a farrier or a smith who shoes horses, to rectify angular limb deformities, amend lameness issues, and ensure that the horse feet are balanced appropriately.
Equine vets work outdoors and in emergency scenarios, and/ or on an emergency 24/7 basis in varying temperatures and weather circumstances.
So, if you are on the lookout for an expert vet to minimize the risk of injury to your horse(s) or treat their medical conditions, an equine veterinarian is who you need!
The High-In-Demand Scenario Of Equine Vets
Being an equine vet requires him/ her to provide a combination of both mobile and clinic-based services. According to the American Veterinary Medical Association (AVMA) statistics, over 75% of vets work in private practice. Every equine veterinarian graduates with a Doctor of Veterinary Medicine degree. This is the culmination of a meticulous stream of study involving both small and large animal species.
Also, according to insights from the Bureau of Labour Statistics, the veterinary profession is foreseen to expand at a faster rate than the average rate, at about 19% from the year 2016 to 2026. The limited number of graduates from vet programs will convert to great job prospects in the field, as well! This being said, with a figure of over nine million horses in the United States alone, there is an ever-increasing demand for equine vets, and this should continue to rise at a healthy rate for the foreseeable future!
Demand for equine specialists is continuing to grow!!
Early Career Challenges That Equine Vets Face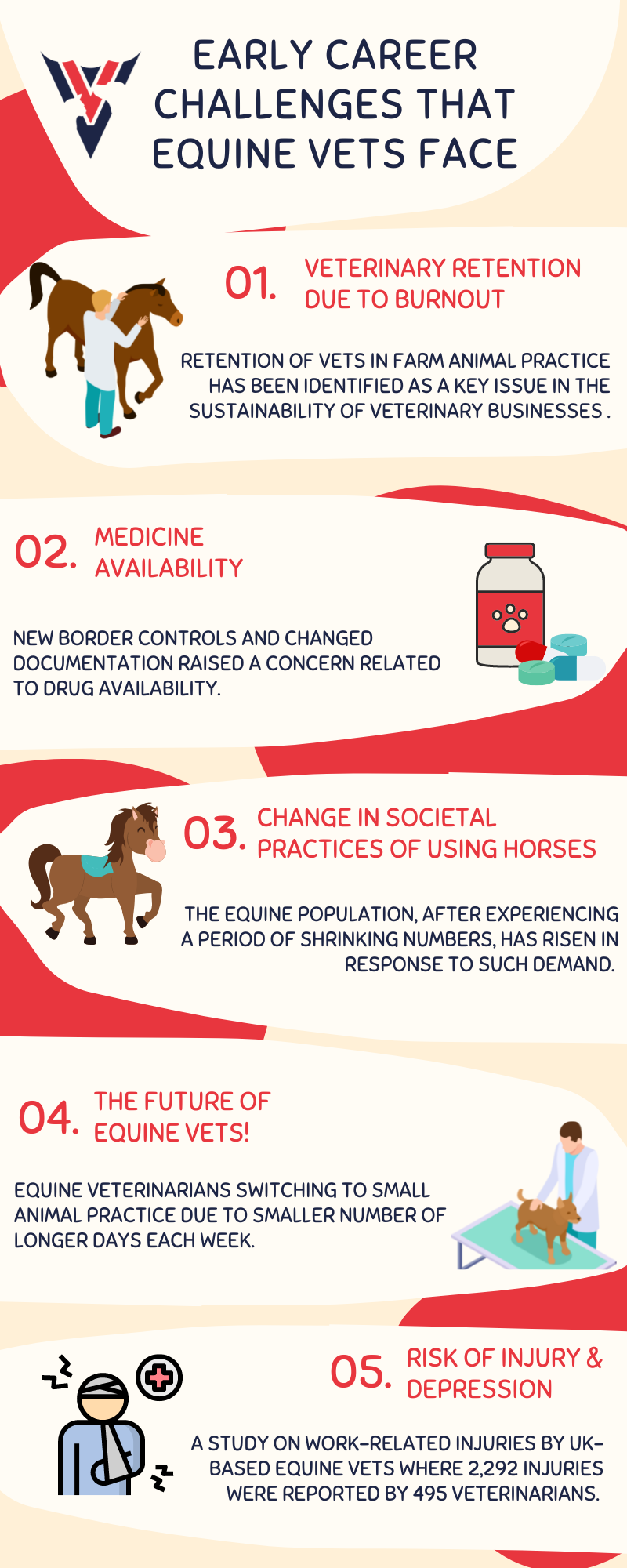 There are a multitude of challenges that equine vets face especially during their early career, key ones are as below:
Veterinary Retention Due To Burnout
Veterinary retention is a major concern when it comes to challenges faced by the equine vets. Even through the desire to get trained as an equine vet was present, retention was a major cause for worry. The percentage of wastage from the equine veterinary sector during years two to seven post-qualification was again another concern. This was because many young equine vets opt to take a sideways step within the profession or even jump into other employment, quoting reasons of work-life balance and other better part-time working options. Burnout and remuneration was sensed as a key reason behind the issue.
Resolving the concern required reversing this trend and the key areas of improvement were identified as below:
Collaboration within equine practices - A team approach rather than individual approaches could reduce the stress-levels of young equine vets.
Appropriate prices for services - A sense of worth is important for equine vets as well to continue with the profession. Charges as per the effort taken will improve retention rates.
Clientele education - Inappropriate client behaviour triggers reduced tolerance. Interaction can be made a two-way process where the client and the vet feels respected.
Medicine Availability
Many European countries raised a concern related to drug availability. The new border controls and changed documentation have constrained trade and hence pockets of vulnerability have been found out. Communication and trade must improve to increase the availability of required medicines so that equine vets feel secure about their professional stream.
Change In Societal Practices Of Using Horses
In earlier days, horses were used for work, and have now changed drastically. Horses are also used for reasons more than just as a traditional pet. The requirement of professionally-qualified equine vets has also, thus improved. The social licence for equestrianism has thus become a rising concern.
Above all, the profession of equine vets has to be highly valued and has to be made a central voice so that younger equine vets feel empowered and important. In many cases, solving issues of equine vets, especially the one in their early careers, seem palpable due to the above key reasons.
The Future Of Equine Vets!
Every veterinarian practice is unique. Understanding differences makes a service unique, and Vetport is one such platform which is a veterinary software for equine vet practices, equipped with split billing, inventory, supply management and the best field support for equine vets as well as ensuring the best field appointment experience for your patients.
Get in touch with us today for a free, no-obligation quote and bag the best-in-class wellness plans and appointment experience. Call us on +1 513-449-2300 or mail us your requirements on sales@vetport.com today!
Streamline your practice with VETport
Sign up Now!!!