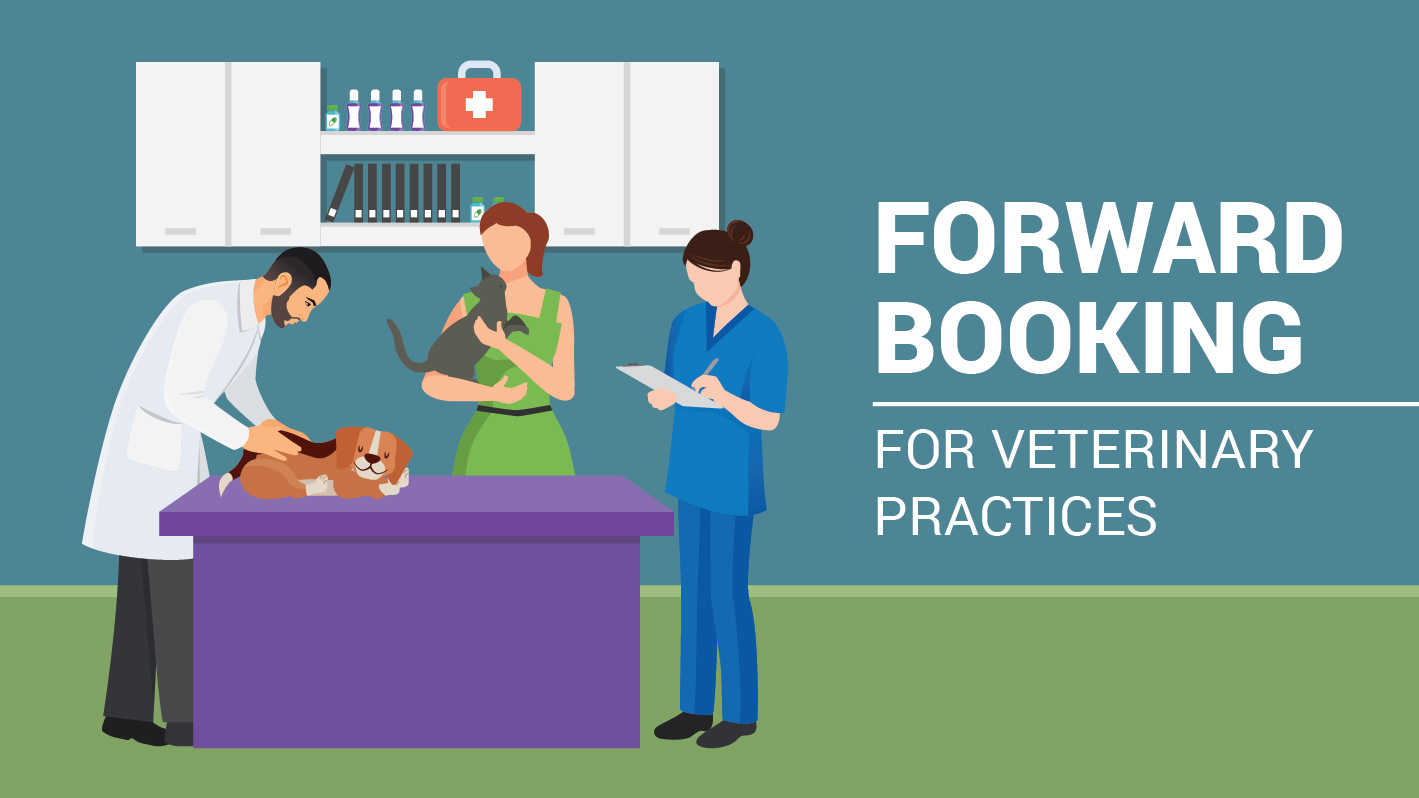 27 January 2020
Forward Booking For Vet Practices
---
Studies have shown that vets often don't use financial concepts to run their businesses. In fact, 62% vets don't even review their KPIs on a regular basis.
We have talked about the importance of reviewing KPIs in our earlier article.
You know those days.
...When the hours are dull, employees are twiddling their thumbs, and all you can think of is the loss of revenue.
Nothing beats the satisfaction of an appointment book that is full.
Downtime between appointments is nice, sure.
But you know what is even nicer?
A full schedule.
For vet clinic managers, operating at maximum capacity means more revenue.
And who doesn't like that?
But here's the problem:
How do you make sure your appointment book is full?
Do you offer promotions for all those months when you know the business will be slow?
Do you offer discounts for pre-booking?
Although some of these methods do work sometimes, you are still left to the mercy of fate.
But what if I told you there was a much better way?
What if I told you, you could take matters into your own hands and ensure a fully booked day, even in low season?
All you have to do is…
…start forward booking your clients
Have you ever been to a dentist? A doctor?
Then you already know what forward booking is.
If your doctor tells you before you leave his clinic, "I am booking you for next Saturday at the same time" – he is forward booking you.
In simpler words, forward booking means:
Scheduling patients' future appointments before they leave the clinic.
It essentially boils down to not letting the client get a chance to say no to the next appointment.
For instance:
If you ask your client, "Shall I book you on x day for the next appointment?" – they can simply say no.
Instead, train your staff to phrase it like this – Emma will schedule you for your next yearly appointment.
This way, you take back the baton.
To get into the nitty-gritty of things, let me tell you the benefits of forward booking, before taking a deep dive into how you can ensure there is an efficient system of forward booking in your clinic.
What are the benefits of forward booking?
As a vet clinic manager, I understand that you always want to ensure both your clinic and your clients benefit from your services.
We have already discussed forward booking is a great way to ensure that your clinic thrives. It will also help you take back control and ensure that your appointment book is always full.
But here's the thing:
Should that be your only goal?
No.
And it doesn't have to be.
We're all in this for better animal health.
And as a vet, that is always your first priority.
But guess what?
Forward booking can also help with better pet health management. It's not just a money-making scheme.
Forward booking is shown to deliver the best outcomes when it comes to patient care, according to Ralph Johnson, the CEO of VMAE.
Here's how:
1. It helps manages day to day obligations
We all lead busy lives. Including pet owners.
And it can lead to some unintentional negligence on the part of pet owners.
But here's the silver lining:
Forward booking can help with that.
If the next appointment is already on your client's calendar when they finish their current one, it is bound to improve day to day pet health.
2. Improved client compliance
When Fayetteville Animal Clinic in Fayetteville introduced forward booking, they saw something amazing:
Forward booking improved patient compliance.
It actually works.
In fact, patient compliance is shown to be higher than ever with forward bookings.
And how does that help?
It means that the pets get all their boosters and exams on time.
3. Excellent preventative care
This one is obvious.
If a client is bringing pets for annual appointments, you will easily catch preventable disorders before they turn into something more dangerous.
And isn't that what we all want?
4. Better follow-up care
Some vet procedures need a follow-up appointment.
And what's the easiest way to ensure that?
By forward booking.
5. Increases the rate of returns
According to the Cardiac Care for Pets Center in VA, forward booking can increase recheck appointments frequency between 50% to 100%.
This, in turn, can immensely benefit pet health.
Your next question would be – well, how do I do it? How do I begin forward booking in my clinic?
Well…
Here's how you can get started
1. Medical progress exams
Don't give the client a chance to say no.
Don't ask the client, "Do you want to schedule your next appointment?"
Instead, follow the, "same day, same time, same doctor" rule.
And guess what?
This approach has another benefit:
It will build up confidence, as the same vet will be seeing the animal for the problem.
2. Lead the client
If you are planning on performing a long procedure, use this method.
Here is how it works:
Explain the diagnosis. Present the treatment plan. Answer the clients' questions. Explain the payment plans.
And then tell them, "We can perform the procedure on Monday or Saturday. Which one works for you?"
This two-yes option technique leaves no room for no.
3. Disease management exams
Here's how it goes:
Create categories of exams. These can be, for instance: paediatric, adult, routine, disease management and preventative.
Now let's say a pet is diagnosed with a chronic health condition, for instance, arthritis.
In this case, the pet care will change from routine check-ups to disease management.
Let the client know.
Also tell them you will need to see the animal on a regular basis now to check up on the disease progression.
Use forward booking for these check-ups.
For instance, when the dog is diagnosed with arthritis, you can make the changes in the software and then tell the owner you will need to see him 6 months from now.
Set up a time for that day, and you are done!
4. Use comparisons
Instead of introducing forward booking as an entirely new concept, ask your clients to book the next appointment just like they do at the dentist's.
This will increase the chances of compliance.
Also, here's a pro tip:
If a client is being especially procrastinating, offer them an opt-out.
For instance, if a client says they can't book a year in advance because they don't know their schedule, tell them they can opt-out if there is an emergency.
Tell them, you will confirm two weeks before the appointment.
This way, they will get a reminder for their pet's next check-up before they have to come.
And if they don't have the time?
They can just reschedule.
Win-win.
Closing thoughts
According to this report by AAHA, forward booking, among other strategies is the best way to ensure a full day of appointments.
But that's not all.
It is also a great way to ensure routine check-ups and preventive care plans are deployed on a regular basis.
And guess what?
The pet owners agree.
The same report reveals that 8 out of 10 pet owners are interested in setting up a preventative care plan for their pets.
But that's not even my favourite part.
Here's another golden nugget from the paper:
6 out of 10 pet owners said that they will forward book an appointment before they leave the clinic.
Nearly half of them said they will do it if a reminder is given.
You know what that means?
Everyone is on-board.
The pet owners want it. And you want it.
So, what are you waiting for?
Get started on planning forward booking of appointments at your vet clinic today.
Get 30 Days FREE Trial
No Credit Cards Required. Sign up Now!!!