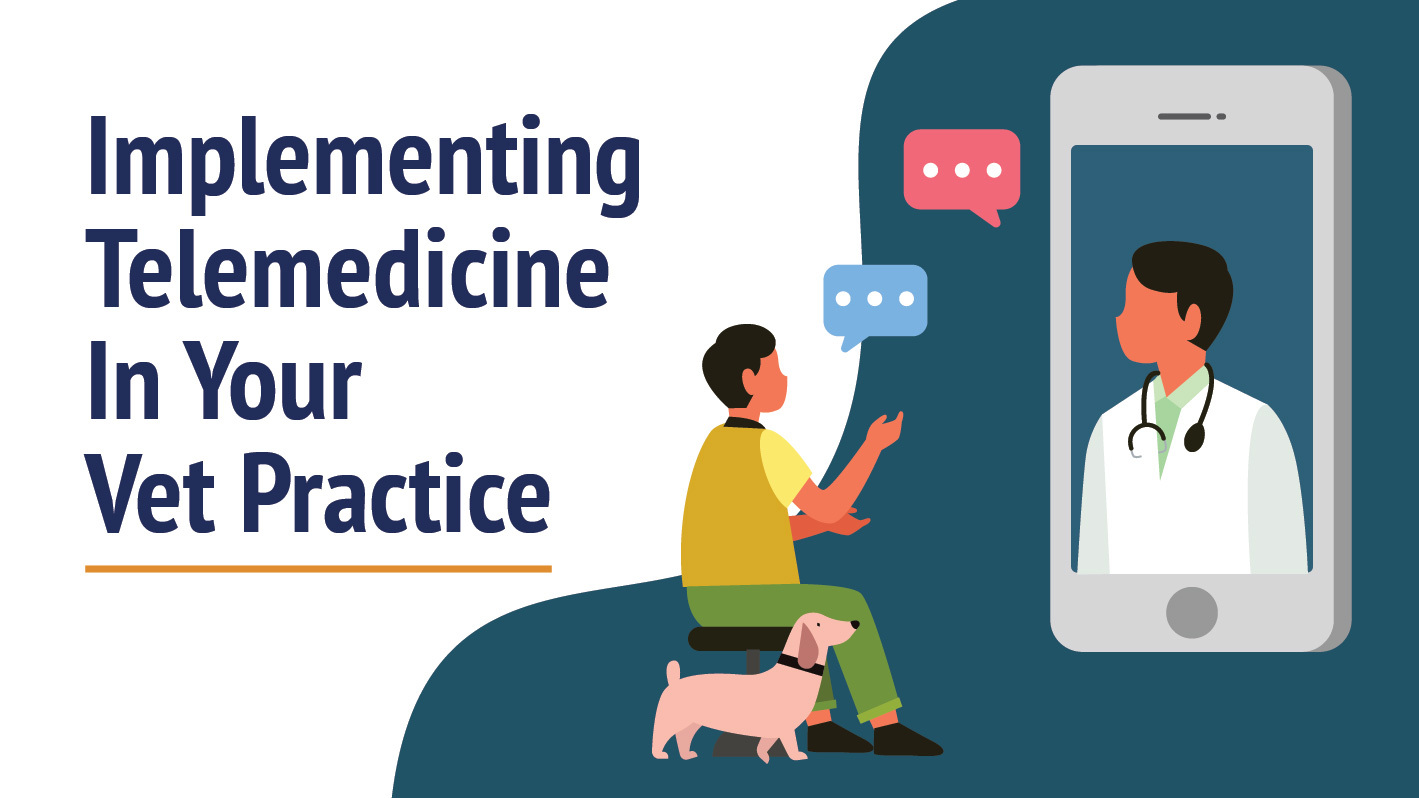 11 Jan 2020
Implementing Telemedicine in Your Veterinary Practice?
Here's Everything You Need to Know
---
What is Telemedicine?
The World Health Organization (WHO) refers to telemedicine as "healing from a distance". It is the use of telecommunications technology and information technologies to provide remote clinical services to patients.
Physicians can use telemedicine for the transmission of digital imaging, video consultations, and remote medical diagnosis.
Today, individuals no longer have to schedule an in-person visit with a physician to receive treatment. The use of secure video and audio connections makes it possible for specialists to treat patients who reside in locations with limited access to care.
It's now a matter of time for the healthcare system, medical group, providers and even solo practitioners to integrate telemedicine as part of their medical services offering.
Benefits of Telemedicine
Now after understanding about telemedicine let's take a look at the benefits of telemedicine:
i). Provide an assessment of a pet's condition after-hours by facilitating the gathering of symptoms and other clinical data while maintaining veterinarian-client-patient-relationship (VCPR) compliance. Telemedicine isn't meant to replace clinical exams, but rather is a tool that helps you practice better medicine.
ii). Strengthen client relationships and loyalty to the veterinarian because pet owners get peace of mind knowing they can get a better and quicker assessment of their animal's health issue(s) and gain more effective continuous veterinary care through online monitoring.
iii). Funnel cases to veterinarians' brick-and-mortar hospitals, while reducing cases lost to after-hours ERs. With many of symptom analysis cases at the practice resulting in in-office visits, telemedicine can boost the bottom line, while improving patient outcomes.
iv). Allow veterinarians to be there for their clients without being on-call 24-7, enhancing work/life balance. Veterinarians can customize the telemedicine hours of their staff and they are available for consultation (usually a few hours before and after regular office hours). In fact, approx. 90 percent of symptom-analysis cases occur between 6 a.m. and 9 p.m.
v). Help improve practice workflow and efficiency by allowing strategic scheduling of appointments based on information provided via telemedicine. No more last-minute calls from clients whose cat hasn't been eating for a week.
vi). Reduce the burden placed on front-desk staff, as well as potential conflict with clients regarding the urgency of care by doing the pre-appointment screening.
Impact of Telemedicine - Facts
i). 90% of healthcare leaders are developing or implementing telemedicine technology.
ii). 64% of the telemedicine programs offer remote monitoring.
iii). 35% of the employers with on-site health facilities currently offer telemedicine services and another 12% plan to do it within the next 2 years
iv). 91% of the outcomes were as good or better with telemedicine
v). 50% of the healthcare leaders say improving the quality of care as their priority for implementing telemedicine
vi). 64% of the pet owners would be willing to have a video visit with the doctors. (source)
What is Causing its Growth
As indicated by a HIS Technology report, there will be an immense uptick in telemedicine customers as specialists receive telemedicine and begin to offer virtual consideration.
New highlights like AI and prescient examination are being used to bring down the expense of care. Administrative organizations are likewise getting used to the possibility of advanced social insurance, opening the entryway for new organizations to profit by this pattern.
Wide web infiltration, cell phones, and Skype have shown clients/patients that it's conceivable, even basic, to interface with others on the web. Keep in mind, even though online may be a novel health care encounter for certain clients, many today are motivated for health reasons to maintain a strategic distance from retail and service establishments. They also appreciate not having to trek back to the medical clinic for follow up appointments.
Here are the two main factors fueling its growth:
i). Reducing the Cost of Care
One of the fundamental drivers of the advanced medical services upheaval is the need to diminish the expense of care. Telemedicine can lessen the expense of care by removing travel and time expense for the client/patient. As remote patient checking, scheduled updates, and remote doctor counseling utilize live video and sound, clients soon see the value and then peace of mind afforded by Telemedicine.
ii). Increasing Regulatory Approval
Government administrative organizations like the FDA are more open to it. In an ongoing explanation, FDA Commissioner Scott Gottlieb, M.D. energized the absolute best telemedicine organizations to spike development in computerized wellbeing as a method for decreasing the expense of care. Regulatory drives will soon be impacting veterinary medicine as well.
How to Choose the Right Telemedicine Solution?
If you want to add telemedicine to your practice, you need to ask the following five things to your vendor:
1. Vendor's background
Changes are required to adapt a standard platform to specialty practice. Look for a telemedicine vendor that designed the application with your specific workflows in mind. Are you comfortable that the company knows enough about your business model? One of the ways is to look at how old they are. A vendor who is in the industry for more than a decade will surely have more knowledge than a one who is just 2 years old.
2. Is it cloud-based?
A cloud-based telemedicine application has clear benefits over an on-premise application. First, there is no additional equipment to buy, which could create unexpected overhead. Second, security updates, which should happen frequently, occur seamlessly in a cloud environment. Look for a vendor that doesn't require a lot of additional hardware to make the technology work.
3. Fulfill compliance requirements
Data hacks are an increasing concern in healthcare, so look for a telemedicine vendor that is secure and cloud-based, so that security updates can happen in real-time. For HIPAA compliance, the data should be encrypted and protected while it's flowing to and from the Internet and while it's at rest on a server.
4. What has been the experience of other practices similar to yours?
This is a particularly important question when considering the customer support that an equine, mobile, or any other specialty practice receives after the go-live. Ask the telemedicine to provide references and please take the time to talk with these customers. Have these practices experienced any glitches in the service? What has the support level been like on a consistent basis? Did the customer really receive what the salesperson promised? How have patients and staff responded to this new service?
5. How easy is the technology to use?
Look for an application that isn't just intuitive to use on the front-end. Make sure you're not going to need a dedicated IT team to install and use the software. This is one area where software-as-a-service models will be particularly beneficial to your practice. SaaS applications reside in the cloud and one of their universal benefits is that they are plug-and-play.
Look for a telemedicine vendor that will require very little to no training for your patients and your staff. This technology should be quick to implement and easy to use.
Here's How it Works in VETport
Here are the 3 main steps involved:
1. Integrating telemedicine with VETport:
To integrate the telemedicine app with VETport practice management system, Go to Set up >> Market place >> Click on Meet App.

Navigation to Meet App
Now, click on Integrate on the right hand side. This will be a one time requirement.
Note : It's mandatory to have a Gmail account to integrate with the google meet as shown below to proceed.
2. Booking a telemedicine appointment:
Go to the appointment calendar on VETport, select the appointment time to book and appointment. Select "Meet" & "Email to Client" as shown in the image below.
The client would receive an email with a link to join telemedicine video call.
Note : Google Meet video call best works with google chrome browser.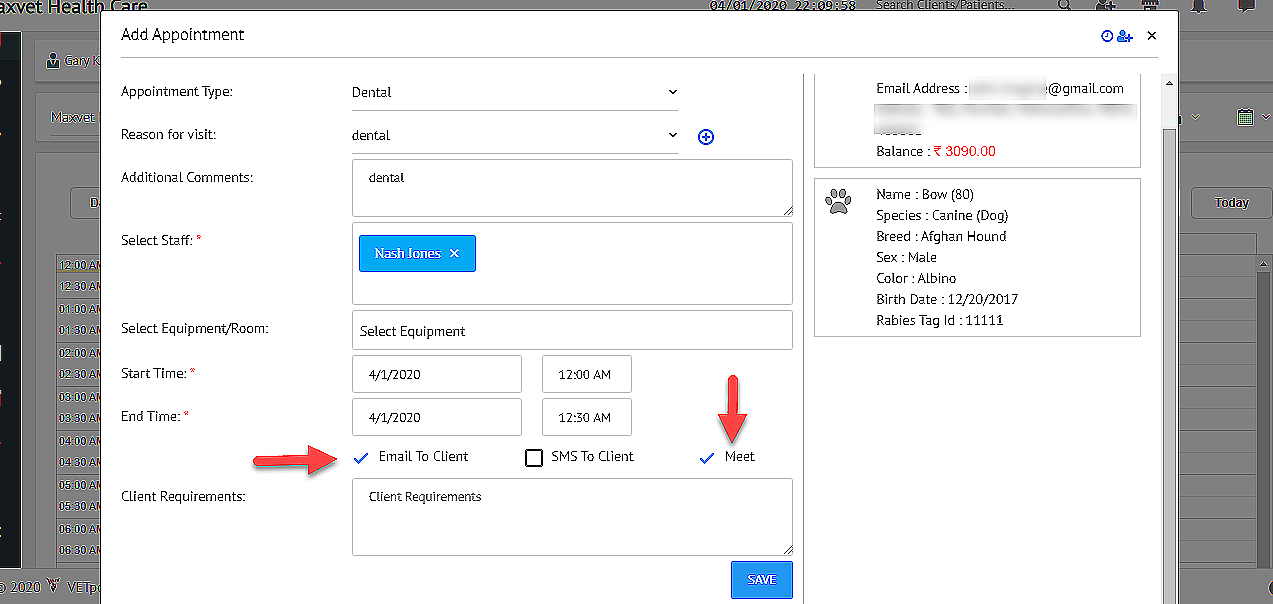 Navigation to Meet App
3. Joining the appointment:
Once the user recives an email with Telemedicine option, user can click on the below link to join the Telemedicine video call.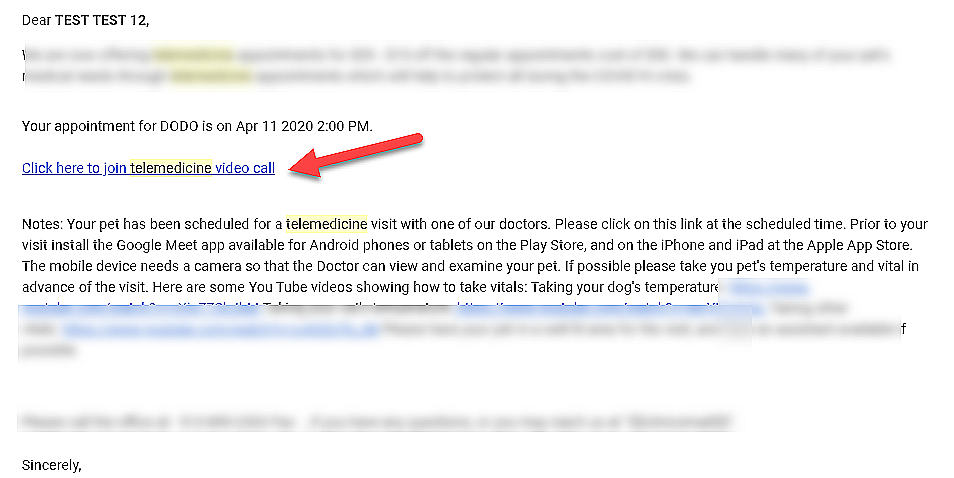 Email to client
Note: You can customize the content of the email from templates.
Doctor can initiate the call by clicking on the appointment, select Join Meet(Video call) from the appointment calendar as shown below or from the Gmail calendar.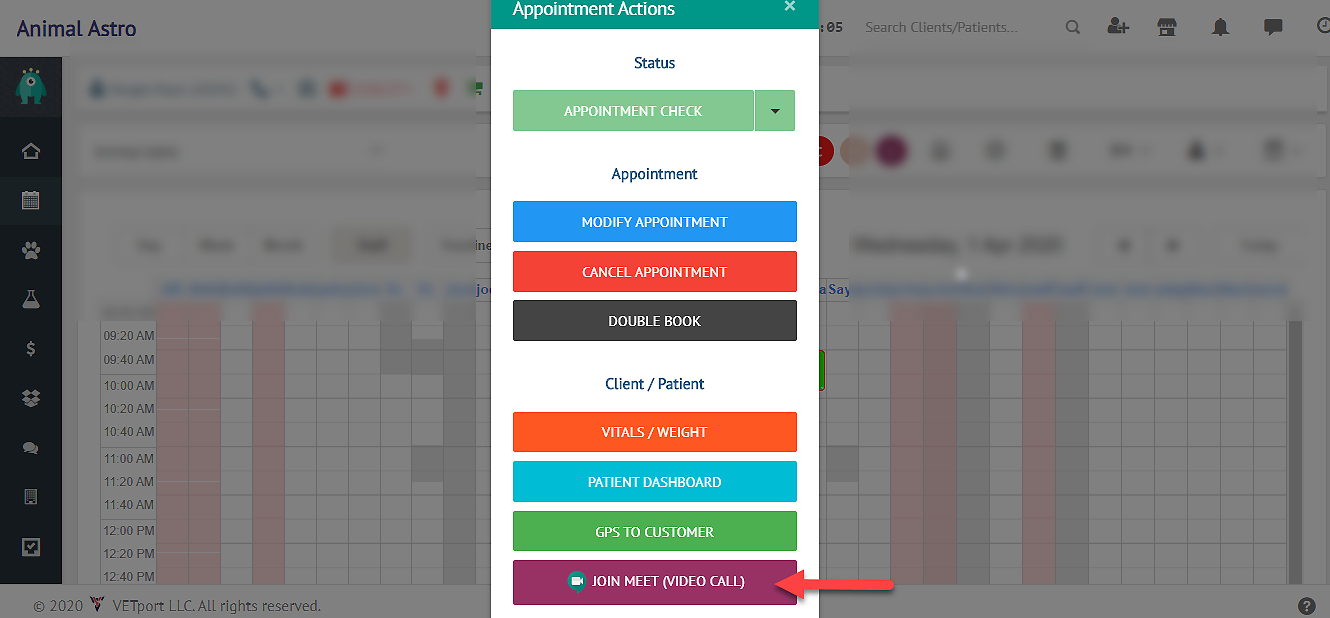 Join Telemedicine Appointment
Please feel free to contact VETport Support via Online chat or email (support@vetport.com) if you have any concerns integrating the VETport Meet App.
Want to try VETport for FREE?
No Credit Card Required
FREE Telemedicine App till Covid Crisis
Access to VETport PMS Email Course
Related Articles
Streamline your practice with VETport
Sign up Now!!!