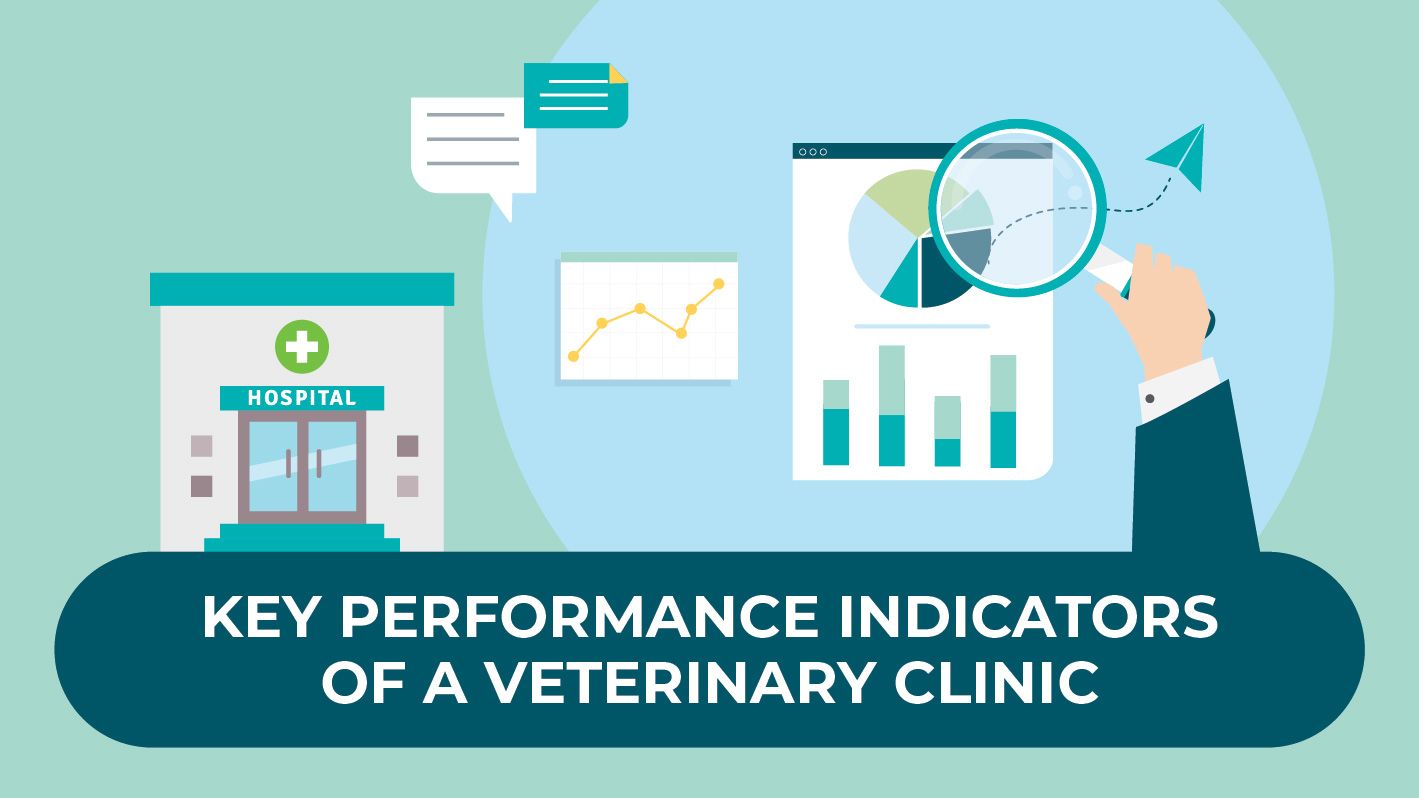 21 July 2019
Key Performance Indicators of a Veterinary Clinic
---
In business management, we often use numbers to put things into perspective. Numbers are the tools of measurement. We use numbers to define anything in quantitative terms. In fact, without numbers, a business cannot operate. When it comes to the context of veterinary practice, the Key Performance Indicators (KPIs) are those numbers which a decision-maker must look into in order to know exactly how his/her practice is performing. These KPIs aid the practice owners to chart the future course of the veterinary practice. So what are these KPIs of a veterinary clinic and how to measure it? Let's explore…
What are the KPIs of Veterinary Practice?
The purpose of KPIs is to indicate the performance of any particular thing. For example, you wish to know which of your providers are performing the best or which procedure is bringing more revenue to your clinic. Similarly, you can measure the performance of nurses, receptionists, technicians or even clinics in case of multi-clinic setup. It can be just anything. You can even measure which breed of dogs are visiting more to your clinic and run targeted marketing campaigns on them. The end goal here is to get meaning out of numbers and use it to your advantage.
An inspiring example
Let me give you the example of Dr. Adam who is one of our clients. He loves to analyze numbers and make inference out of it. In his office, you can find graphs of past year revenue per month vs current year revenue. He is a great veterinarian and a fine businessman. One fine day he came up with a crazy idea of measuring the Client Retention. He examined the demographics of his returning customers and found some absolutely crazy statistics out of it. Here it goes… 1. Out of all positive reviews on google, 97% of them have come from regular clients, 2. About 56% of their clients over the last 3 years have visited more than once to the clinic in the same period, 3. Only 15% of all clients booked the appointment online, 4. 79% of the pet owners forgot the repeat vaccination date. There were many more interesting revelations from Dr. Adam's research on his clinic's data. Later on, Dr. Adam implemented some corrective measures based on the findings from the research. Within one years time, the clinic's revenue grew by 74%. Just with a sense of numbers what Dr. Adam could achieve is simply amazing. The question is can every veterinary clinic owners do that? Possible. Needs will power and dedication.
How to measure the KPIs?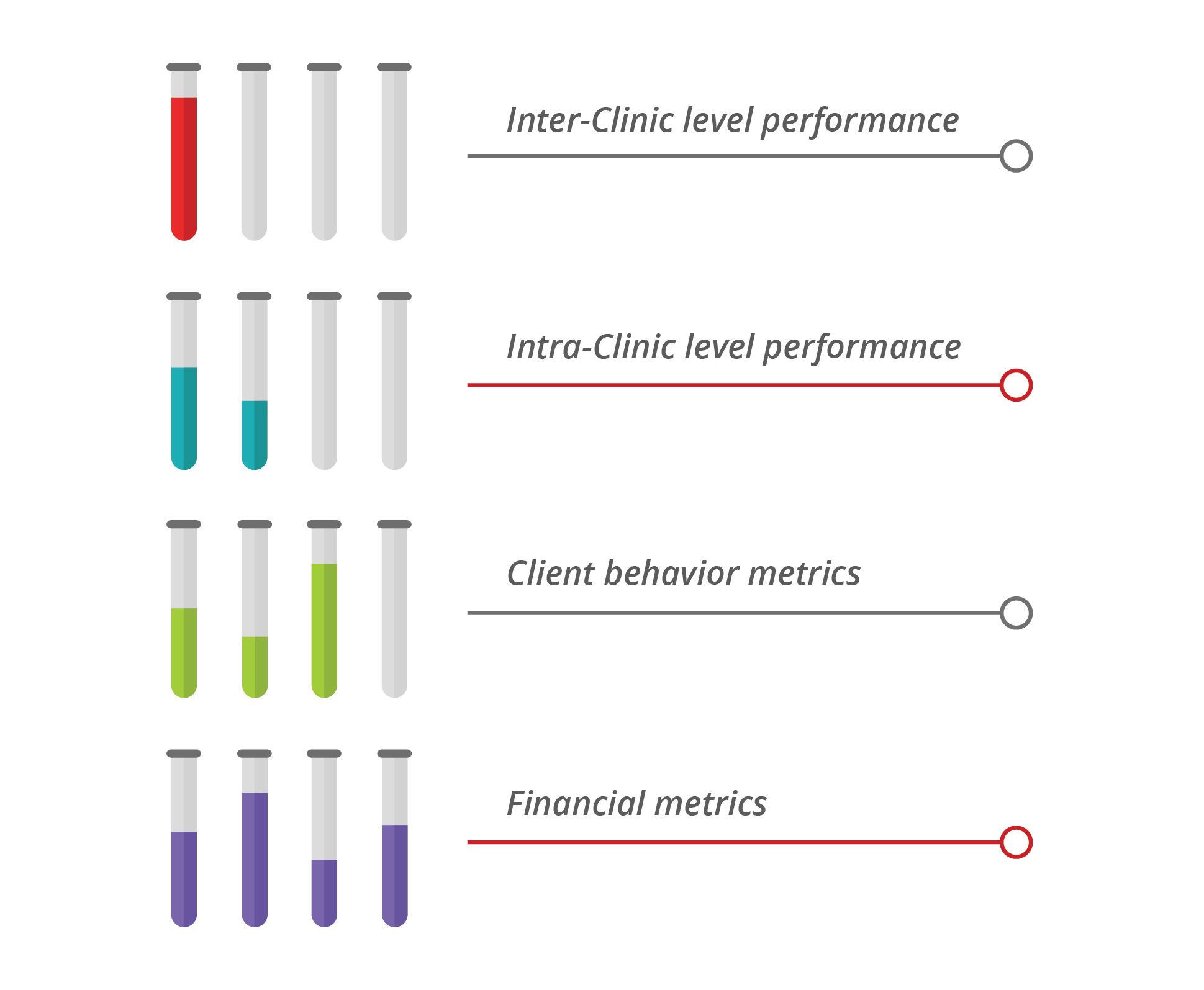 Before measuring the KPIs you must define what is your goal. For example, you want to grow your revenue then measure the new clients visiting the clinic and retention rate, you want to improve profitability then focus on cost reduction. Here we highlight a few generic KPIs that will come handy if measured properly.
1. Inter-Clinic level performance:
Let's assume you run a chain of veterinary clinics which has 3 clinics under it. Let's name them A, B, & C. A was founded by you and later on you acquired B and C. You would be interested KPIs like what are the total revenue, revenue per provider, revenue per staff, revenue per floor space, revenue vs. expenditure, retention rate, revenue per client, etc. You must measure the above KPIs at both the aggregate level and clinic level. Let's say the aggregate revenue per provider is 0.4 million for last financial year. However, you see that one of your providers is barely making 100 thousand, then it is time to make the tough call. Let's say clinic B is getting the highest retention rate of 66%. Then you must analyze what makes the clients of clinic B come again and again to the clinic and replicate the same strategy in all the clinics.
2. Intra-Clinic level performance:
For single clinic setups where multiple providers & staff are working then it is necessary to measure the performance of each stakeholder. Some key parameters to look at are Sales by each provider, top-performing procedures, most sold plan items, positive review rate, etc. Try to find who is the top-performing staff of your clinic and incentivize them. Also, simultaneously search for poor performance category and put them in a performance improvement program (PIP).
3. Client behavior metrics:
Look at clients' preferences and their choices. See how they are booking appointments (Online or through phone or directly visiting the clinic). The metrics to track here are client retention rate, satisfaction rate, sales per client (to find high net worth clients), common breeds that come for treatment, average invoice amount, etc.
4. Financial metrics:
Finally the financial metrics are at the core of any veterinary clinic's success. Financial metrics like Sales per month, month-on-month growth rate, finding the peak season & offseason, the breakup of the clinic cost, cost-to-revenue ratio, break-even period, profitability ratio, etc. Close analysis of these metrics are crucial. For example, you find that your clinic is getting most footfall from May to August, a decent footfall between September to December and least footfall from January to Apri. In such a circumstance you can increase the price of your services during the peak season to get maximum revenue and offer lucrative discounts in lean seasons to attract the maximum number of clients.
Leverage VETport to easily keep track of the clinic's KPIs
VETport is well known for its business intelligence features that help veterinary owners and practice managers to drive a lot of meaningful insights in the form of graphs & pie charts. Few common reports are Sales by a provider, Sales by a clinic, sales by client, sales by procedure, sales by plan item, clinic wise patient visits, Accounting related reports, Communication-related reports, Financial snapshot, Average Invoice, Doctor's Productivity Analysis Report, Top Paying Clients by Zipcode, Reminder list, Marketing dashboard, and many more. Want to explore VETport? Book a demo now!
Get 15 Days FREE Trial
No Credit Cards Required. Sign up Now!!!