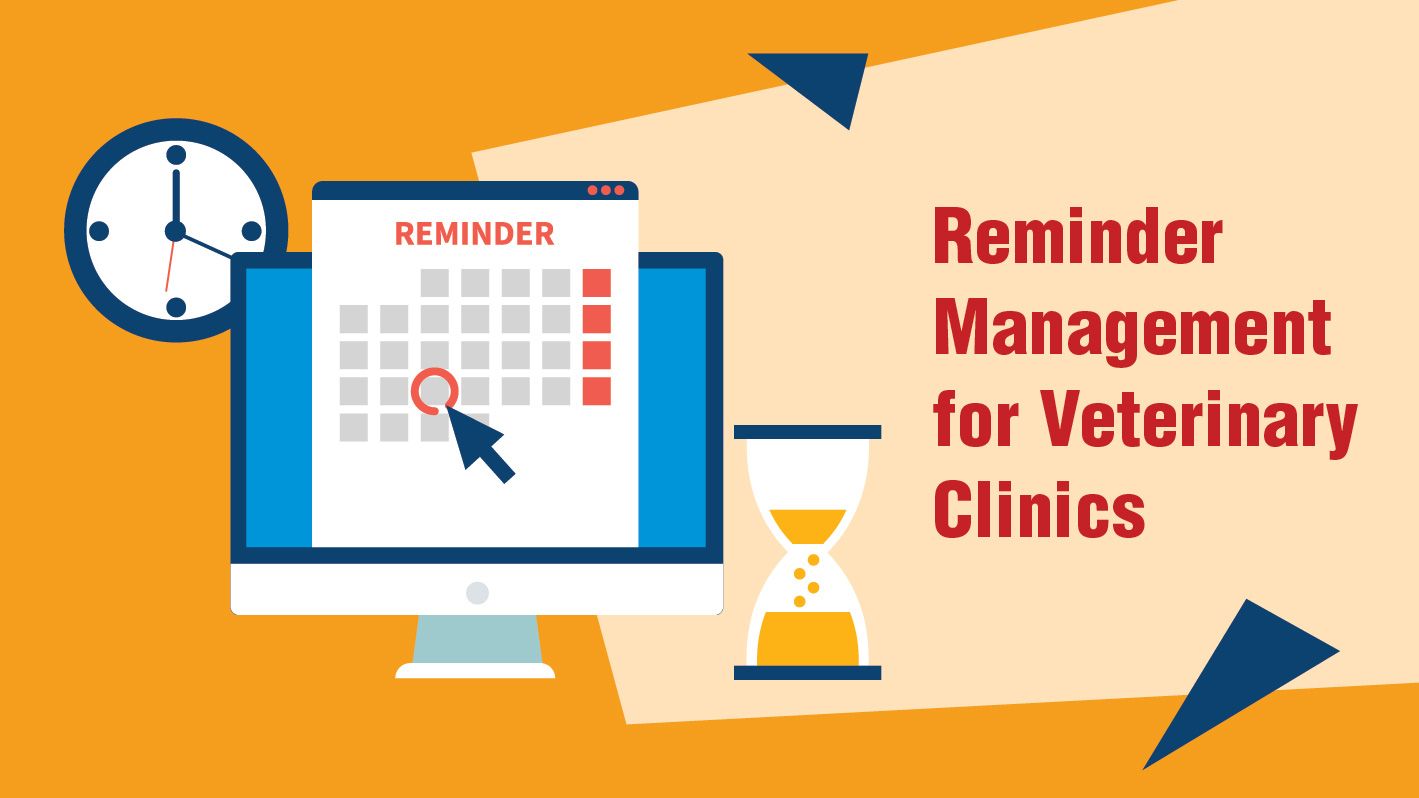 13 July 2019
Reminder Management for Veterinary Clinics
---
Reminders have become an integral part of any veterinary service. It is common for pet owners to forget about routine vaccinations & wellness checkups. However, as veterinary service providers, it is critical for us to send periodic reminders to the clients and ensure the best possible care is given to their pet. Also, it is our responsibility to ensure that our reminders are acknowledged and pet owners turn up at the clinic on the scheduled date. Many veterinary clinics today are very proactive in sending reminders as it is an integral part of their business. However, there are some uninitiated clinics who are yet to implement a reminder management program to their practice. Hence, we bring to you the fundamentals of veterinary reminder management & best practices associated.
What is a Reminder?
A reminder is nothing but the process of notifying the client of your veterinary clinic about something at a particular point of time. The reminder can be about a Scheduled appointment, Vaccination reminder, wellness check-up, medicine dosage, etc. Vaccination reminders are by far the most difficult ones to manage. Why? Because the vaccination reminder is sent after a long interval of time. It is highly likely for both the provider and the pet owner to forget about the vaccination after 3 years. Hence, the use of sophisticated tools is recommended for veterinary clinics which will send reminders even after a long period of time without fail. Failing to send reminders or sending inappropriate reminders can have a detrimental effect on the pet's health. We must get extremely well versed with the reminder tool (in case using one) so that we can ensure our pet's health is taken care of in the best possible way. In case you do not have a reminder management system yet, explore VETport's reminder module which comes included in all the subscription plans. You can book a demo here…
Ways you can send reminders to your clients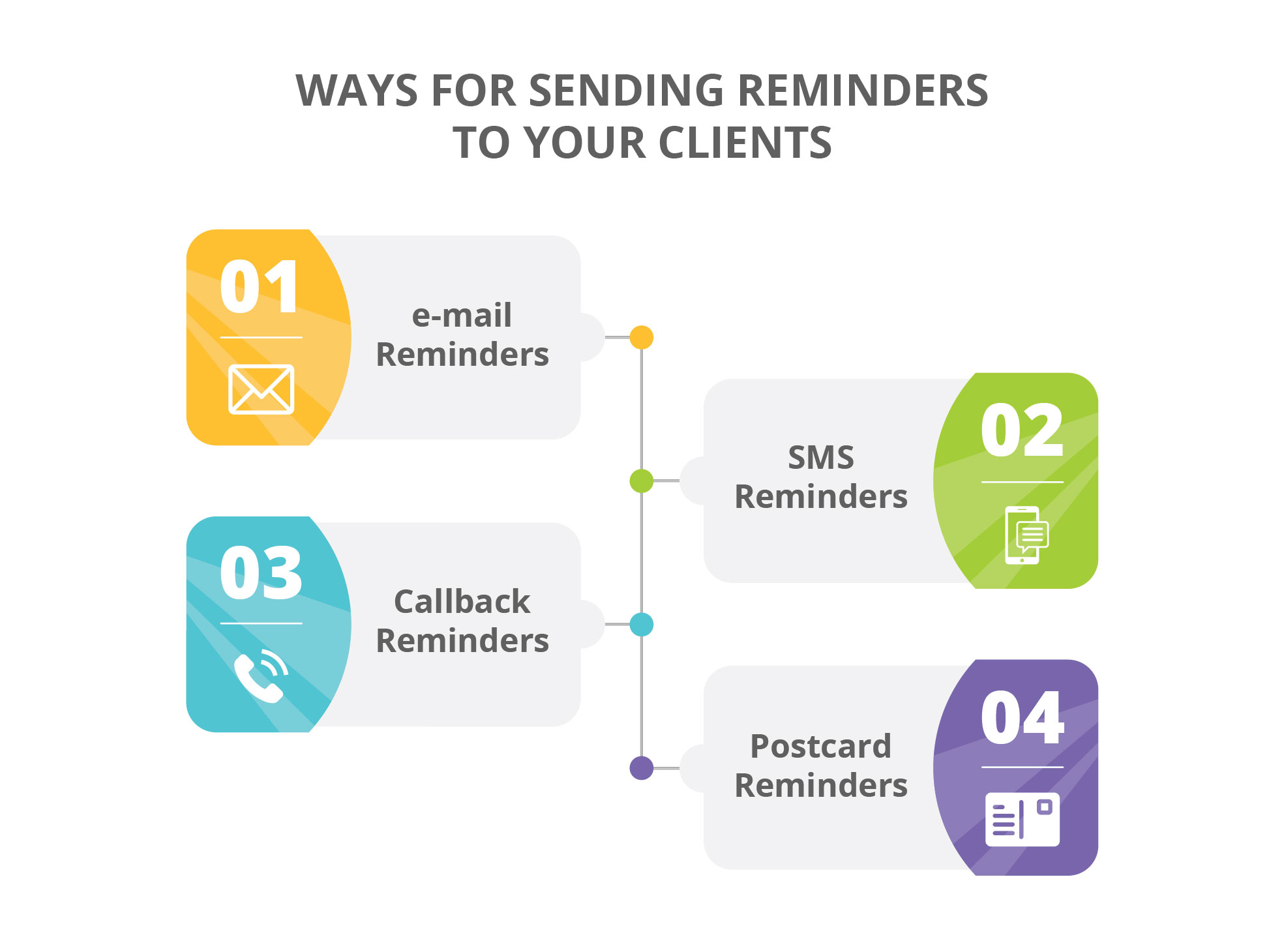 1. Email reminders:
Email reminders are the most common form of reminders sent by veterinary clinics. Email reminders can be automated and personalized. Emails give you the opportunity to convey a very detailed message to your clients. However, there is a chance of the email getting ignored because the pet owners may think it as a promotional mail from the clinic. A quick suggestion would be to start the email subject with words like 'Urgent', 'Important', or 'Gentle Reminder.
2. SMS Reminders:
Did you know that SMS has the highest open rate(98%) among all channels of communication? That means if you send reminders over SMS then there is 98%chance that the pet owner will read it for sure. Yet, most of the veterinary clinics are not using SMS as a channel of communication with the clients. Why? Mostly because the SMS service is not integrated with their Practice Management Software. VETport is among the few veterinary software which has SMS integrated within it.
3. Callback:
Along with SMS & Email, calling to the pet owners have been found effective. Configure your reminder tool to generate daily callback list so that the receptionist can call those customers to remind about the vaccination or scheduled visit. Calling to the client has great results because of the personal touch.
4. Postcards:
Postcard may sound a bit old school but it has gained popularity among veterinary service providers these days. Sending reminders through postcards gives an impression to the clients that they are valued customers of the clinic. However, printing postcards and sending them manually to clients can become cumbersome for the clinic. That is why VETport brings you the automated postcards that will send reminder emails to the clients without any manual intervention. Book a demo to learn more...
How VETport simplifies the reminder management
VETport has build-in reminder module that saves you from spending money on 3rd party reminder tools. VETport's reminder system is one of the best in the industry. Here are some of the interesting features of VETport reminders
1. Multi-channel:
VETport reminders can be sent via email, SMS, Postcard, Callback list, Statements, Invoices. Also, every reminder sent can become part of the patient health record.
2. Clubbing reminders:
Multiple reminders can be clubbed together in VETport. Sometimes one reminder is dependent on another one, for example, there is rabies 1-year vaccine scheduled for 3 consecutive years and on 2nd year the pet takes rabies 3-year vaccine, then the 1-year reminders will automatically get canceled. This is the beauty of VETport.
3. Automatic trigger:
VETport reminders are triggered automatically when a doctor performs a plan item. No need to manually schedule the reminder. The reminders can also be configured to remind the pet owner to give doses of medication at periodic intervals of time. For example, you are given 12 doses of medicine for 1 year, then VETport will automatically send one reminder at the end of each month reminding pet owner about the medication.
The basic purpose of the reminder is to ensure that timely health checkup is done in order to ensure that the best healthcare service is provided to the pets. Without reminder tools, it is almost impossible to remind pet owners about the checkups. We recommend all veterinary practitioners to start using a reminder tool from now on. If it becomes an expensive option for you, then try VETport. Book a demo today.
Streamline your practice with VETport
Sign up Now!!!