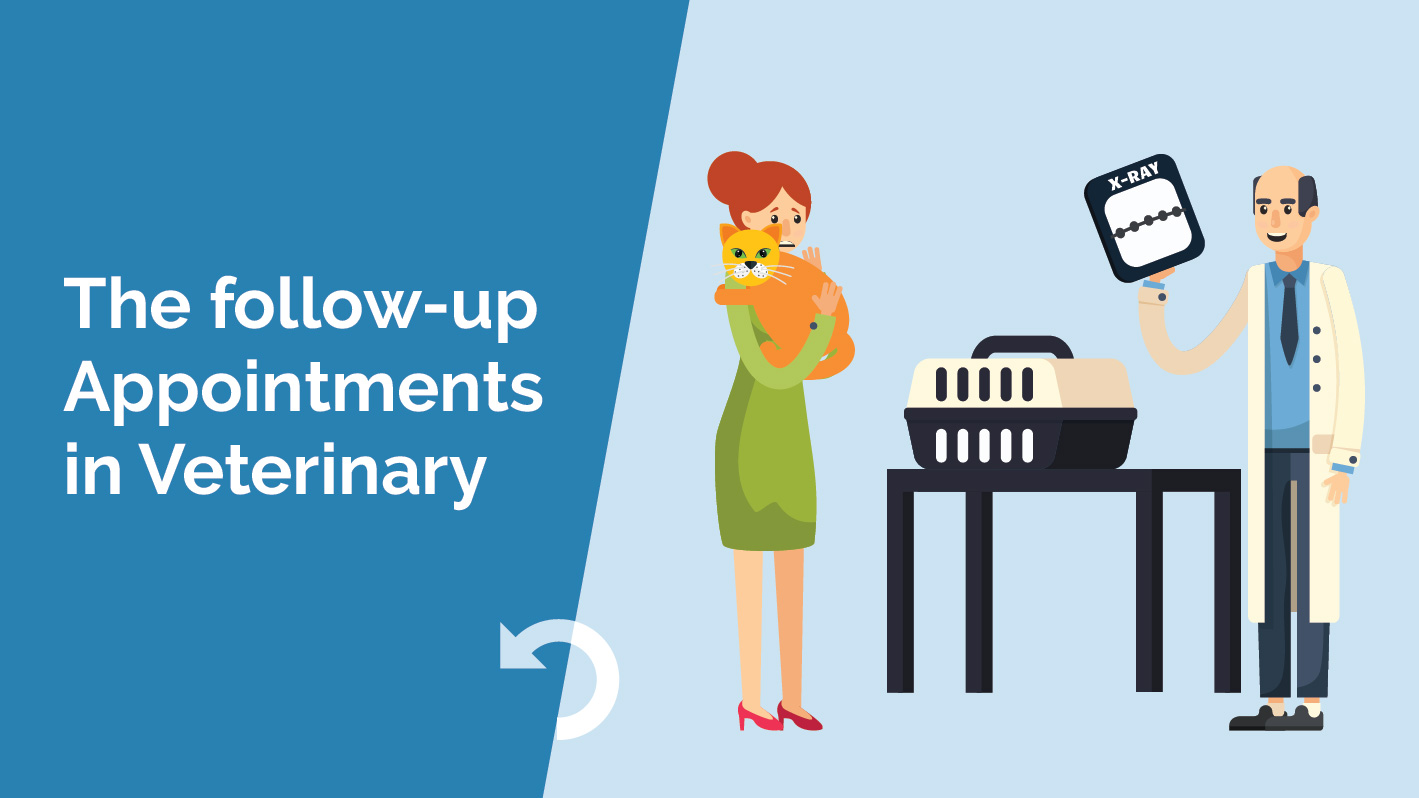 09 Sep 2019
Return Visits in Veterinary - The follow-up appointments
---
Follow-up visits after a medical procedure or surgery are usually recommended to the pet owners.

However, many times, the owners ignore these rechecks because they think it is not necessary and, they might save some money. It can have a detrimental impact on the patient's health. We should not let that happen as animal care providers.
In this article, we will show you various aspects of pet owners' psychology. We will also discuss different ways to avoid no-shows on follow up visits or progress exams.
Why pet owners miss the follow-up appointments?
The answer is not simple. There are various aspects to it. The prime reason they do not come again to the clinic is, they do not understand the criticality of it. We believe that it is mainly the provider and the nurse's responsibility to convey the importance of a follow-up visit.
Let me show you through an example:
Dr. Miller (our imaginary vet) performs an ACL repair procedure on Kiva (the pet). Then he tells the owner Bethany (the pet-owner), "You can bring Kiva for a progress exam next week. Tuesday or Wednesday should be fine."

Now, do you think Bethany will turn up next week?
Maybe not.
Why? Because for her, the surgery is done. Hence, the dog should be fine after 7 days. Here the patient didn't get the required healthcare. Also, the clinic lost the revenue it would have received from that follow-up visit.
How to avoid No-Shows on Rechecks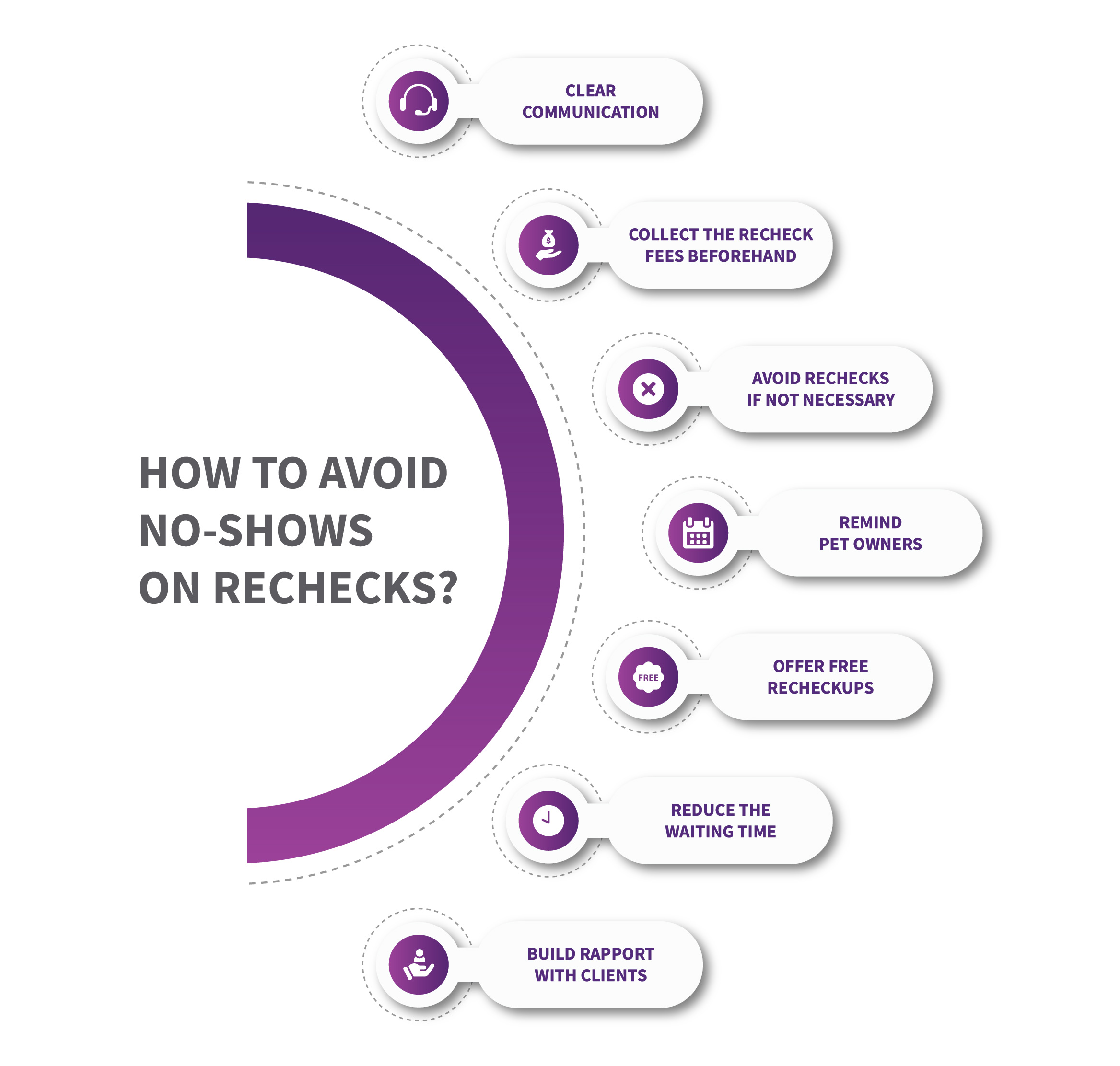 1. Clear communication:
Be very specific to your clients on why they need to bring their pets for repeat checkups. What is the exact procedure they will perform on the repeat visit? What will happen if they miss the appointment? What would be the typical cost of the recheck? You have to communicate with the clients these things before scheduling their repeat visits.
2. Collect the recheck fees beforehand:
During the first visit itself, you can charge them for the follow-up visit so that they do not miss it. This might annoy the clients, hence tell them why you are doing it. If they are not convinced, do not force them.
3. Avoid rechecks if not necessary:
We have seen a few of the veterinary hospitals asking pet owners to visit again just because it will be additional income for them. It is an unethical practice. This might cause distrust among the pet owners. Do not cheat your clients just because you have to achieve your revenue target.
4. Remind pet owners:
Call the clients a day or two days before the day of the follow-up visit. Send over email, SMS, WhatsApp to so that they do not miss it.
5. Offer Free Recheckups:
Let's say it is just a regular progress exam that will not take much time. You can do it for free. If the client has spent huge money on surgery, it wouldn't be fair to charge the client for a small follow-up visit.

It will help if you communicate to the client how critical the progress exam is before offering a free checkup. (It is a great way to show that you care for the pets and will help you build trust with their owners.)
6. Reduce the waiting time:
Do not make the clients wait for a long time if they have come for a little routine follow-up. It encourages other clients to go for the rechecks when they see you give more priority to routine checkups. As rechecks take less time than regular appointments, it makes no sense to make them wait long.
7. Build rapport with clients:
Do you know your clients by their first name? Do you get invited to their pet's birthday party? Do your clients trust you? If yes, then your job is done, your clients will never miss follow-up visits.
If the clients do not show up for rechecks, the clinic's revenue takes a hit. Also, it may hurt the patient's health in some cases. Hence, all the stakeholders of veterinary clinics must work towards it and make sure the clients do not miss such appointments. It requires a change in the approach of how we handle customers. We must take it very seriously.
Note: We can help you increase the number of follow-up visits with our intuitive custom reminders and forward bookings. Sign up below for 15 days trial to see how.
Streamline your practice with VETport
Sign up Now!!!