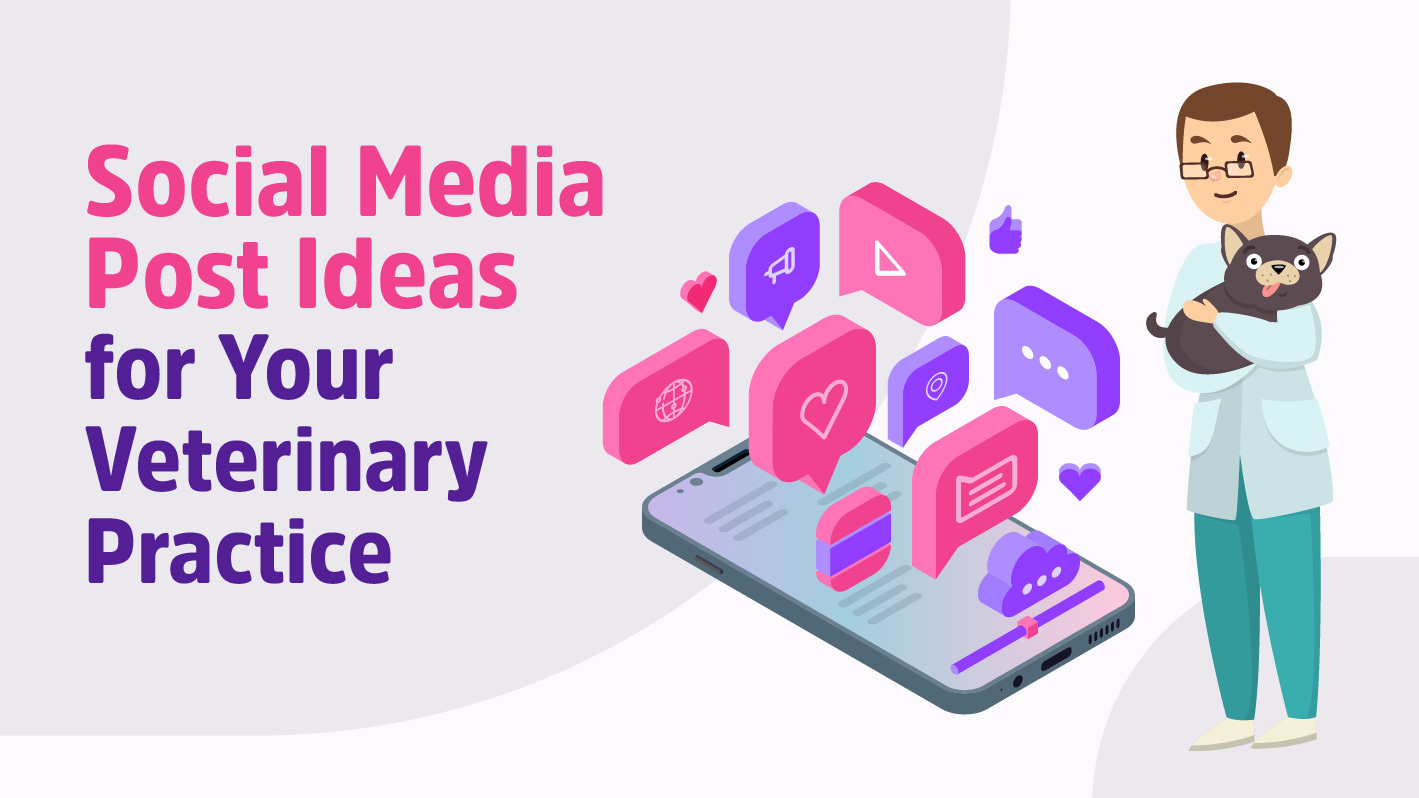 20 October 2022
Veterinary Social Media Post Ideas For Your Veterinary Practice
---
How having a social media presence helps your veterinary clinic?
Social media started as a trend but became an essential part of the business marketing strategy across all industries, including the veterinary industry. If you are looking for veterinary social media ideas, you have all the right reasons to do so.
Social media has 3.5 billion active users, no doubt you will find your clients and potential customers there. 90% of marketers say their social media marketing efforts have increased their brand's awareness. And 21% of customers are more likely to avail services from brands and businesses they can reach on social media.
All the stats above signify only one thing, social media is essential for your veterinary clinic marketing. With the right content, you can engage with your clients and reach your potential customers. To help you do so, we have curated a list of veterinary social media post ideas for you. These veterinary social media ideas will help you kick-start your social media journey.
We have also created free veterinary social media post templates, along with captions and hashtags.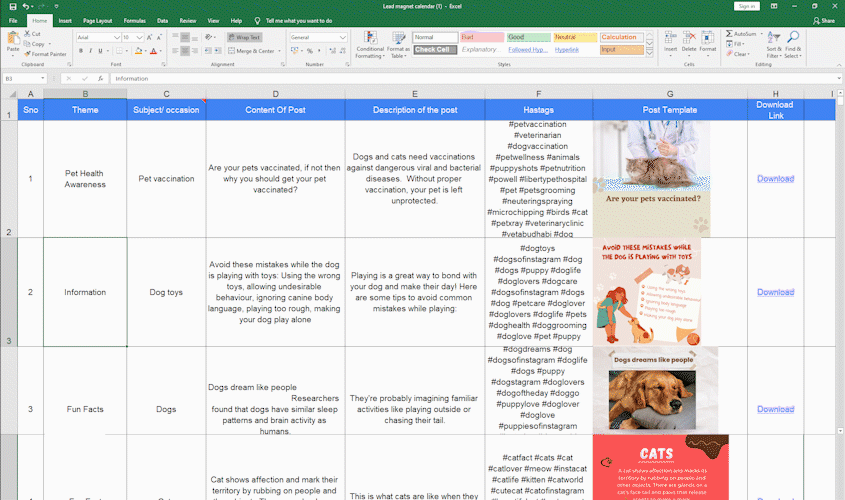 How To Create The Best Veterinary Social Media Post
Social media is an opportunity but it is not that easy to be seen and heard. Your veterinary social media posts should be unique to your practice and should stand out from the crowd. In order to do so, here are a few things you can keep in mind while creating your veterinary social media posts.
1. Create what your target audience wants to see
The first step before you start creating content is understanding your audience. In your case that will be your clients. You need to think about how you can add value to them, only then will people come, engage with your social media content and follow for more.
To understand your audience, experiment with different types of content and monitor the engagement; the number of likes, shares, comments and impressions. This would give you a fair idea of what content works and what type of content your audience would want to see more.
When it comes to audience engagement you would also need to understand that the audience demographics for each social media platform are different. And so does the type of content which would perform best.
For example, Linkedin and Instagram are two different platforms, with two distinct types of audience demographics. Linkedin is more professional whereas Instagram provides a more personalised experience. So you would have to curate your content accordingly.
2. Make Your Posts Look Interesting
Imagine you are in a bookstore surrounded by hundreds of books and you see a book with an interesting-looking cover, you will pick up the book out of curiosity and flip through. Similarly, everyday people scroll by millions of posts on social media to make them stop and read your post you need to intrigue them with your post design.
It is not as difficult as it sounds, there are many tools like Canva, AdobeSpark and more where you can find social media post templates for free. All you have to do is edit the text, add your veterinary practice's logo and your post is ready.
3. Create actionable content
The key to adding value to your clients and audience is through actionable content. You can provide educational content for pet parents, tips to take better care of animals, share product recommendations or reviews and similarly much more. This would help your clients to take action and add value to their daily life with their furry friends.
4. Follow a posting schedule
There are some optimum days and times for each social media platform. When you post your content according to this schedule the chances of your post getting more engagement increases. Here are the days and times that work best.
Facebook: The best time to post on Facebook is 8:00 AM to 12:00 PM on Tuesdays and Thursdays.
Instagram: The best time to post on Instagram is 11:00 AM on Wednesdays.
Twitter: The best time to post on Twitter is 8:00 AM on Mondays and Thursdays.
Linkedin: The best time to post on LinkedIn is 9:00 AM on Tuesdays and Wednesdays.
5. Experiment with different forms of content
On social media, there are not just posts but other forms of content too which you could create like videos, stories, and reels. On Instagram, reels are the most engaging content with an average 2.54% video view rate. 85% of social media users want more videos. These forms of content have a greater reach and will help you to attract your target audience.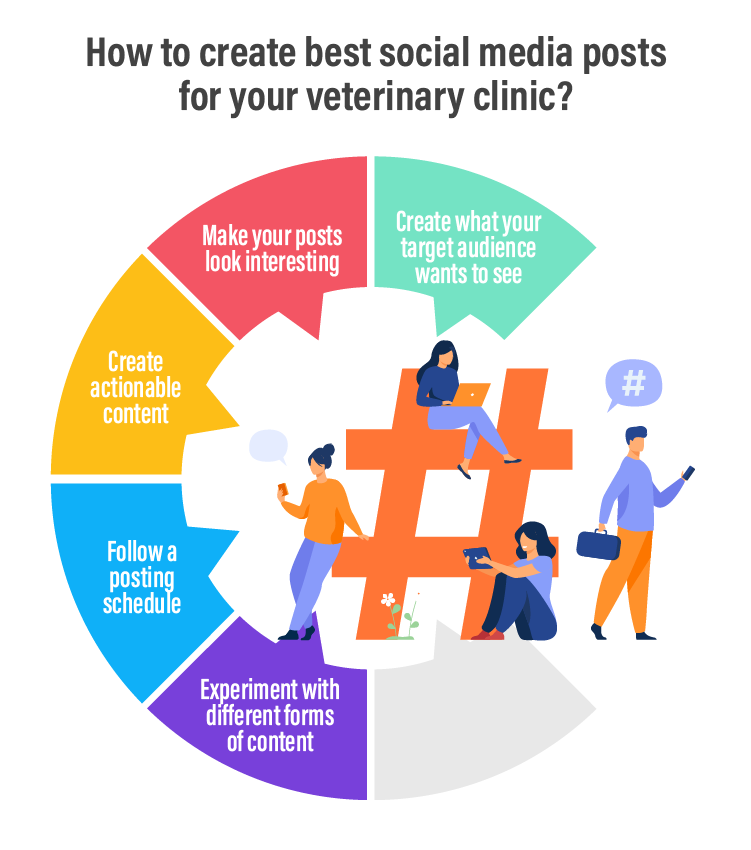 Free veterinary social media post templates
We have curated a list of more than 30 veterinary social media post templates, along with captions and hashtags. You just need to download the template, add or edit text, add your logo and post it.
Streamline your practice with VETport
Sign up Now!!!