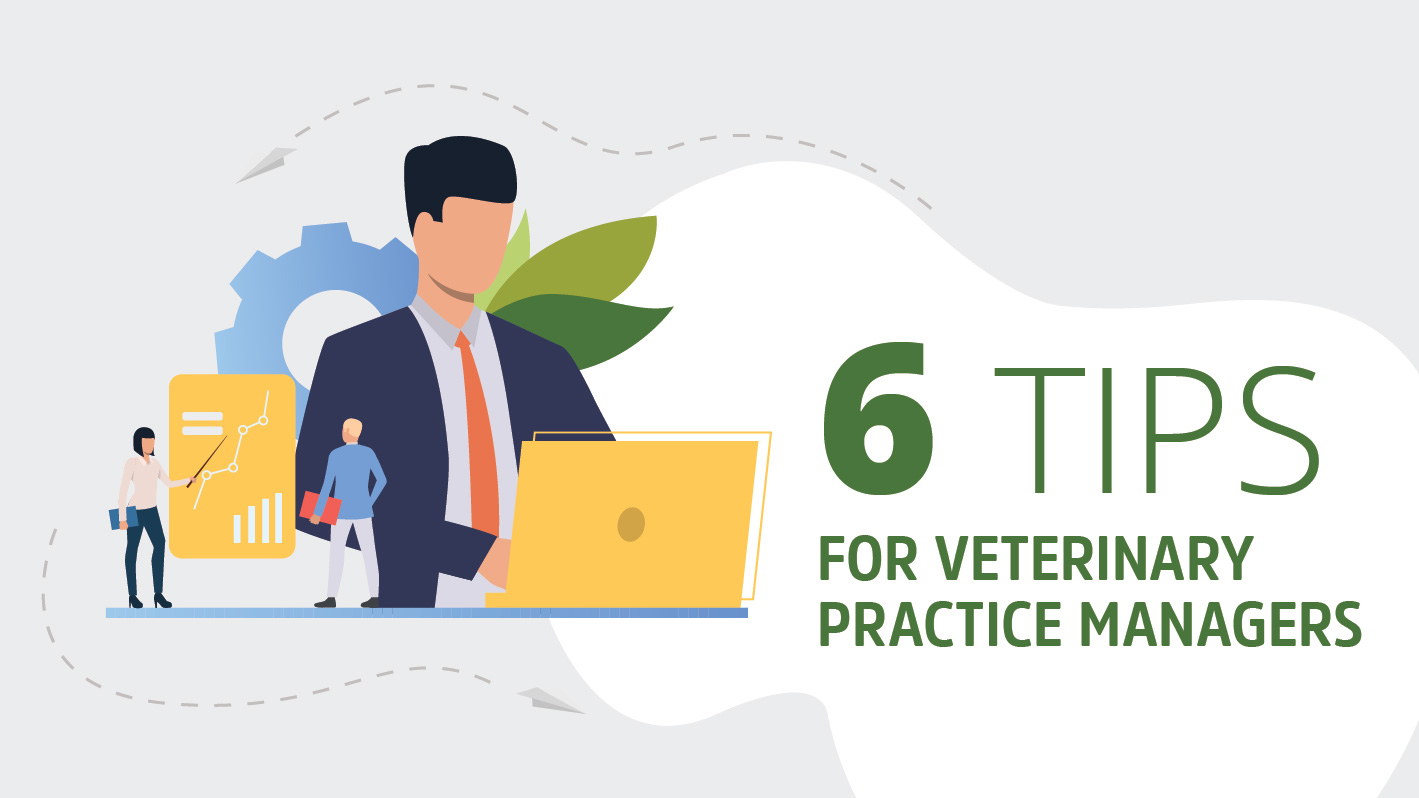 27 Aug 2019
6 Tips for Veterinary Practice Managers
---
Hi There. If you are reading this then I am sure you are a practice manager who is on the lookout for ways by which your veterinary clinic can grow and improve. Practice managers(PM) have become the key to the success of any veterinary practice. A practice manager needs business expertise and people management skills. Sometimes the practice manager has to get into shoes of other personnel to get the task done. However, it is crucial for a practice manager to know what is good for their veterinary clinic and how to make it happen. Hence, we bring to you 6 tips that practice managers may follow to get maximum out of their work and efforts. Here it goes…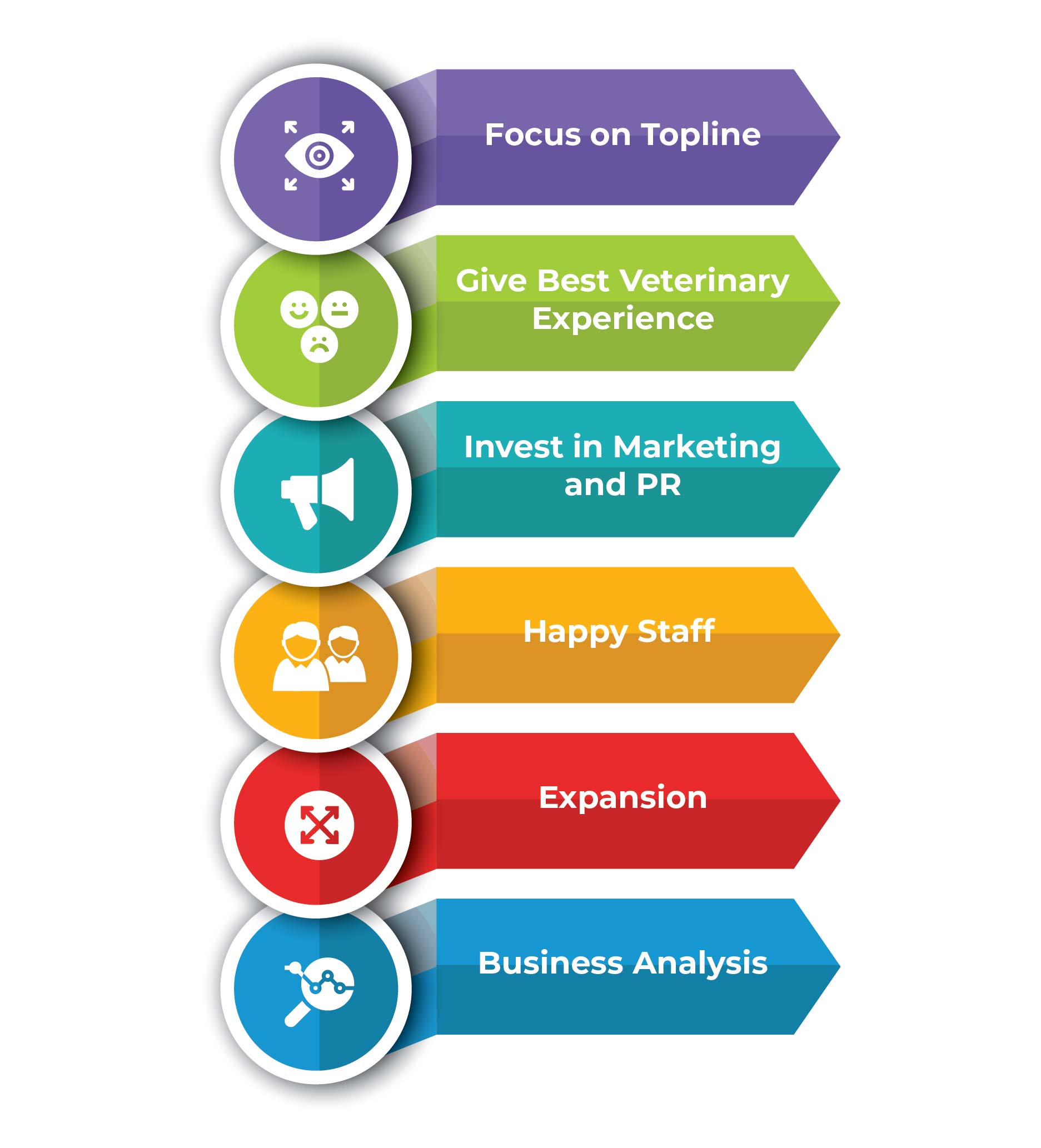 1. Focus on Topline:
Practice managers are the CEOs of veterinary clinics. They have the authority to decide on the future course of action. They manage the day to day operation of the clinic. Often practice managers get lost in operational issues of the clinic and fail to see the larger picture, i.e. the growth of the clinic. In order to grow the focus must be on revenue or the top line of the clinic. Look for new avenues of revenue generation like Referral programs, Reminders, Loyalty Programs, Boarding, Grooming, Vaccination, Pet Training, etc. Ask your receptionists to upsell your services so that you generate more revenue from the existing set of clients.
2. Give the best veterinary experience:
Your clients may not remember the name of your clinic or the provider, but they will certainly remember the experience. If their visit experience at the clinic was good, they will talk about it with their friends. The client experience is a crucial factor that will decide how successful your veterinary clinic will be in the future. Generally, client experience starts right from the appointment booking and it never ends. Make it simple to book appointments by giving multiple options like Online booking, Call option, Email & SMS. After the appointment has been booked, send a confirmation email and reminder emails. When a client reaches the clinic, greet them warmly and give them proper reception. Design comfortable waiting rooms that are pleasant for both pet and the owner, play soft music, engage with your client by giving informational content to pet owners through magazines, posters, and TV. When the patient is with the provider, the pet owner should be updated on the live status of what is happening with their pet. Finally, after the checkup is done, the pet owner must be notified about the future visit requirements. Reminders about medications and vaccinations should be sent in due time through SMS and Email.
3. Invest in Marketing & PR:
Marketing is essential for the success of any business in this world. There are some companies that spend up to 50% of their revenue on marketing. The U.S. Small Business Administration recommends spending 7 to 8 percent of your gross revenue for marketing and advertising if you're doing less than $5 million a year in sales and your net profit margin – after all expenses – is in the 10 percent to 12 percent range. (Source: Chron.com). As per the VETport research center, the optimal marketing expenditure for a growing veterinary clinic is 18% of their revenue and for a mature clinic is 11% to achieve the best outcomes. Branding, Social Media, Email Campaigns, Billboard, SMS & Postcard are among the most effective among all marketing activities. Ask for feedback from your clients and encourage them to post a review on public platforms like Google & Facebook.
4. Happy staff:
As a practice manager, you are responsible for the wellbeing of your staff. If your staff is happy then they will make the clients happy. Ensure work-life balance for your staff by giving vacations, fixed work hours and least fluctuation in work schedules. Compensate your staff as per industry standards if not better. Create a sense of belongingness for your staff so that you get the desired level of commitment and dedication. Finally, management of conflict between staff is also crucial in order to achieve the best outcomes. As a practice manager, it is your responsibility to align the personal interests of employees with the overall interest of the organization.
5. Expansion:
Successful veterinary clinics are always on the lookout for expanding to other locations. The expansion gives you a chance to target a bigger market and implement tried and tested methods to earn more revenue. However, expansion becomes a challenge if you are looking at locations that are far from the existing clinics. As a practice manager you have to do the initial setup, convert properties into a clinic, recruit the first set of staff, do initial promotion and finally ensure the clinic is running successfully. Another challenge is managing multiple clinics on a common platform, i.e. veterinary practice management software. If you are facing similar issues, you must take a demo of VETport which makes it seamlessly easy to run multiple veterinary locations which are timezones apart.
6. Business Analysis:
Analysing the performance of your business periodically is an excellent practice that will give you insights on how to improvise. Monitor the KPIs of your veterinary clinic and see which are the parameters that are improving over time and which are not. Involve the top management in the business analysis process so that they can understand their business better and contribute to the process further. Let's just say that your clinic has been witnessing a decline in footfall since last year. And, after analyzing your business you found that the annual price hike of last year was 3 times of what usually has happened over the years. However, the overall revenue has stayed the same in spite of a decrease in footfall. You show this information to management and convince them that clients are leaving due to a high price. However, your management also finds that the client satisfaction rate has improved by 76% over last year. So, that means with a price hike, the service quality has also improved, which means the price hike is justified and the reduced footfall will settle in some time. Only, because of business analysis, you can know about your business in such depth and as a practice manager of the 2020s, you are expected to do so. VETport enables decision-makers of veterinary clinics with advanced business intelligence tools and analytic features. Want to leverage VETport? Get a demo.
As veterinary units become more and more business-oriented, the role of practice managers will become crucial. As I have already said, practice managers are the CEOs of any veterinary practice. And, CEOs always look for growth & innovation. The practice management software your clinic uses has a lot of impact on how good a practice manager you will become one day. VETport is among the top veterinary software in the world which you can also leverage for your practice. Signup now for a Free Trial.
Get 15 Days FREE Trial
No Credit Cards Required. Sign up Now!!!