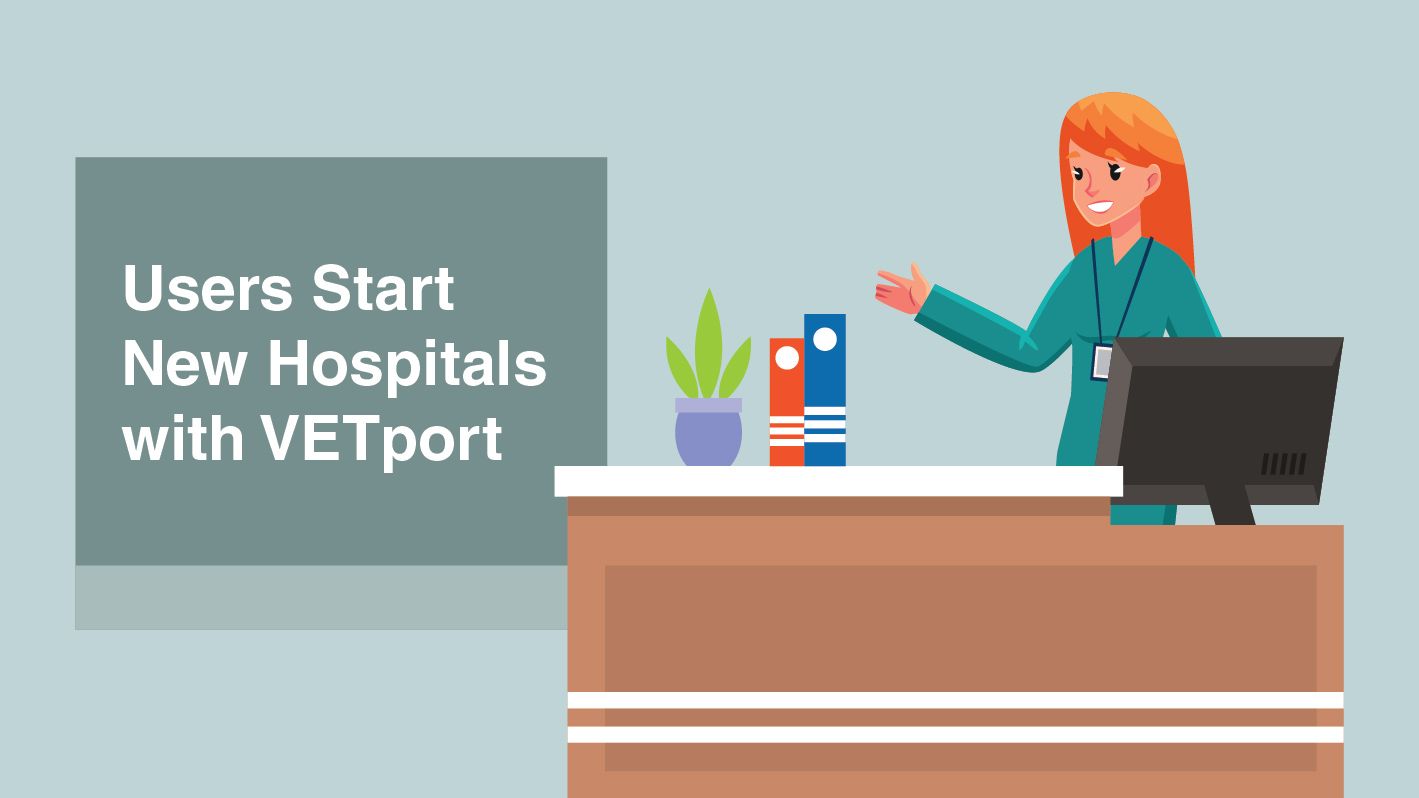 23 August 2012
Why Users Start their New Hospitals with VETport?
---
Ans: VETport – is a Sound Foundation for the Veterinary Hospital:
A veterinary practice starting up could be a small home service, mobile practice, small to large brick and mortar practice that could be focused on general medicine or could be a specialist practice or then a practice wanting to grow to into a chain of hospitals.
All these practices have one thing in common that they are being built for the future and with the intention of being around for a number of decades. Therefore they should choose technology that will be able to help them not only address their current needs but also that of the future. The misconception is that you need something basic when you are starting up – No that is not the case as change is painful and access to all the features is very important as needs grow in time. Further when you are buying out an old practice, unless you change the way the older practice works, one will never be able improve the revenues of the old business. VETport holds the key to that change.
A startup ought to choose Internet and Cloud based technologies to start with – This ensures that they are technology current and this also brings to the table a number of advantages as a result viz: Lower Cost of Ownership, No tech staff to hire, Accessible from anywhere on any device, No large Servers, complex Operating Systems and networking to manage, Scalable very quickly, VETport is driven by it's powerful EMR which helps build a detailed medical record very quickly.
Detailed Medical records are the need of today and the future. VETport delivers Veterinary Medicine at the Speed of Light. VETport helps define and modify process by the practice for all to follow. This helps build intellectual property over time with intelligence burnt into technology. This is working towards a decision support system
VETport helps improve and automate Client Communications.
Depth of functionality: – VETport is loaded with innovative functionality designed to deliver that wow experience. The online and in-house lab integration, sms integration, patient portal, label printing, image and any file storage, image editing using a browser, send image via email from your phone, powerful reminder logic for any plan, visit follow up, payment gateway, full text search on the medical record, integrated inventory management and boarding make it a comprehensive system.
Predefined Data i.e. Species specific complaints, exam forms, assessments, drugs, non drugs, services, lab reports, radiology reports, surgery and anesthesia forms. So clinic is up and running fast...
Low cost of Ownership in a monthly pay as you go model. All features are delivered upfront and users can grow into
The advantages of VETport as you see go much beyond just Web and Cloud. VETport is Open, Flexible, Fast, Reliable, Scalable, Secure and is Continuously Improving. At the same time it is affordable.
How Web based VET Practice Software can increase revenue streams and improve bottom line for the Veterinarian
The main pillar to achieve this revenue growth is a "web-based practice management software" that uses the information generated in a Veterinarian's practice. The web based data management and analysis system with the appropriate functionality and automation for communication can assist all the partners of the ECO system to be connected online i.e. Owners, Staff at the Veterinarian Practice, Vendors, Specialists, Labs & Pharmacies.
There are many incremental benefits to the bottom line with the above solution in respect to efficiency resulting in a practitioner being able to spend more time on patient care and revenue generating opportunities. Apart from these, reporting on examinations can be done from anywhere, request for proposal, purchase ordering and inventory updation can be done in free time or even outsourced. Access to data in case of Emergencies is a great thing to have as data is always online and records are always up to date. Work need not be done only from the practice location and only during office time.
A properly set up and well managed web based Vet practice software gives you the freedom to access information from anywhere in the world, anytime as per your convenience, from the comfort of your home or even just your phone. Now isn't that a boon? Won't these benefit quotient help in building and managing your veterinary property and practice better?
Improved Communications, Automation, Efficiency & Convenience (with anywhere, anytime, any device access) will help achieve your revenue goals.
10 Advantages of VETport being Web based and on the Cloud
1. Simple and affordable IT Infrastructure
It's not possible for all veterinary institutions, especially smaller practices to be able to afford a high-tech IT environment. The infrastructure used is top of line and simply financially unviable if one were to create a similar setup. Since Vetport is web-based you don't have to worry about ever again about software deployment and hardware expenses; old servers, upgrades, disk crashes, data losses, viruses, faulty terminals, etc.
2. Mobility
Few things are as important as mobility, in today's on-the-go world. With Vetport you do not have to worry about lugging paperwork with you or worrying about getting the information when you want it. All you do is use the internet to access the application, whenever you need it and wherever you may be. This ensures great mobility in your operations and allows one to handle out-of-office emergencies as well as improve productivity, messaging and communications.
3. Cohesion
With Vetport, all participants of the veterinary ecosystem can work together. It is possible to give a secure access to all the select sections of your practice management system like pet owners (for patient records), specialists, vendors, outsourcing partners, practice managers and staff members, making the process of working together a lot smoother and hassle-free.
4. Accessibility
Its web-based technologies allow for access from any device with a browser. This eliminates the need for specific investments that you make and maintain just for troublesome clinic hardware.
5. It allows the IT staff to shift focus
With Vetport the IT staff does not have to worry with constant server hardware and software management and constant updates. They are now free to concentrate on innovation.
6. Faster Scalability and Flexibility
A new clinic and support infrastructure can be set up in no time and can be managed remotely. Data storage can be increased on demand and resources can be increased swiftly as the load increases. The clinic set-up can be accessed from anywhere you require, both as a collective whole or individually depending on the security rights given.
7. It is highly automated
It improves the features' utility and improves the possibility of integration with other environments and applications. Specialist and referrals practice access, third party lab integration, imaging aggregators, price aggregators, EHR and CDSS implementation and analytics are some examples.
8. Reduction in costs
Vetport's Cloud based solution greatly reduces the total ownership costs. There are no heavy demands crunching your cash flow since payments are made monthly and no large upfront payments are needed for the procurement of hardware or software.
9. Faster Support Turnaround
The infrastructure is wholly web-based and centrally served. Therefore, any changes that need to be made to fix a problem have to be updated at a central location and not on every desktop. This helps introduce software bug fixes and updated versions of the product seamlessly, quickly and without any fuss.
10. Better Security
Vetport offers a state-of-the-art secure environment from the inside out with safety features like secure communication, built-in data security and a comprehensive audit trail documenting the changes made. Since in most cases the security is comprised from within rather than external factors, access can be controlled as per the specifications from the data center where the application is hosted.