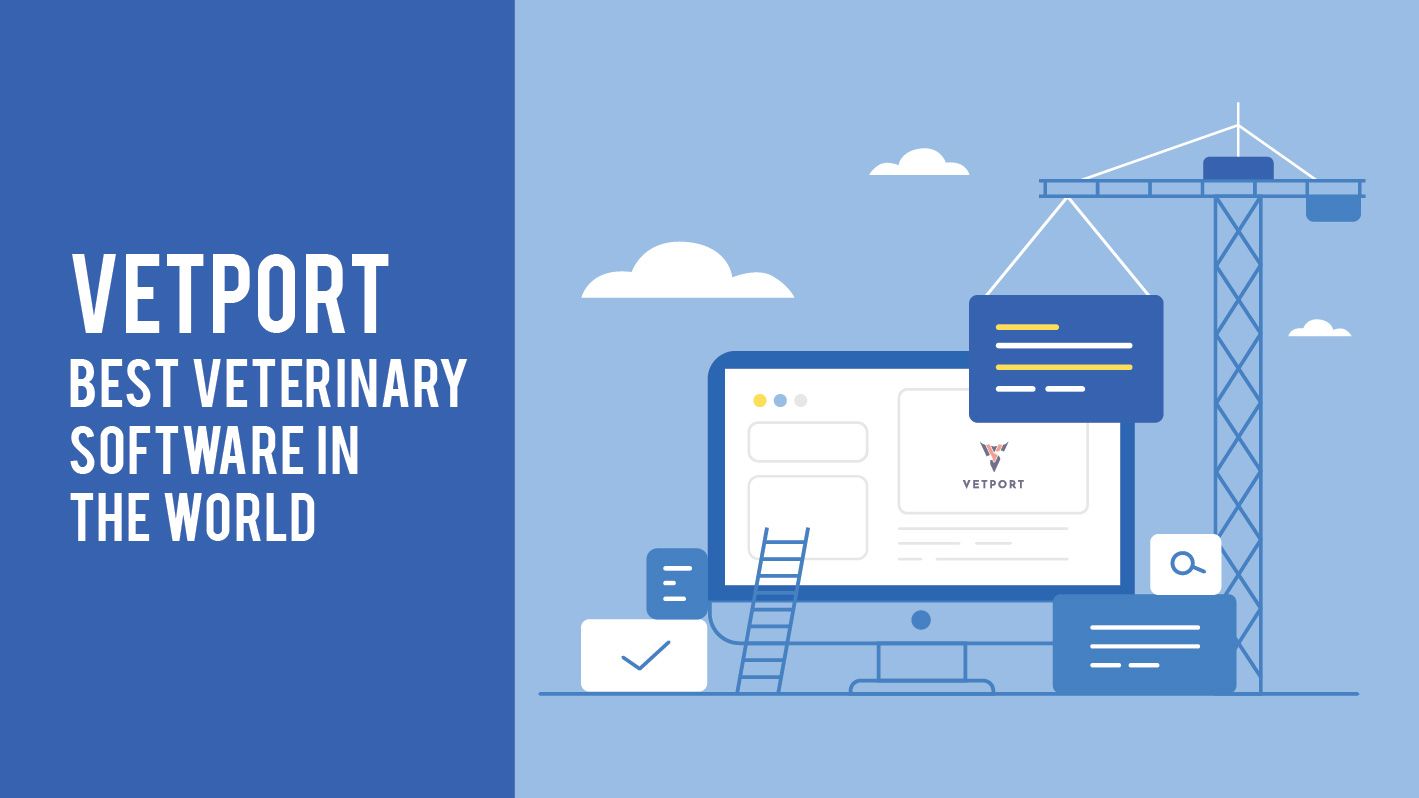 05 July 2012
Why VETport is the best veterinary software in the world today
---
VETport a No Brainer for a New Start Up Veterinary Practice
No real Capital Costs to bear wrt software / server
On the Cloud so no complicated IT to manage – Just plug into the Internet
Differentiator that will give you the edge – big focus on caring communications
Low Cost and affordable monthly Fee
Comes pre-loaded with data required with a community that shares data
One can focus on a few important and critical areas initially and then focus on more complicated areas as business grows
Built for needs of today, the next 30 years and beyond
Build your intellectual property from day one
TEAM - Technology Enabled Enhanced Medicine
VETport subscribes to the TEAM philosophy
EMR – Electronic Medical Record (paperless practice): Advanced Medical Records Standards, Safety, Quality and Communications
Superior Workflows: Improving Standards of Patient Care
Cloud Technology: Paperless Practice - Anywhere, Anytime and on Any Device
Benefits of TEAM
A gold standard medical record (EMR)
Improved Checks and Balances
Excellent Teaching tool for Junior Vets, Students & Support Staff
Helps deliver standardized quality of care
Improved, Easier & Automated Client Communications
Transparency of Operations
Improves the Reminder System
Better centralized Control
Improves Data Analysis
Lowers cost of Ownership
No high tech IT Infrastructure required
Automating Prescription Creation
For those who do not know VETport has it's own inbuilt formulary. This means that VETport can automatically calculates dosage based on the weight of the animal. It also suggest at the time of selection of the plan, which plans are appropriate and which are not based on the species and weight of the animal. When a group plan is loaded VETport prevents the plans that are not appropriate from being loaded. That's Technology enabled automation for you.
VETport however also allows for handwritten prescriptions which can be stored into the system upfront for reuse or can be built as you use the system. The client communication data can be also be stored in the master database as you use the system.
Using Checklists
Read Atul Gawande's Book on The Checklist Manifesto - Benefits even in Surgery. Use of Checklists originated and was perfected in the airlines industry. If checklist help in emergency situations, think of the potential how we can improve any process with Checklists.
VEtport uses check lists through it's unique SOAP design -
Group Plans in VETport, linked to complaints, history and Exam findings and even Assessments is a nice way to create a "Check List" of plans and client communications that need to be done
Assessments Linked to Complaints, a History / Exam Finding is nice way to create a differential diagnosis "Check List" in VETport
Stock data pre-fed for a specific complaint / Finding is a great way to create a Check List
Creating Check List into process is a great way to build your own intellectual property in a Medical Practice
A junior medical practitioner using carefully designed Checklists can deliver the same level of patient care with compared to an experienced practitioner
Intellectual property built into VETport using checklists will help Scale the size of your medical practice delivering the same level of patient care
Build your systems so that you can take your practice well into the next decade and beyond with VETport

VETport can be an excellent teaching tool

The way the SOAPing process has been implemented in VETport, gives power in the hands of the user and at the same time allows also a straight jacketed process to be followed using the workflow module. This helps develop standardized process to be developed for specific complaints and procedures which can be followed every time.

The Group plan, Report Card and Differential List can be added and linked to a complaint, history response, exam finding and the assessment. This can be configured by the user group and no IT person needs to be involved. Combined with the functionality of automatic drug processing we move close to being a decision support system. This capability makes VETport a great teaching tool and a base on which the Veterinarian can continuously build their intellectual property.

It is also important for the younger Veterinarians to adapt to newer web based and mobile technologies that assist in efficient practice management, improving and standardizing processes thus improving overall patient care.

The effective use of VETport can improve productivity and patient care by leaps and bounds. Paperless Medical Records, flexible and standardized template driven processes subscribing to best practices are key to building the practice for the future.

Impact on your Bottom line

Impact on your Bottom line - By Implementing the right Veterinary Software on acquiring a running practice or starting up a new practice.

A successful practice takes years of hard work and dedication. A veterinarian puts a lot of efforts in building a successful practice, and years later he wants to sell it off and retire with cash in hand for the years to come. He expects this to be cash on value of not only the set-up he has maintained but also the clientele he has yearned through the years. Some veterinarians also might want to sell the practice from lack of clients. This could be for a number of reasons, such as location, management, etc.

Whatever be the reasons to sell, when buying or setting up a new practice one needs to realize that one is going to be in business for the next 30 years. At one time, it was almost an abomination for veterinarians to accept profit and the art of practicing medicine as being part of the same mission, but now things have changed. While many veterinarians choose to believe that expertise in medicine necessarily excludes having business sense, nothing could be further from the truth.

By investing in the right veterinary practice management system you will be more equipped to handle business and deliver on customer expectations in the decades to come. But first and foremost one should not build in wasteful expenditure early on. It should be a decision that does not lock you into owning a white elephant.

A web based veterinary software on the cloud delivered in a software as a service model is a type of applications that is the ideal choice. Buying such a technology that is current & inexpensive can solve a lot of issues and help in reducing unnecessary costs drastically and brings almost immediately a better bottom line . In most cases paying for solutions using older technology, signing their maintenance contracts and upgrading them would mean the practice needs to deliver on around 150,000 to 200,000 USD in revenue to pay for these expenses every 3 years or so. This is considering most practices make 10-15% in net profit after all expenses.

Business and medicine are both evidence-based disciplines with much in common. A practice may not need an antibiotic injection, but an infusion of the right technology capital might be just what the doctor orders for providing the right impetus for growth. Also, but also keep in mind that you need to reduce costs to improve bottom lines.

This article's objective is to answer questions about redundancy, backup, hosting options, high availability, security, migration of data and our commitment to data availability.

VETport although cloud based is completely capable of running locally (your private cloud), and serving to the intranet and internet from the local site. How hard would that be? Not hard at all - an instance could be moved from the cloud and be up and running in a matter of hours(depending on database size) as long as the local hardware infrastructure was in place. However the Amazon cloud is an extraordinary infrastructure and we get to take advantage and leverage that infrastructure by being there. It is not absolutely required but is highly recommended.

Create your own instance on Amazon or any other cloud. You can control your cloud wherever it is, independent of VETport.

We of course offer backup strategies on the cloud included in our service. We offer a fee based backup solution to an offsite location as well. You can backup the full database at periodic intervals to an offsite location.

VETport tables are fully accessible within VETport including the full xml based medical record. A clinic may take all or any set of tables once monthly at no charge. Pull them down and open them in excel! There is a nominal fee for downloads in excess of once monthly.

In addition to the tables and xml based medical record from within VETport you can download the following: A folder per client, within each client folder a folder for all that client's pets, within each pet folder a pdf version of the medical record, an html version of the medical record, all images, and all attachments. These files and folders are generated at the time of your request through the browser. There is a small charge per client download for this file generation to offset the costs of generation and transmission. This is meant as a failsafe backup, and for anyone wishing to move to another system as it along with the tables and xml files provides in exquisite detail and machine readable format every aspect of the data within VETport, as well as an immediate human readable medical record in pdf or html.

For very high availability needs, you can have 2 instances with a virtual failover. VETport is capable of transactional mirroring on 2 independent systems.

The possibilities with VETport are not limited unlike every other veterinary software we have seen and worked with. No other vendor has as open and available data as VETport.

No clinic among hundreds now has ever had significant connectivity or operational issues on our cloud. We have clinics across the world using VETport i.e. USA, Canada, Cayman Islands, South Africa, UAE, India, China, Malaysia, Australia.

For connectivity issue we simply recommend a fallback internet access point. In my clinic we have an iPad on Verizon. It gives us complete continuity if there is a rare internet outage. For a large practice you may want a hotspot available or multiple tablet devices.