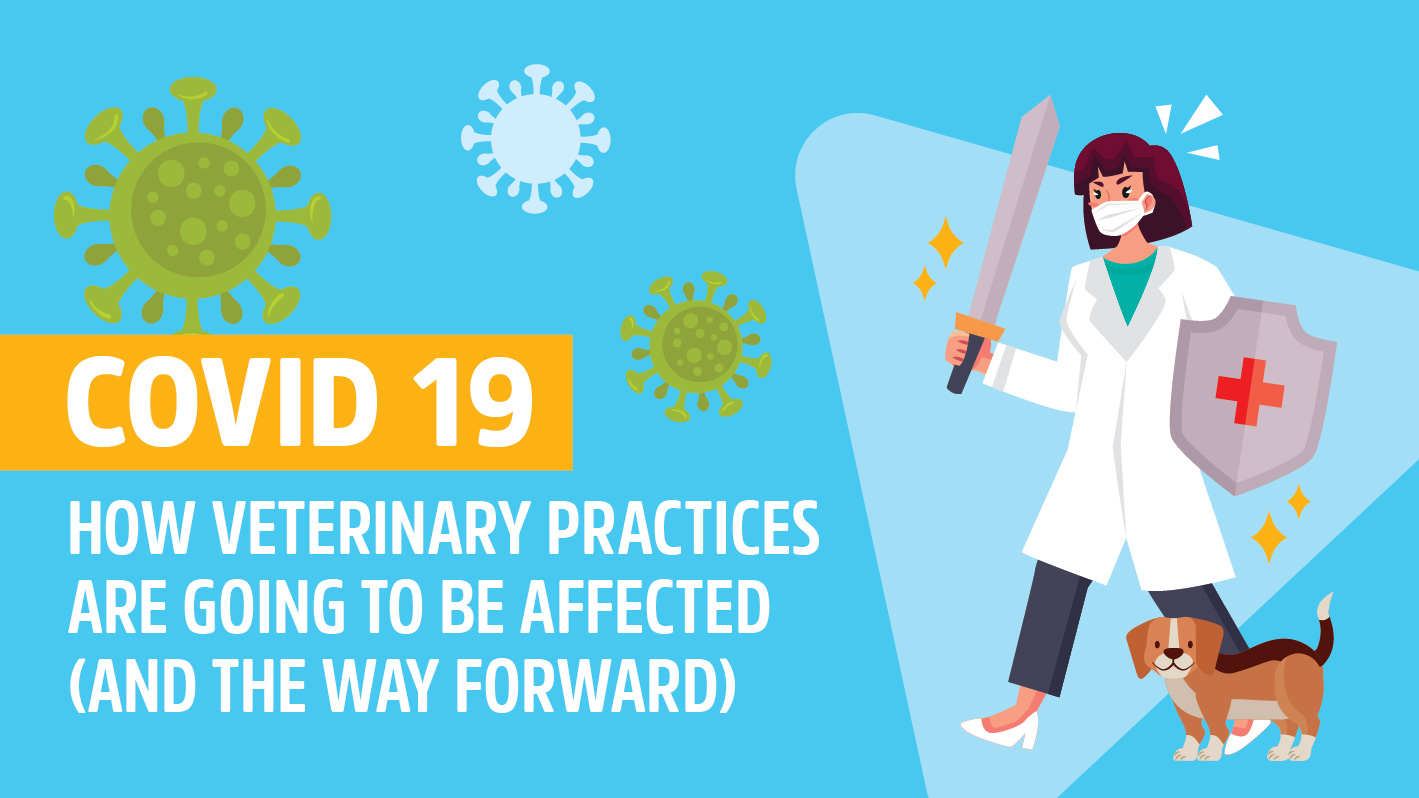 10 April 2020
COVID 19: How Veterinary Practices Are Going To Be Affected (And The Way Forward)
---
Health officials all over the world are battling the pandemic called COVID-19. And you know what?
Vets are not exempt from this. With questions from clients, uncertainties about the future, and lack of credible information, people are, among other things, concerned about their furry friends.
But there is some good news, at least on this front.
First of all, there is no evidence to support that the virus can be transmitted to animals from humans.
However, there are some precautions being taken by vet clinics.
Social distancing and lockdown measures are being implemented all over the world. What does this mean for veterinary clients?
Well, in such cases, it is imperative that pet owners check their clinic's policies in case their pets need to visit the vet.
Vet clinics are also taking measures to ensure their staff remains healthy.
How?
By reducing contact with clients.
What's more?
To accommodate the needs of clients, clinics are reducing workload by only taking appointments for emergency treatments.
Besides this, new technologies and software are being used to limit contact – like telemedicine and use of vet apps for at-home consultations.
Let's find out more about this.
How Can Your Vet Clinic Respond to the Crisis?
Here's the thing:
Staying informed about the current situation is imperative, both for preventing the spread of COVID-19 in your clinic, as well as for the community in general. To that end, vet clinic managers need to stay connected with the current situation. They can do so by checking out the coverage of the pandemic by CDC and the local and health department websites.
And that's not all.
On the higher up level, organizations are working to ensure pets and strays do not suffer due to lack of services.
The AVMA has released a set of guidelines for vet teams to follow during the pandemic.
The FDA has directed businesses to employ strategies for conservation of surgical masks and gowns.
The AVMA is also working to make sure that veterinary medicine is reclassified as an essential business.
This is done in response to severe restrictions being placed on goods and services that are considered non-essential.
Besides all this, vet clinics can implement some guidelines in the clinic too. For instance, they can split the staff into smaller teams, so that there can be a change of shifts.
What will this accomplish?
There will be limited contact of the staff with clients.
And that's not all you can do.
Veterinary practices should also focus on disinfecting equipment and premises between the shifts.
Encourage communication with your staff regarding best practices. Implement flexible sick leave policies. Practice limited contact with clients.
Vet clinics have been advised to delay any procedures that may be elective in nature, in order to conserve supplies.
In the coming months, you should strive to coordinate with the health officials at the state and local levels in order to respond to the outbreak.
Why?
Because the intensity of the infection may different according to the location, and local authorities will issue instructions specific to the community.
Having said that, the pandemic will certainly have some implications in relation to how vet clinics are run in the future.
For instance, as for daily operations in the clinic, cloud-based technologies and telemedicine are the solutions.
Let's explore further how the face of the vet business is about to change.
How will things change for the vet business in the future?
Besides keeping vet teams healthy and functioning, vet clinics will need to evaluate and implement certain tactics to ensure continuity of services in the coming months.
How?
For instance, there are already concerns regarding supply issues of medical equipment, such as gloves, gowns, and masks, surgical drapes, etc.
According to the FDA, there are no shortages being reported currently from any of the 32 drug companies that make animal medicines in the US.
However, six of these companies report that there could supply chain disruptions in the future.
But there doesn't seem to be a need for concern.
The FDA is working with these firms to apply intervention measures and prevent the disruptions
Nevertheless, vet clinics, small and big, would be advised to stay alert regarding the same.
And that's just one facet of this situation.
The global pandemic has also highlighted how important technology is in handling such situations.
When social distancing is encouraged and travel is limited, vet businesses will need to incorporate software that allows functioning without face-to-face contact.
Cloud-based technologies will take off, as will app-based consultations. The former allows businesses to function from anywhere in the world, minimizing the negative effects of the disruptions brought about by COVID-19.
And that's not all.
Integrated software services that combine various aspects of everyday veterinary challenges will take flight.
Telehealth and telemedicine consultations, or app-based client portals are imperative for providing help without physical contact.
Clients can be emailed invoices, and payment can be made online while more and more clinical services go mobile.
In other words, telemedicine can help by facilitating animal care using client communication, diagnostic appointments, treatments, education of pet owners, scheduling, etc. – all of it without ever any physical contact.
What's more?
Telemedicine will make the education, professional development, and training of veterinary students more affordable and streamlines.
This technology will allow specialists to review pathology slides, radiology, and other diagnostic information even remotely.
As a result, we can expect a revolutionary change in the way vets diagnose and treat patients.
Telemedicine – A New Era
One of the biggest solutions to problems like those created by COVID-19 is telemedicine, as stated above.
How?
It can help in monitoring the health of patients and vet teams without social contact. Telemedicine allows vet clinics to triage and monitor patients so that only pets with acute and emergency symptoms have to travel to the clinic.
But before getting into all that, you might ask, what exactly is telemedicine?
At its very basic, telemedicine is defined as a tool that helps in exchange of medical information electronically, in order to diagnose, form a treatment plan, and follow up the clinical health status of a patient.
Software that features video consultations, automatic display of appointment slots that are available and schedule updates fall under telemedicine.
The best part?
This is not something new.
They are already under the process of being developed.
And they are versatile in their approach.
For instance, clients can either opt for a private video consultation, or join in a general advisory session from almost anywhere in the world.
Some examples of telemedicine include the use of Skype or mobile apps to communicate with clients, observe the patient post-surgery, and for examination and discussion. But it's not all that simple.
If you are thinking of implementing telemedicine in your clinic, there are certain things you need to keep in mind.
First of all, telemedicine practice needs to work in accordance with the laws and regulations set up by the state. For instance, AVMA rules state that telemedicine can be conducted only if there is an existing veterinary-client-patient relationship.
Now, the question is, what is VCPR?
The requirements that need to be met for VCPR as per AVMA are listed here.
The most important thing here is that such a relationship cannot be established only via electronic or telephonic ways.
In addition, vet clinics need to check with their local authorities how the state defines VCPR, what the federal restrictions are, and what services fall under the umbrella of telemedicine.
There are also some additional considerations to be kept in mind.
For instance, telemedicine that includes treatment of patients across state lines warrants licensure of the vet in both the states where he is located and where the patient is located.
Conclusion
COVID-19 has revealed the importance of digital trends in the vet industry.
Technological advancements and software for streamlining information dissemination are the future of vet clinics.
Not only do they make it easier to integrate administrative tasks, but they can also improve productivity.
To that end, telehealth and telemedicine form perhaps the best investment areas.
Telemedicine makes information more accessible, takes less time compared to traditional methods, and is considerably cheaper.
Therefore, it is no surprise that vet clinics of all sizes are adopting this revolutionary new method of treatment.
Want to try VETport for FREE?
No Credit Card Required
FREE Telemedicine App till Covid Crisis
Access to VETport PMS Email Course
Related Articles
Streamline your practice with VETport
Sign up Now!!!