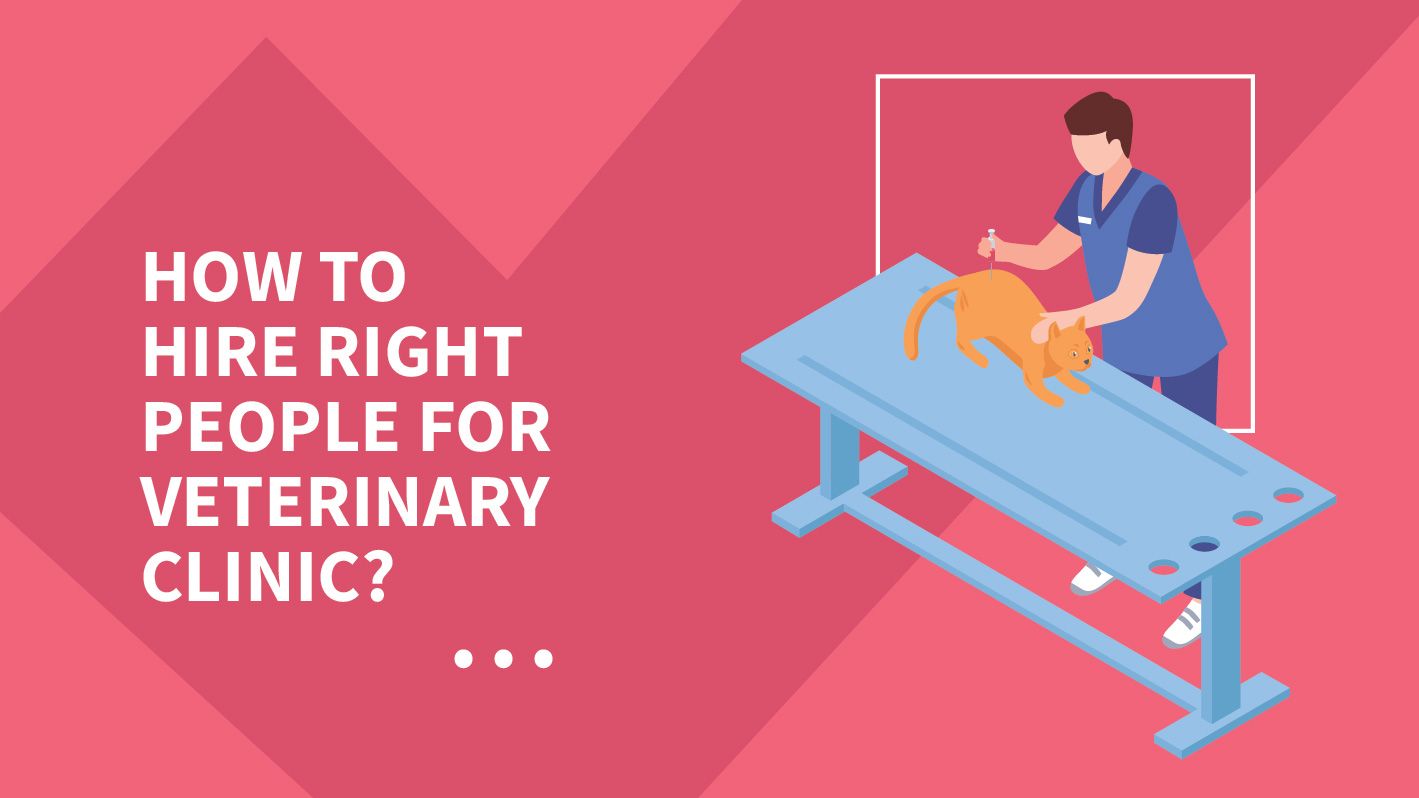 28 May 2019
Hiring the right people for your Veterinary Clinic
---
Great vision without great people is irrelevant. You require people who will believe in your vision and strive towards it. In the veterinary industry, your business is as good as the people in it. Hiring the right people becomes crucial when you have a great vision for the future. Here we present to you yet another fascinating chapter of veterinary best practices - hiring the right talent.
Who are the right people for Veterinary?
Every recruitment process has only one goal, i.e. selecting the right personnel for the job. But, it is not so easy to achieve. In veterinary recruitment, you have to look at diverse parameters like the qualification of a candidate, experience level, professional skills, interpersonal skills, popularity, achievements, and recommendations. Even if you take a very scientific approach in the hiring process, there are high chances that you will end up selecting the wrong candidate for the job. Hiring the wrong people can be a very expensive affair for a veterinary clinic because of the fact that a large portion (avg. 25-40%) of the total income goes into the salary of the staff.
Hiring the right staff is critical for a veterinary clinic's success. But, how to know who is the right person among the 3 guys waiting outside your cabin for the interview? There is no straight answer to that. However, we give you symptoms of the right candidate.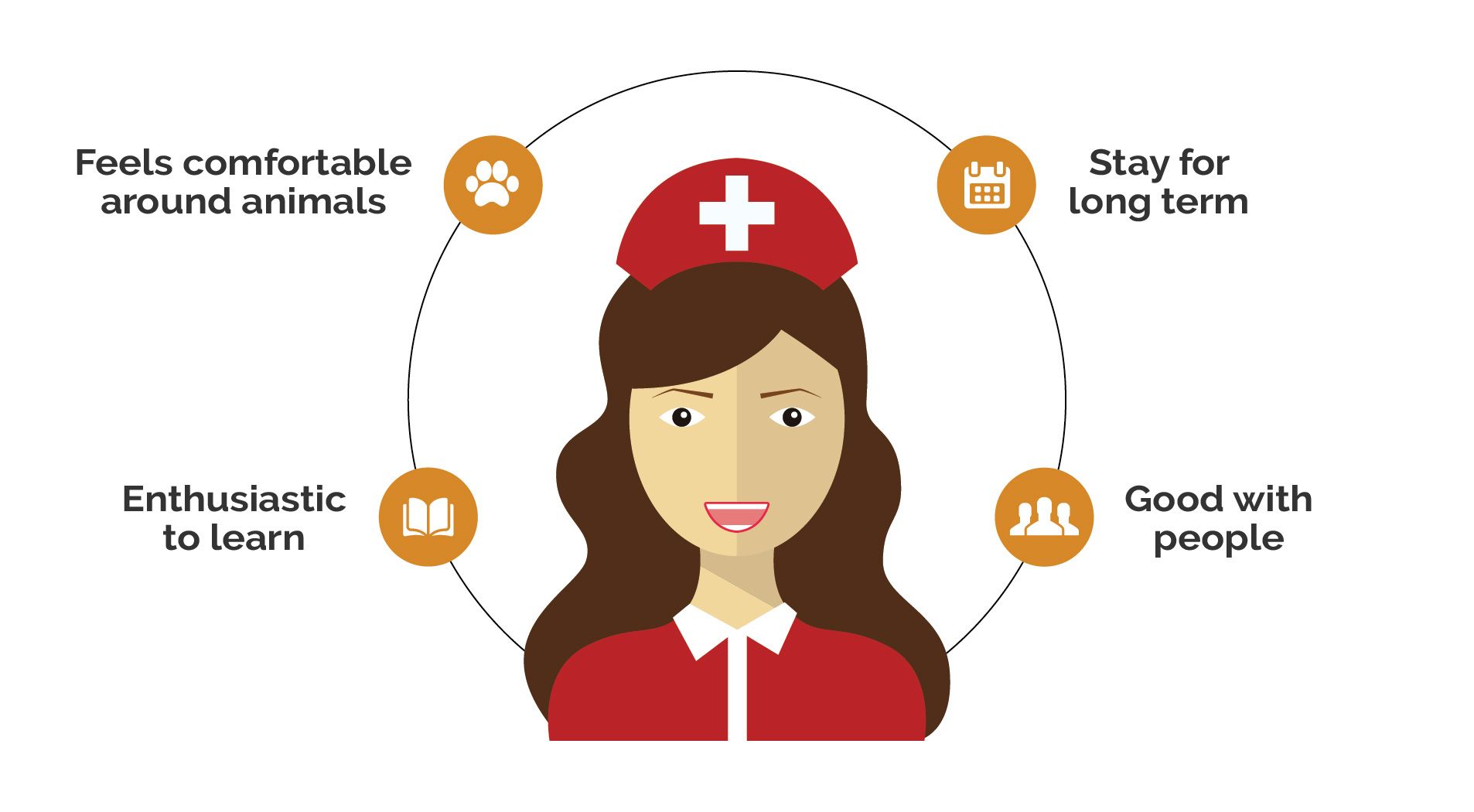 1. Applicant is enthusiastic to learn:
Take her to your exam room and show her around. Give her the basic brief of your clinic and introduce her to the processes followed. Ask her questions about what she learned. Ask her opinions on how your clinic can give better service. By the end of this session, you would have a fair idea of how willing she is for learning. Do not hire someone who is not willing to learn, no matter how experienced she is.
2. Applicant feels comfortable around animals:
It is not a necessity that every veterinary staff should love animals. However, if she is not feeling comfortable around animals, she definitely doesn't belong in your staff.
3. Applicant will stay long term:
Ask her about her future plans. See if she stays nearby or she has to travel a long way to reach the clinic. Is she planning to stay in the veterinary profession for a long time? What are her career goals? See her past employment record to find how long she is staying with an employer. There are high chances she is going to stay for the same amount of time she did with the previous employer.
4. Applicant is good with people:
Communication and interpersonal skills are crucial in the veterinary industry. If your staff is able to build a personal connection with the clients, your clinic has a bright future.
Of course, there are other aspects to look at while selecting a candidate. There is no hard and fast rule to it. Over time you will know if your decision to hire someone was right or wrong.
Channels of hiring in Veterinary
There are many channels that you can leverage for the recruitment drive of your vet clinic. Here are some of the popular ones,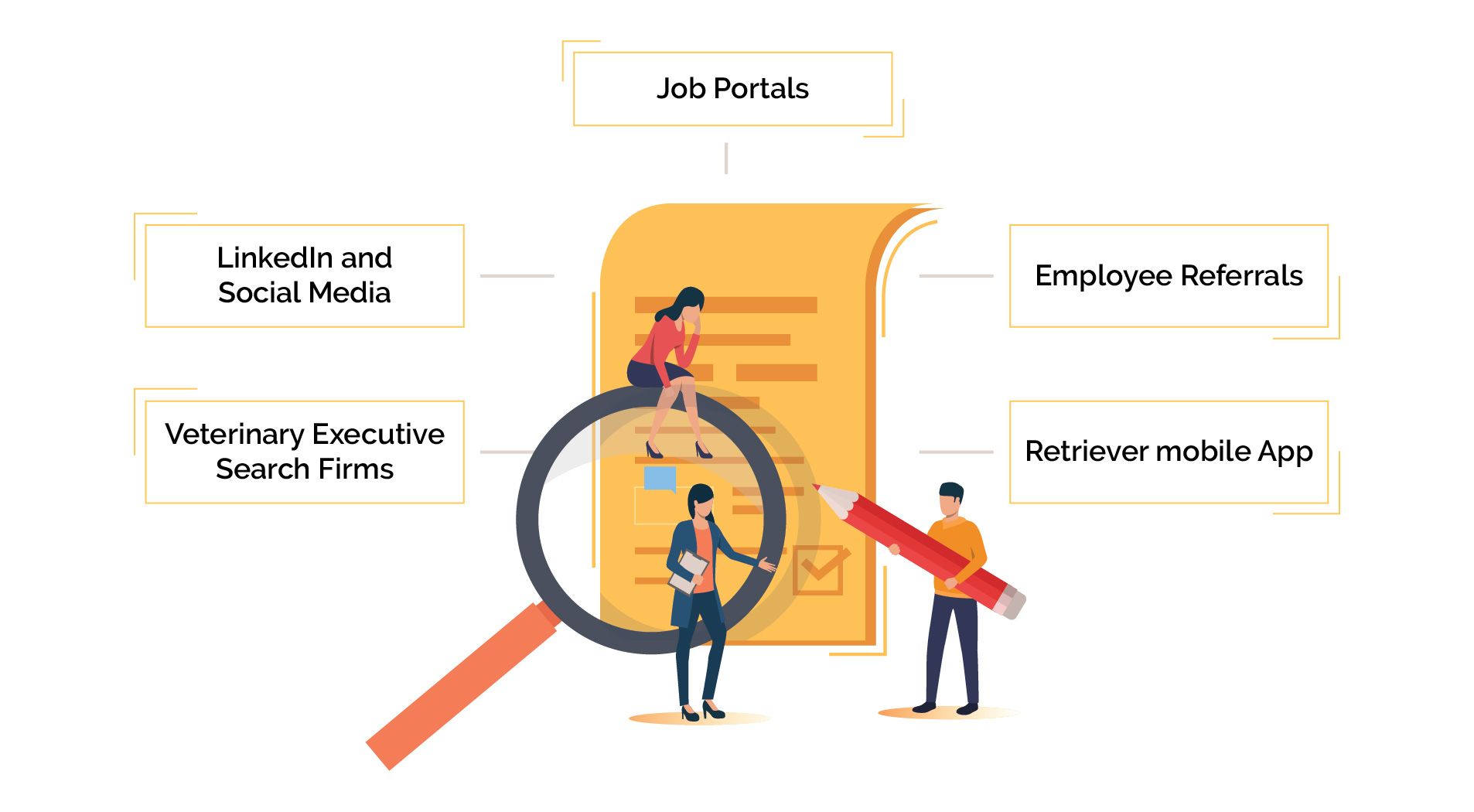 1. Veterinary Executive Search Firms:
These firms act as a mediator between the candidates seeking jobs in veterinary and the veterinary clinics. These firms have a pool of candidates in a particular region which you can leverage. The firm does the initial screening and shortlisting of candidates as per the requirements shared by you. The job becomes very easy, all you have to do is to interview the set of candidates referred by the firm, and your hiring is over in just one day. They handle everything starting from putting ads about your opening, receiving applications, briefing the candidates about the job, and finally shortlisting the final set of candidates. The only downside of choosing a Veterinary Recruitment Firms is they charge a hefty sum, often equivalent to 2 months salary of the candidate. But, it is worth to spend the sum if your requirement is urgent. Few of the firms you can reach out are The VET Recruiter, BLACKWELLKING, GuavaVet, Global Veterinary Careers, etc.
2. LinkedIn & Social Media:
LinkedIn is very powerful when it comes to recruitment. You can let your professional connections know that you are hiring. Oftentimes, people from your industry will get know about it and will help you get in touch with the right candidates. You can also search for the ideal candidate and let him/her know that you are interested in hiring them. Other social media channels like Facebook, Twitter can also be leveraged.
3. Job Portals:
You can simply post a job in Indeed or Monster. You will get applications from interested candidates. However, the applications might not be relevant most of the time. You have to find the creme out of a pile of applications. If you have some time to spare on this, then go ahead.
4. Employee Referrals:
Ask your staff to refer to their contacts. This is highly effective and you do not have to break your head over multiple applications. But, you may not get a bigger pool of applications to select from.
5. Retriever mobile App:
This is a new mobile app launched by the North American Veterinary Community in association with guavaVet. Available on both Android and iOS, it helps in connecting job seekers with the recruiters in veterinary space.
After you've hired
Once you are done with the recruitment, now it is time to prove that you have hired the right one. Here are the steps to ensure that you have hired the right people for your veterinary practice:
1. Training:
You must have a proper training program in place so that the incumbent will grasp the processes as fast as possible. The training program should include modules like rush-hour management, veterinary software training, equipment training, pharmacy & medication training, animal handling techniques, client relationship management, etc.
2. Performance evaluation:
Set the key performance indicators(KPIs) for the incumbent and periodically evaluate the performance on those parameters. For example, you have hired a practice manager, then the KPI can be the monthly revenue of the clinic or the number of footfalls to the clinic. You must give feedback on a regular interval so that the employee knows how he/she is performing.
3. Give ownership:
Veterinary clinics are small business units. Hence, it is expected from each staff member to take ownership of their work areas. And, it will only happen if you as the management give that ownership to them. Also, you must encourage your employees to take additional responsibilities and in turn, you may reward them.
4. Inspire innovation:
Encourage your staff to brainstorm and come up with ideas for improvement. Establish a culture of innovation where the staff will engage in producing suggestions for betterment.
5. Firing/Termination:
The harsh part of hiring is termination. Sometimes the hiring decisions do not go well. As a business owner, you have to take tough calls in order to save your veterinary practice from financial loss. But, when you are terminating your staff members you must do so cautiously. Give them a reasonable time frame to look out for another job. Provide constructive feedback that will help them to find the right career transit. Finally, give them a recommendation letter which they can leverage in finding their next job.
Recruitment plays a vital role in any veterinary clinic. Since veterinary service is a people dependent business, hiring the right candidate can go a long way. Best wishes to the veterinary recruiters who took time to read this article.
Get 15 Days FREE Trial
No Credit Cards Required. Sign up Now!!!