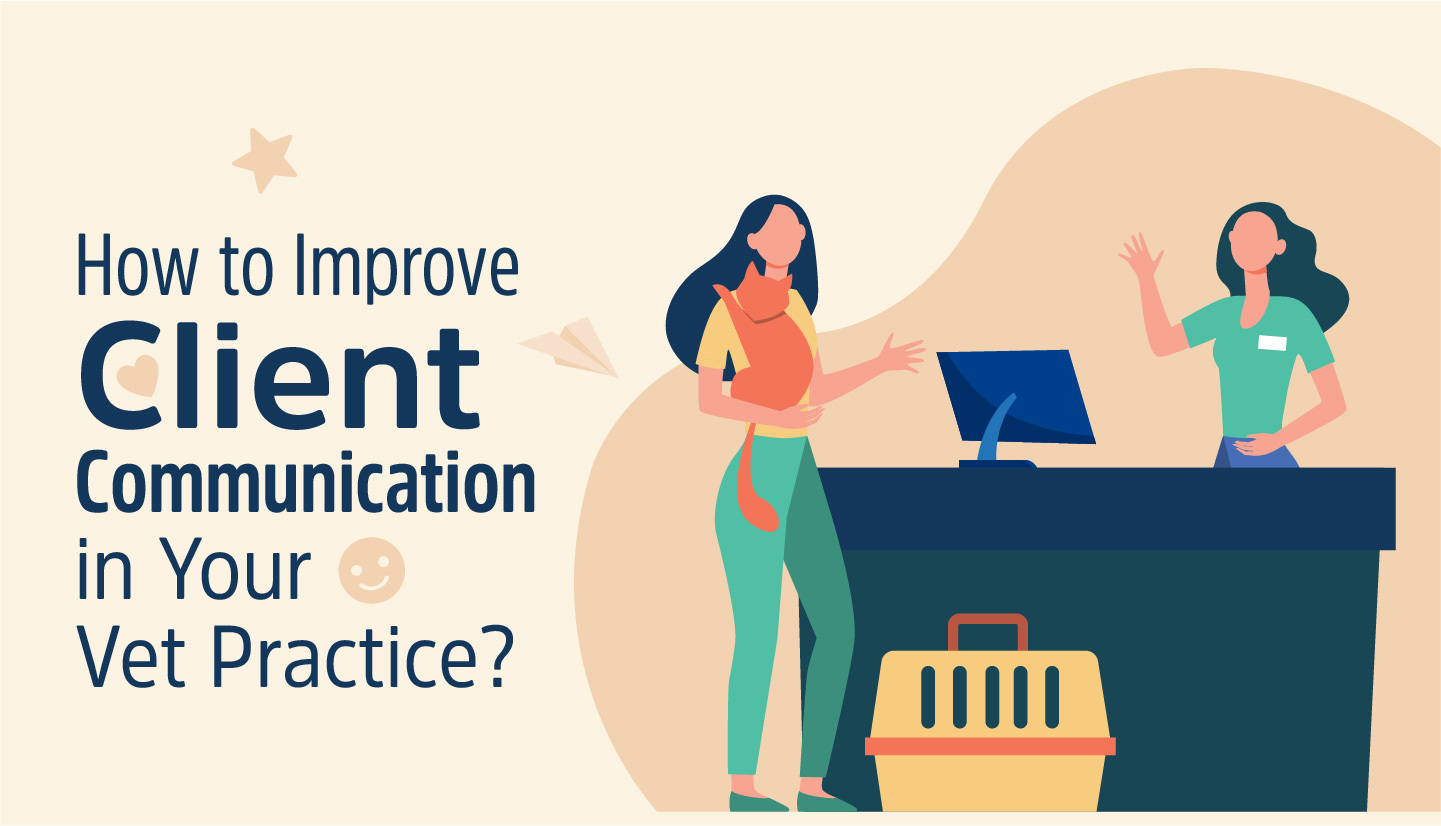 Published: 26 February 2021
How to Improve Client Communication in Your Veterinary Practice
---
Why Veterinary Client Communication is Important?
Industries all over the world are rapidly changing and evolving. Client experience is important now more than ever. The leaders are constantly working to improve their client communication.
Doctors or veterinarians strive to provide the best care to their patients. Client experience and client communication are critical to good care.
Treating animals in need while trying to comfort their owners is a huge task. This requires clear communication. Here's where one needs to understand the importance of veterinary communication.
Surveys show that there are significant gaps between vet doctors, veterinary teams and their clients. Most of the time the clients fail to understand the treatment procedures due to lack of client communication. In order to overcome this obstacle you need to improve client communication in your veterinary practice.
You must have heard that communication is the key. Talk to someone to eliminate the risk of misconception. This very practice should be adapted in your veterinary practice. Improving client communication in your veterinary practice will result in significant growth.
And we believe that when you deal with a patient who cannot directly tell their problem to you, talking to their owners is the best way possible to understand their problems and give them the best treatment.
So, let's understand together the importance and criticality of client communication in veterinary practice.
Where Does Veterinary Client Communication Helps You?
Here are the major areas where client communication helps you in veterinary practice.
1. Client satisfaction:
Clients are concerned when the patient is in trouble and needs medical assistance. They have so much to ask and say about the patient's condition. Only good communication will help calm their anxiety. A sign of a good veterinarian is listening and understanding. Let your clients vent out their anxiety first. Listen to their problems calmly. Once they are done, process everything explained by the client and tell them what the problem looks like, how it will be treated, and then assure them of your commitment to care.
Your genuine care and concern towards a patient's owner show how compassionate you are about your work and how you take every case seriously.
Calmness in such situations shows your confidence in your veterinary practice.
2.Best outcomes:
A simple case becomes more complex because of lack of communication. But a complex case gets handled with ease with open communication. In a hurry to treat the patient, vet doctors often forget to ask small yet significant details about their patient's conditions. These minor details may change the course of treatment. Before starting the treatment, ask questions. Asking questions about the patient's behaviour, allergies, previous medications, etc will give you clarity.
3.Risk Sharing:
A vet knows their patients in and out. Just like that the client should know about the patient's condition. They should know the risks, complications and side effects (if any) of the treatment. If the patient requires some additional treatment inform the owner. No communication or mis-communication can make the situation slip out of your hands.
There should be no secrets from both sides when it comes to the patient and the treatment procedures. And the best way to remove any risks is communication.
Talk, Discuss, Understand! This should be an unspoken rule of your veterinary practice.
Activities to Improve Veterinary Communication
It's clear now that client communication is an important part of any veterinary practice.
But do you know how to implement them? How to practically work on them?
Let us give you some ideas on how you can improve your veterinary communication and verbal engagements in your veterinary practice to make it a more reliable and trustworthy place.
Here are a few points that will tell you what immediate actions you need to take to provide a better client experience by improving your client communication.
Be patient, listen carefully, and make notes.
Show empathy towards the patient and client.
Give clear instructions whenever and wherever required.
Answer to your client's queries.
Seek assistance or referral when needed.
Ask important questions.
Address client's complaints and provide assistance.
Set realistic expectations.
If the patient's owners are not present, communicate with guardians present there.
Offer verbal, written, and digital communications in simple language. It will help the client understand the disease properly. (don't use jargons, that will confuse your clients)
Stay updated about the veterinary industry.
Train your veterinary staff to communicate with the clients.
Make written communication protocols and make everyone follow them.
Document all communications for future references.
Benefits of Improving Client Communication in Your Veterinary Practice
Here are all the positives that you will get if you successfully involve the above-mentioned communication-filled activities in your veterinary practice.
Enhances client satisfaction
Brings better animal health outcomes
It builds trust and creates better relationships.
It will prevent and resolve problems.
Provides clarity, direction and saves time in the future by minimizing the risk of wrong treatment due to miscommunication.
Increases engagement.
Brings respect, appreciation, and loyalty.
Increases after-care compliance.
Improves productivity of the staff.
You get to focus your energy on the right thing at the right time.
Promotes team building.
Saves energy from guessing things and assuming problems on your own.
And here's what you need to do and keep in mind to get all the above-mentioned benefits and outcomes with the help of the communication key.
Set a welcoming tone
from the very beginning. And to do this, greet the patient and clients with their names. Also, never confuse the patient's gender. This can offend some of your clients.
Focusing on details leaves the impression that you remember they were going to visit you and you care for the patient.
Make them understand. You must explain with reasons. Give them all the necessary details on why such treatment is required or why the medication is suggested. Don't just listen and draw conclusions. Involve your clients in the process to better understand the case.
Be polite and compliment them whenever you can. You can appreciate the patient for being good, well behaved, and cooperative. You can compliment the clients for being regular and punctual.
Use the right words. Correct terminology will tell your patient that you are well experienced, serious about your work. If you will use jargons and acronyms that will cloud their understanding. It is important that your clients understand every ounce of detail that you share with them.
Keep a check and follow up. Always try to make a follow-up call the very next day after a patient's visit. Ask them about the patient's health, give recommendations, and assure them of your full support. Your clinic's receptionist can also do this job.
Listen and empathize. Put yourself in your client's position and then treat them the way you would have wanted to be treated. Make them comfortable. Win their confidence.
Honesty is the best policy. Be open, explain the whole case and be honest with every tiny bit of information with the client. Don't give them false hope because medical mistakes can happen sometimes. Try to prevent such mistakes but never cover them up.
The body language. Your body language tells a lot about your interest in a conversation. Even if the client is over-explaining things, don't give a hint that you are not interested in listening to them. Crossing your arms, rolling your eyes, looking at the clock, or putting your hands on the door can be rude. Maintain your body language at its best and let your client finish.
While understanding veterinary practices closely, we landed upon a very crucial factor which we believe needs to be addressed. Let's see what it is.
How you can bridge the gap between you and your clients
Veterinarians must think about decreasing the gap between them and their patients. And we have some thoroughly researched and well-practiced methods to help you achieve it.
Up your social media game. Use your platform to educate your clients regarding the patient's health conditions and well-being. Provide them with a 24*7 help and recommendation box.
Use a veterinary practice management software . Update your timings, policies, contact numbers, and all the important stuff. With a practice management software you will also be able to schedule appointments, send reminders and provide remote assistance to your patients.
Create a bond with your patients. It is as important as maintaining good relations with your clients. Winning the hearts of your patients, making them comfortable, and creating a strong bond with them will help you even more in your veterinary practice.
Use visual aids and audience tools. This will show how upgraded your veterinary clinic is and how much you understand that a curious client needs your best assistance.
Be productive and flexible with your payment options. It should be made effortless and hassle-free.
Always keep your contact list and emails updated. This will eliminate the risk of ignoring an important call or email.
Prioritize face-to-face meetings and personal communications with clients. Don't leave everything on technology.
Summarising:
The whole purpose of this blog was to emphasize on the importance of client communication in veterinary practices. How it not only builds trust or brings you appreciation but it also eliminates the risk of disasters.
Hence, just like we discussed above, a veterinarian must avoid keeping secrets, be informed, keep informed, and make the best use of their communication skills.
Want to try VETport for FREE?
No Credit Card Required
FREE Telemedicine App till Covid Crisis
Access to VETport PMS Email Course
Related Articles
Streamline your practice with VETport
Sign up Now!!!