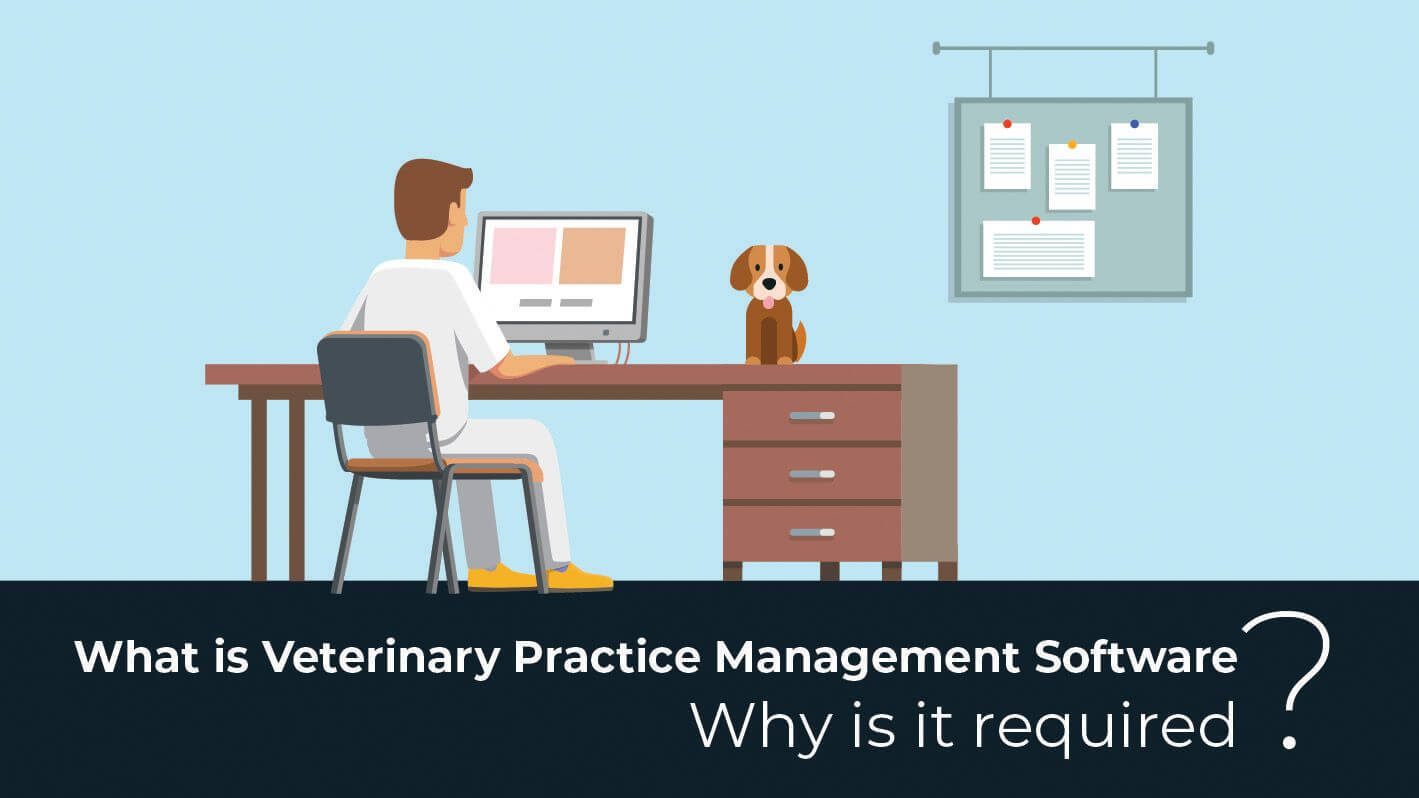 Published: 12 October 2020 | Last updated: 13 February 2021
---
Veterinary practice management software is the tool that helps to deal with the day-to-day operations of a veterinary practice. Traditionally, it allows frequent capturing of patient demographics, scheduling appointments, and the basic day-to-day jobs of Veterinary operations.
However, with time, their competencies and role have evolved to such an extent that they have become an indispensable part of the veterinary practice. Today, they are used to streamline tasks, reduce redundant operations, produce insightful business and operational reports in veterinary clinics and hospitals, which are extremely useful for making business decisions.
The veterinary software industry is rapidly growing, by 2027 it is expected to reach $2.8 billion. (Source) Practitioners in the veterinary industry are widely using practice management software for adding value to their practice. Here's how your veterinary practice can benefit from a veterinary practice management software.
Simplify the Process and Increase the Productivity of Your Veterinary Team
When you start your practice, the scale is small and you might have everything under control. In short, you can say that you have a very tight grip on your veterinary clinic both in terms of business and operationality. But as you expand, you will see growth in both breadth and depth. The number of departments in your practice will grow and the number of people in each department will also increase. For example, if earlier you were managing all the finances by yourself, you might now need to have a finance team in place. More people means more transactions (including internal transactions). More transactions mean higher chances of error in those transactions. A solid veterinary practice management system would help you minimize these errors and the extra work associated with them. It will help you and your team save time, stay organized, and most importantly it will have a great impact on your practice as a whole.
Strengthen Client Relationships with Easy Communication
Imagine a situation where you do not have a strong veterinary practice management software in place, how often will you be able to communicate with your clients. Will you be able to send the reminders on time? Will you be able to send the client satisfaction survey on time after every service or the annual survey? And if a client comes to you asking for a lost report or a lost bill, chances are you will lose a lot of time trying to find it.
Now imagine a situation when you have veterinary practice management software that does all these things in an automated manner. With a veterinary practice management system in place, your patients will get way more information than they were getting earlier. They will get notified about any upcoming appointments, due invoices, and diagnosis reports. Also, it helps in the easy retrieval of a lost or untraceable bill, receipt, or medical report. With a practice management software, your client communication will see new heights and the chances of you getting a complaint from any of your clients will be negligible.
Acts as a Centralized Data Storage and Creates Reports
An old business saying goes by "If you cannot measure it, you cannot improve it". As a practice owner, it is highly important to be able to measure vital data and then decide the courses of action to work upon it. Traditionally, only the financial numbers were measured and then broader actions were taken to improve the same. However, the situation has changed, in today's context of cutthroat competition, customer experience has become more vital than ever. Service businesses are measuring parameters like waiting time, overall lead-time, and working on it to take customer experience to the next level.
And now the moot question arises, can you measure data of this range manually on pen and paper?. You can, but the time it will take is huge. Modern-day veterinary practice management systems have the capability to store almost all the data, which your practice generates. Using this data, it can generate various types of reports, some of which are cited here: Production Reports, Costs Reports, Account Receivables Report, Inventory Reports, Client Reports, etc.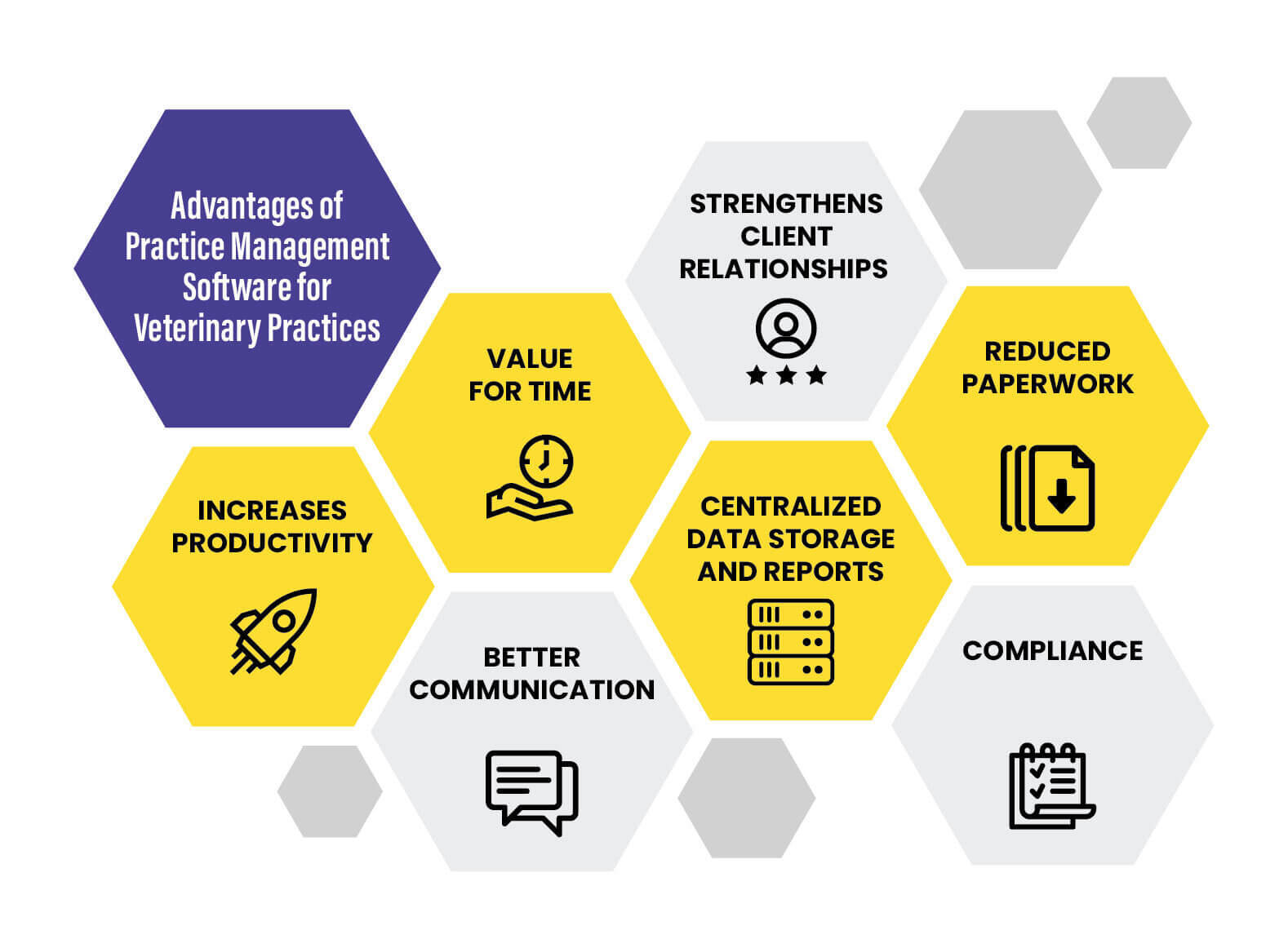 Reduce the Use of Paper and Build a Sustainable Practice
The main objective of any practice is to establish credibility by acquiring and retaining the maximum number of patients while providing quality service. In this process, veterinary practitioners invest a lot of money and time in paperwork. With Veterinary Practice Management Systems, your paperwork will reduce immensely. It will save you the hassle of maintaining stacks of the file, flipping through hundreds of pages, and doing things manually.
In small practices, major work is done by the veterinarian themselves. In the absence of a decent veterinary practice management system, you might end up spending a considerable amount of time in unproductive jobs like paperwork and it can drive your focus away from the main objective of your practice. Even in large-scale practices that have multiple departments to manage various affairs, paperwork consumes a lot of time of the subject experts. A strong practice management system will help to reduce the paperwork and allow you to focus on the improvement of efficiency and effectiveness of your practice.
It Complies with Health Standards
Majority of the veterinary practice management systems are strong enough to ensure compliance with various health standards, financial standards, etc. It is a known fact that such standards are different in different nations and only a few practice management systems are compliant with these standards from major nations. In the absence of a robust PMS (practice management system), it is quite possible to miss on some and hence result in a non-compliance issue. For your reference, we have listed down some of the best veterinary practice management software in the industry.
Best Veterinary Practice Management Software
Equipped with cloud-based technology, VETport is one of the most affordable veterinary software out there.
Here are its key features:
Ability to make paperless Veterinary Electronic Medical Records
Manage inventory with a single click. Modify quantity and price of items, manage vendors, and get reminders of missing items
Unlimited Analytics that report information in a digestible, easy to understand manner
Multiple modes of communication for appointment scheduling, reminders, etc
Pros:
The most affordable veterinary software in the market with an easy payment system
Allows clients to book appointments via phone and tablets
Ability to view the key performance indicators of the clinic
Extensive reports on matters related to finance, marketing, accounting, etc Excellent customer support
Offers a Free 15 day trial of all the features.
Cons:
Does not come with a mobile app
Not integrated with Dragon Veterinary
Veterinary software Cornerstone is an integrated system that can solve all your managerial and clinical needs.
Created by IDEXX, the key features of Cornerstone are:
An appointment management system that lets you view details without clicking.
Once a treatment plan is complete, the charges are added to the invoice automatically.
Colour coding is used to indicate the status of a treatment plan.
Enhanced medical notes for easy access and seamless integration with patient records.
Online pet pages with access to vaccination records, prescriptions, etc
Pros:
Robust veterinary practice software with seamless integration of services
Continued improvement of the user interface and functionality
Remote access to client records
IDEXX Learning Center provides the perfect platform for training new staff Fantastic customer support
Cons:
There is no way to track PTO accruals
Reporting and Analytics can use more options for capturing data
The software is not well-designed for paperless practices. There is no Physical Exam form or Breed Information Sheets.
A part of the Henry Schein Veterinary Solutions, AVImark is an established name in the market.
The key features of this vet software include:
Electronic medical records, patient reminders, invoicing
Dental charts, estimated costs, appointments, and boarding calendars Automatic lab integrations
Comprehensive treatment lists and SOAP notes that help in tracking problems and preparing treatment plans
Practice analysis tool and mobile app
Inventory management and security features to control what functions can be accessed by staff members
Pros:
Perfect for paperless practices, as it features a host of services and integrations with lab machines like Abaxis, Hemavet, Hemagen, Idexx, etc.
Medical notes, lab results, and attachments can be viewed within the software seamlessly and can be stored without any physical paper.
Features like special notes allow staff members to see special information about a client and creates a smooth flow of information.
Sales data and appointment information is easy to access and log in to.
Cons:
Merging accounts belonging to different staff members can be a little difficult.
The software is a bit expensive.
Customer support can be a bit busy and some issues may not be resolved immediately.
The software is not consistent with adding monthly finance charges.
The cloud-based software for veterinary practices is known for its integrated Covetrus tech and service-based solutions.
Some of the key features are:
EMR management, appointment schedules, and communication tools for vets
Document storage, customized lab forms, and test history storage
Pet owner portal that allows clients to access personal info, account balance, payment history, and appointments
Dashboard with configurable calendar, appointment lists, and medical records Integration with ANTECH diagnostics technology and IDEXX labs
Pros:
Can be accessed from any device. All you need is an internet connection.
Records can be emailed, looking up info related to clients is quite easy, and inventory setup and editing are streamlined.
The user interface is intuitive and friendly and customer support is quick and efficient.
Managing workflow in large clinics, along with finances is extremely smooth.
Cons:
Sometimes you need to click through multiple times to get a simple function executed. This can be frustrating.
Updates are slow, and there may be some glitches following a few days after the update.
When medical history is long, it takes a couple more minutes to load than normal. Medical history pages do not have patient alerts and client notes.
The cloud-based software for veterinarians is known for its 256-bit encryption system that ensures security and safety.
Here are the main features of this application:
Electronic vet record tool that allows you to see consolidated patient record.
Ability to import lab results and share them using email or fax.
Inventory management via automatic updates, electronic ordering, and customized alerts.
Appointments automatically include charges, along with taxes.
Customizable templates for reminders and appointments.
Pros:
Affordably priced, easy to learn and use, intuitive interface
There are several ways to access a single function
Client support is fantastic and quick
The tutorials for the software are good for training new staff
Security features allow an added layer of protection
Cons:
The reminder system is not always up to par. Sometimes, it can miss some items.
The layout of patient records could be improved
There is no mobile app for the application
Designed to be used by vet clinics of all sizes, Hippo is an independently-owned, cloud-based veterinary clinic software.
Here are its key features:
Color coding for different appointments to identify and track changes
Tracking of margins, checking stock levels, and addition or removal of items in the inventory
Appointment schedules can be modified, and appointment reminders can be sent to clients directly via Hippo
An integrated POS system allows you to enter transactions and accept payments in the form of coupons and gift cards
Can be accessed via the internet, and comes with unlimited storage and unlimited patients and users
Pros:
Intuitive user-interface, an easy to learn layout, and easy to set up applications
Quick access to patient records, high document storage capacity, and ease of accessibility of client records
Accessible from multiple locations via the internet
Ability to store and view DICOM images in the medical records itself
Knowledgeable, friendly, and supportive customer service agents
Cons:
Redundant clicking makes it frustrating to access certain features
Character limit on reminders makes it impossible to send more than basic info. If a patient is due for multiple vaccines, you will need to send multiple emails to the client, separately reminding about each vaccine. This gets tedious.
Summary
Clearly there are many advantages of having a veterinary practice management software in place. It supports your veterinary staff, enables you to provide a good customer experience, strengthens your client relationships and most importantly cuts all your hassles down. Though there is an initial cost incurred to it, in the long run it has too many benefits to consider cost as an issue. Before going on board with a veterinary practice management software, make sure it caters to all your needs.
Want to try VETport for FREE?
No Credit Card Required
FREE Telemedicine App till Covid Crisis
Access to VETport PMS Email Course
Related Articles
Streamline your practice with VETport
Sign up Now!!!