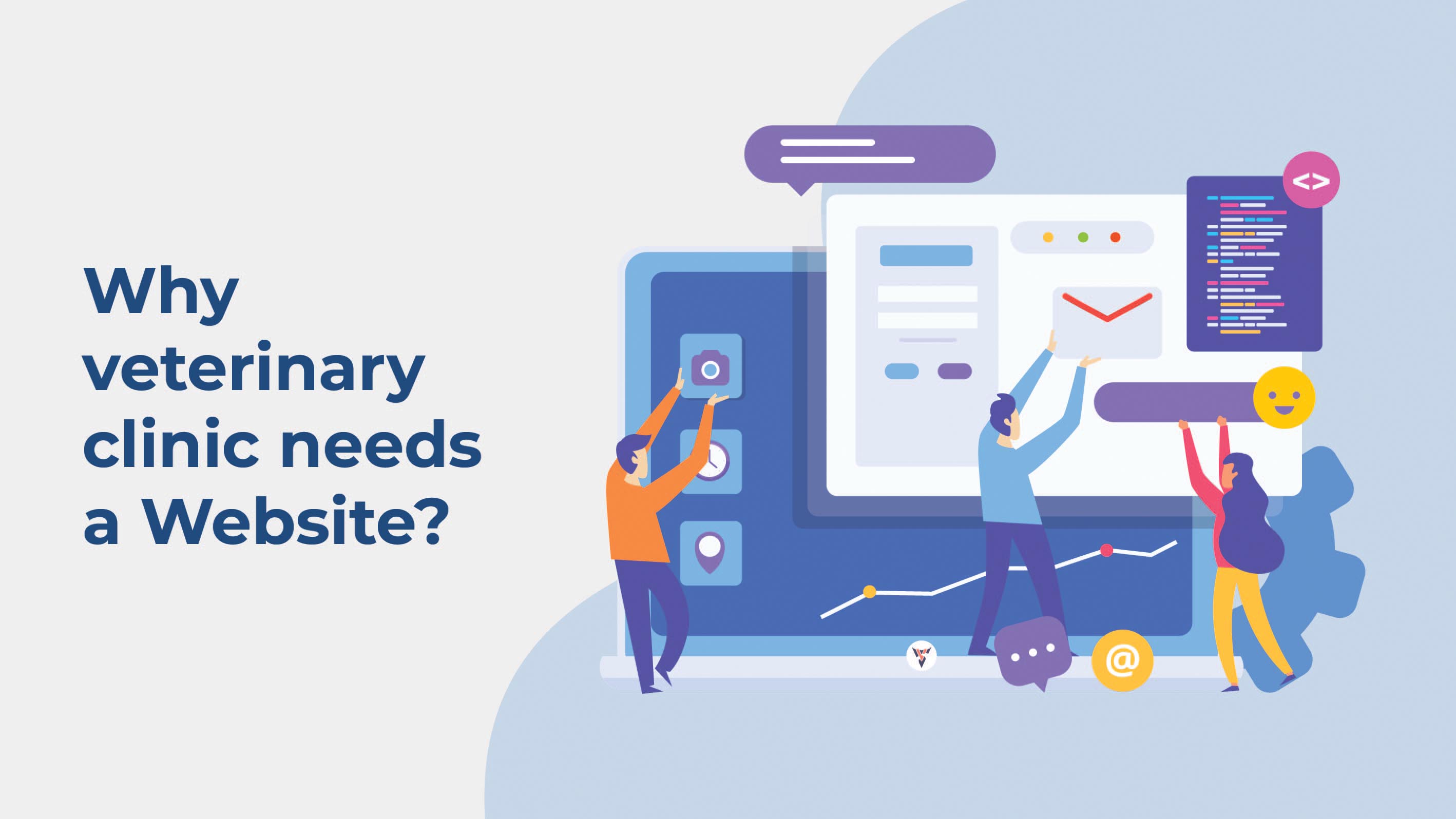 13 April 2018
5 Reasons why your veterinary clinic needs a Website
---
In today's digital world websites are the face of any business. Veterinary Clinics are among the few businesses which have undermined the importance of having a website for their clinic. Nearly 73% of veterinary clinics across the world do not have a website. Without having online presence, it gets very difficult to sustain a business these days. Today, more than half of the global population are internet users. And, in developed countries like US & UK this number rises upto 85-95%. Pet owners are doing a lot of online research about various veterinary clinics that are present in their region. A beautiful looking website of your veterinary clinic may persuade them to visit you. Hence, it is high time to think about putting up a beautiful, content rich & informative website for your veterinary clinic. In this article we will share few pointers on what are the benefits of having a clinic's website. We will also highlight the best practice for a clinic's website that must be followed.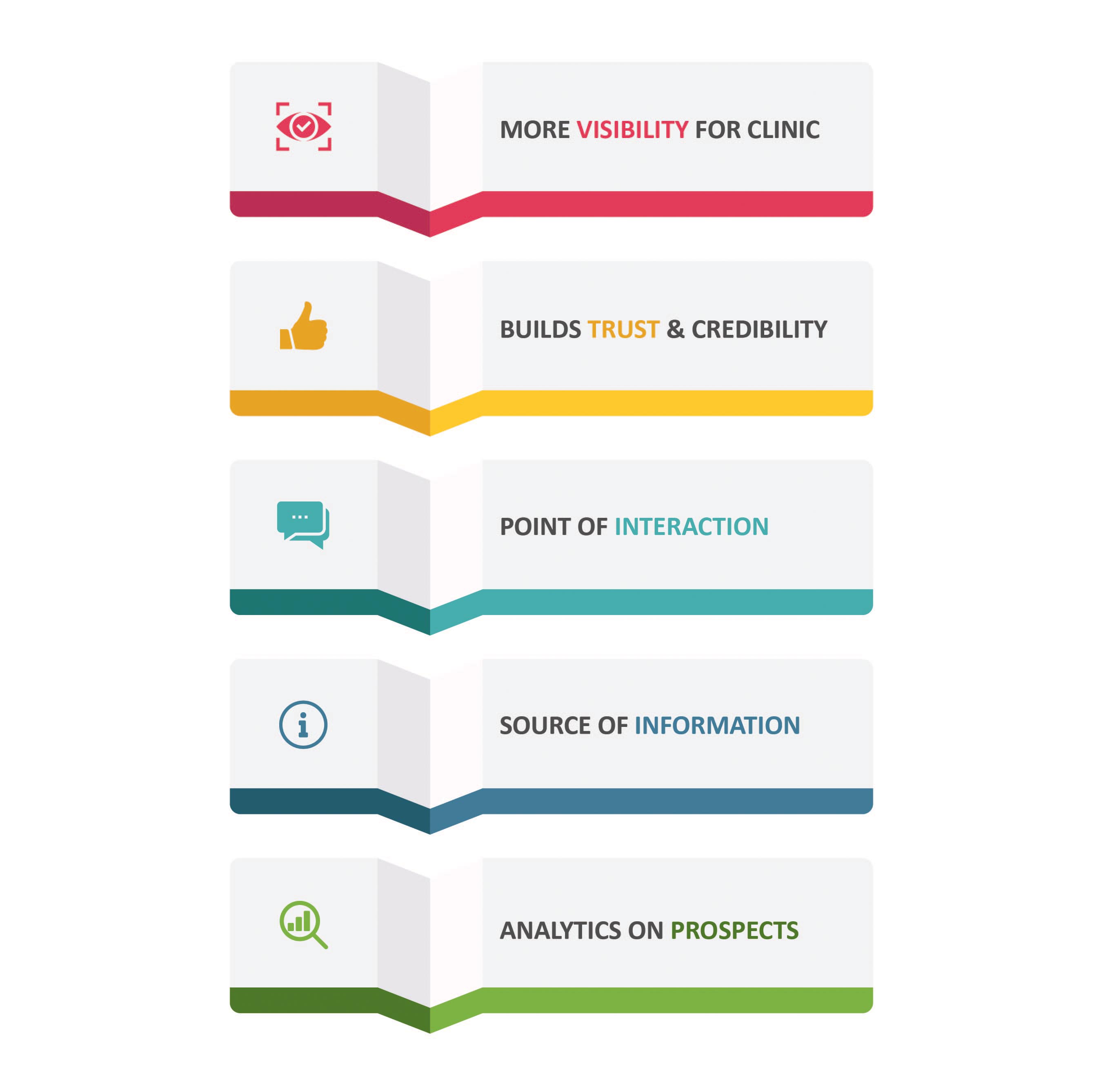 1. More Visibility for your clinic
A veterinary clinic is just a physical entity. It will be noticed by only those people who live in that neighbourhood. And, of course you will get some visibility by word of mouth, but that will be never enough. A website has the power to make your clinic visible to every person on this planet. A website can make your clinic appear in search results when your prospective clients search for 'Pet Clinics Nearby' on Google. Some clinic owners think that having social media pages of their clinic is enough for having online visibility. Although, social media pages do play a major role in enhancing online visibility, but they cannot replace the role of an website. Website is the final point of reference for any kind of online presence.For example, on the facebook page of your clinic there is a button for 'Learn More'. Where will your prospects go after hitting that button if your clinic doesn't have a website?
In a survey it was found that 79% of pet owners think a veterinary clinic is not credible if it doesn't have a website. To take it one step further, the study concluded that 53% of pet owners will not take their pets to a clinic which doesn't have a website.
2. Builds Trust & Credibility
A website not only shows that your clinic is professional, but it also builds trust & credibility in the eyes of customers. In a survey it was found that 79% of pet owners think a veterinary clinic is not credible if it doesn't have a website. To take it one step further, the study concluded that 53% of pet owners will not take their pets to a clinic which doesn't have a website. It is now a deadly idea to imagine any business without online presence. And, when it comes to veterinary industry, online presence is a must have thing to survive. A Website is nothing but an online address of your business. If a business doesn't have an address, customers will doubt it's credibility. Your website is the identity of your clinic and is virtual proof that your clinic exists.
3. Point of Interaction
The website serves as an interface where your clients can interact with your clinic. Clients get the contact informations like Phone Number, Email Address, Social Media Pages & Contact forms on the website which helps them to get in touch with your clinic. It also serves as a touchpoint for possible business partners, vendors & suppliers. Your veterinary clinic website can be leveraged to generate leads & convert them into clients. User interaction on your website also gives you a chance to collect information about your clients & prospective clients. Widgets like chatbot make the visitors engage more on the website & share their pain points with you. You can also conduct surveys & audience polls to know about the opinion of your clients on certain things. You can also encourage your audience to engage more on social media pages. In short, your website serves as a prime point of interaction for your clients & prospects.
4. Source of Information
Your website acts as the prime source of information for anyone who is trying to know about your business. Pet owners who are researching about your veterinary clinic might want to know about what all services do you provide, how many doctors does your clinic has, what your clients think about your clinic, etc. All these information can be easily displayed on your website to your prospects. The website of your clinic should act as the information hub for every stakeholder of your clinic. Ideally a Veterinary Clinic's website should display the following information
A. Physical address of your clinic B. All contact information (Email, Phone Number, Social Media Pages) C. The visiting hours of the clinic D. Services offered by the clinic E. What does the clinic specializes in F. Information about the Team of Doctors & Staff in the clinic G. Vision,Mission & Values of the clinic H. Option for Online Appointment Booking I. Educational content for clients like Blogs, Infographics & Articles
5. Analytics on Prospects
By having a website you can get a lot of information about your prospective customers who are visiting your clinic's website. For example, you can know about what are the locations where your prospects stay, what pages they visit in your website, age group & gender of your website visitors, who referred them about your website etc. By knowing all these information, you can know your clients better. And, by knowing your clients better, you can market your services to them better. Finally, you will be able to serve them better.
Best practices for building a website for veterinary clinics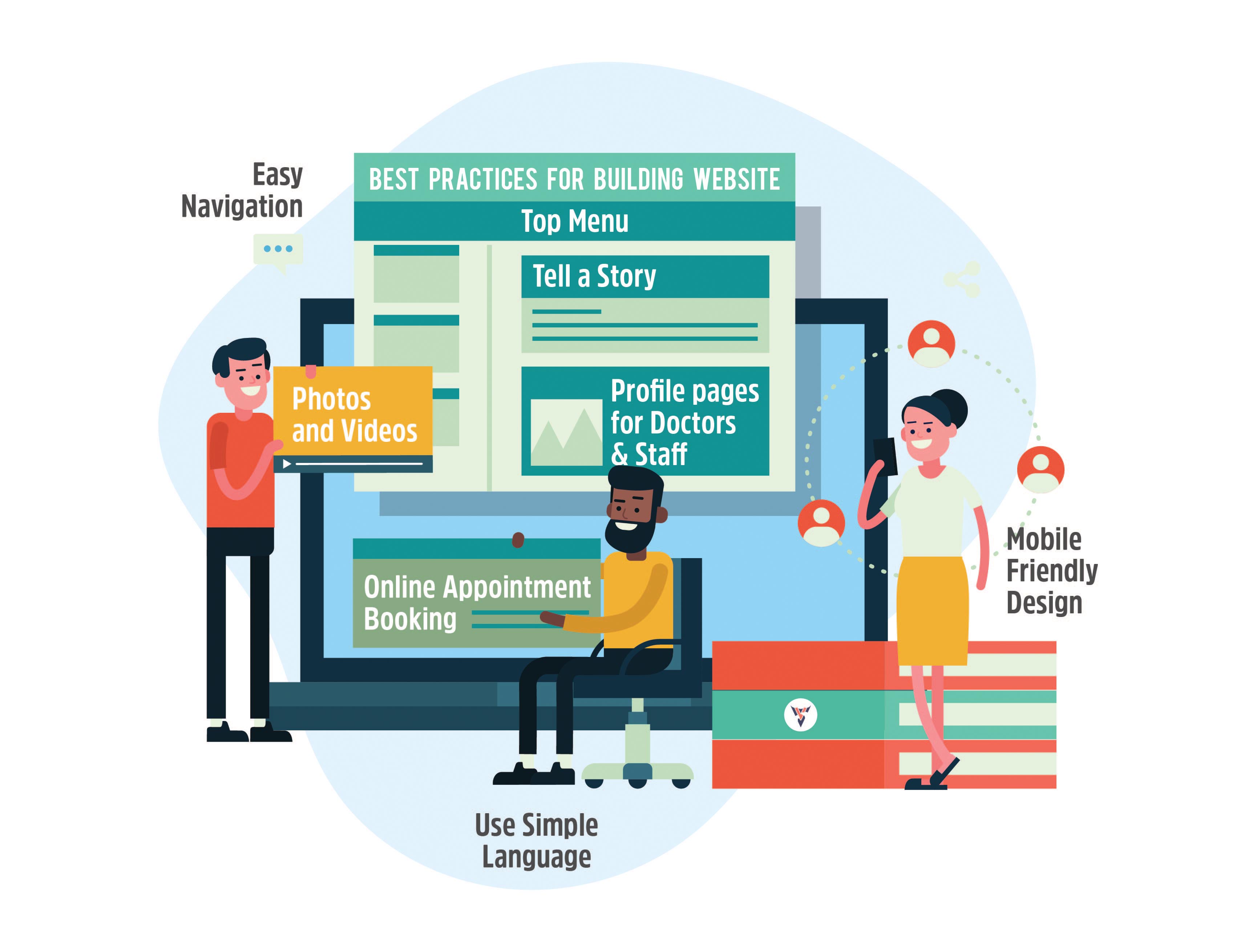 Here are few pointers on what are the best practices to be followed while constructing a website for veterinary clinics.
1.Easy Navigation:
This is the first thing to be kept in mind while building a website for veterinary clinics. There should not be any confusions on where one should find a particular informations. The standard format of veterinary industry should be followed on the website.
2.Top Menu:
The top menu of the website must contain these items, '
Home
', '
About Us
', 'Services', 'Team' & '
Contact
'. The top menu should also
feature
logo of the clinic.
3.Mobile Friendly Design:
Mobile responsiveness is a big factor to consider when it comes to design of veterinary clinic websites. Most of the customers who research about the clinic on internet use mobile devices for the same. If your website fails to load properly on mobiles, then all efforts goes in vein.
4.Online Appointment Booking:
Your clinic should have enabled the online appointment booking feature on the website so that your clients can directly book appointments from your website. The 'Online Appointment' option should preferably be placed on the home page & contact page.
5.Tell a Story:
People have a tendency to grasp the information easily when they are presented in a story format. Hence, it is recommended to tell a story around the vision, mission & values of your veterinary clinic. People relate to stories which are inclined to the values they believe in.
6.Photos & Videos:
Displaying photos & videos on your website is a great idea to catch your visitors attention. However, it is not recommended to display fancy images of smiling doctors with pets downloaded from shutterstock. Rather, using the real photos of your clinic will show that your clinic is really what it shows on the website. Also, displaying the real photos of your staff, doctors & patients will create a sense of belongingness for all the stakeholders of your clinic.
7.Profile pages for Doctors & Staff:
To add more credibility of your clinic, your website should contain profile pages for all the doctors & staff of your clinic. Mention the information about their Qualification, Education, Specialization, Hobbies & Interests on the profile page of each doctor & staff of your clinic.
8.Use Simple Language:
Most of the time when creating content for website, we end up using a lot of technical terms & jargons. The clients & prospects who are visiting the website are not doctors. It will become difficult for them to understand the content if we do not use simple words to explain things. One must avoid technical terms while creating content for the clinic's website.
VETPORT Websites
You can create beautiful websites for your clinic right within the Vetport application. Creating clinic website is very simple in Vetport. All you need to do is to select the right template and fill few information about your clinic.Your website will be ready within seconds. This feature is only available for Vetport customers only at an additional charge of $20 only. Vetport websites are SEO optimized, mobile responsive & custom made for veterinary industry. You can integrate additional features like Online Booking on Vetport websites with just a click. Create stunning websites for your veterinary clinics only on Vetport.
Get 30 Days FREE Trial
No Credit Cards Required. Sign up Now!!!