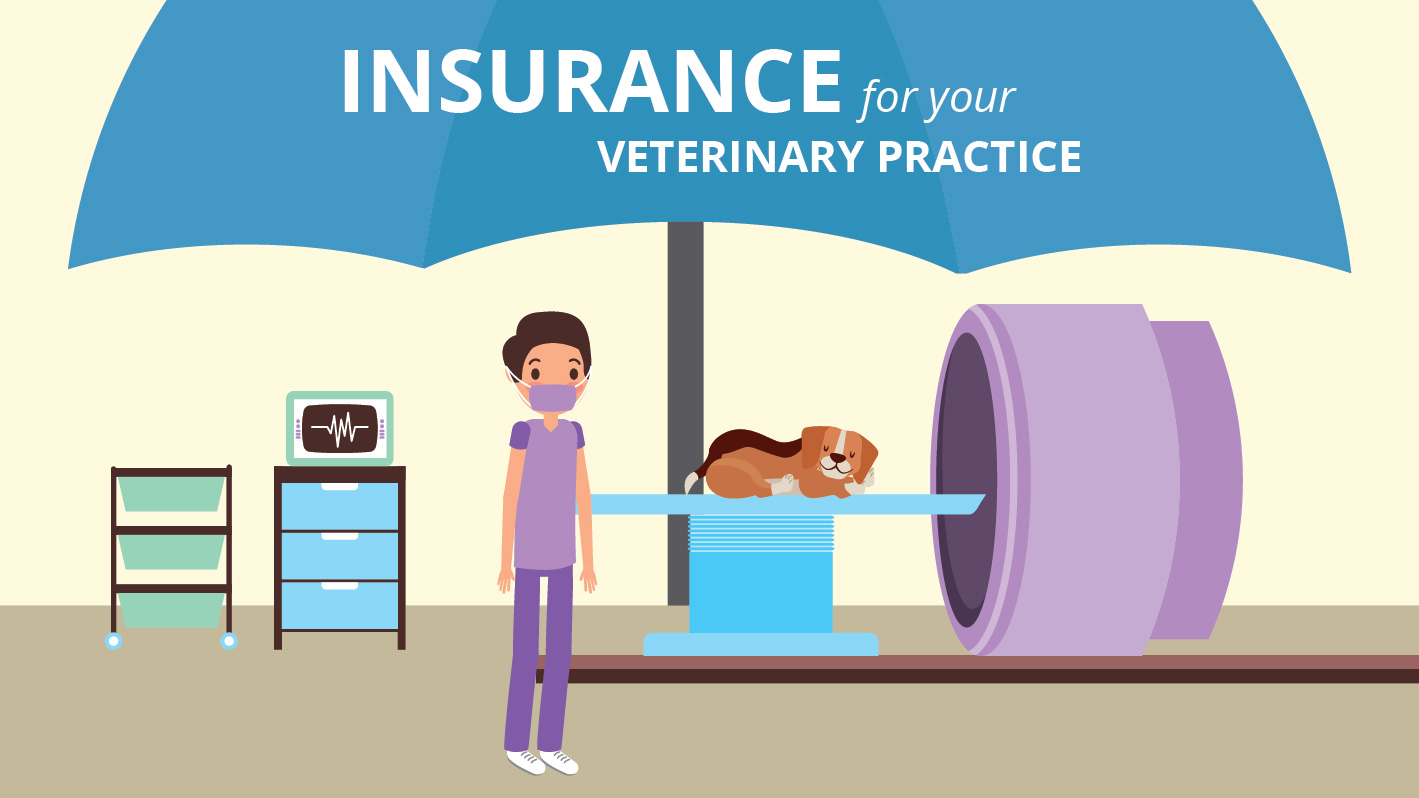 Updated: 18 May 2020
Veterinary Practice Insurance
---
As a vet, you know how expert care can significantly affect the health of pets.
But have you spared a thought for the 'health of your practice?'
What if there is damage to some expensive equipment? What is your plan if you find one of your veterinarians committed malpractice? And what about the general liability?
You may find it unpleasant to think about such things.
But here's the truth:
As a business owner, you have to have a plan for when things don't go quite right.
The answer?
Veterinarian practice insurance.
It'll give you peace of mind so that you sleep at night without worrying about the things you've no control over.
Let's dive in.
How Does it Work?
No matter how careful you are, every business faces the liability of clients getting hurt accidentally. In veterinary clinics, it may be the pets or their owners.
What's more?
Trip and fall accidents and injuries are even more likely with animals around. It may cause damage to property or third-party owners.
What do you do?
All these general liability claims can be covered with veterinarian insurance. General liability insurance, therefore, is a must for your practice.
Also:
Sometimes, pet owners may not be satisfied with the services rendered by your vet.
What to do in such cases?
Use professional liability insurance. When you are accused of professional malpractice, the program will vigorously defend you and pay the costs that you become legally responsible for due to allegations of professional negligence.
Coverage automatically extends to veterinary-related activities such as speech making, consulting, clinical instructing, and serving as a member of a licensing or veterinary accreditation board.
The bottom line?
Although veterinarian insurance can be expensive, it is a must for every practice – big or small.
Without vet insurance, you will have to take out cash from your operating expenses for settling these claims.
And that can be prohibitively expensive for your practice.
Commercial vet insurance is a sure-fire way to protect your business, your employees, and your family from such problems.
Vet insurance, indeed, is the golden goose that can save you from bankruptcy.
Having settled the debate on whether you need vet insurance or not, the next big question is...
What are the Various Types of Coverages You Should Consider for Your Practice?
Every vet clinic is different. Some only work with house pets. Others only treat large animals like horses. And some others are specialty clinics.
The bottom line?
Not every clinic has the same insurance needs.
And to that end, the very first thing you need to do is this: Find a licensed agent to customize an insurance package for the unique needs of your practice.
Once you have done that, there are certain coverages you need to consider before finalizing something with the agent.
Here Are the Top Recommended Insurance Coverages that Every Practice Should Have
1. Business Owner's Policy (BOP)
This one combines four types of claims into one convenient package. It includes:
i). Business Property:
Any physical damage to your business property is covered under this plan.
It will insure your equipment and furnishing in case there is a disaster, such as a fire.
Together with Business Income, this plan is a sure-fire way to protect your business in the event of an accident or theft.
You can also add coverage for valuable records and papers for a solid protection plan.
ii). General Veterinary Liability Insurance:
This is one of the most important parts of any insurance package.
What does it cover?
It will protect your business in case the actions of your employees, your products, or your services cause any harm to other people, their animals or their property.
iii). Business Income:
What happens if you suddenly cannot afford the operational costs of your business?
What if there is a fire or theft? What if you have to move your business to another location?
That is when business income insurance will help you. This part of the package is focused on covering any operational expenses of your business in case there is an interruption in your income.
Any unforeseen circumstances that may otherwise force you to shut down?
They are all covered under this scheme.
iv). Equipment Breakdown:
As a vet, you know that equipment often breaks down. And it can be difficult to replace it. Equipment Breakdown insurance will help you in such cases.
As the name indicates, this part of the package will protect your equipment against breakdown.
It will include repair or replacement of said equipment in such cases.
All the above-mentioned packages are suggestions. These are the most common policies that you can add to your BOP. But you do not have to be limited to them.
Here's the thing:
Your BOP can be adjusted as per your needs and expenses. As your business grows, the BOP can be changed. You can always add or remove whatever you want to your BOP.
But here's the thing:
It is an absolute must for every vet clinic manager.
2. Veterinary Malpractice Insurance
Sometimes, in the middle of treatment procedures, an animal gets agitated. This may result in pricking the animal in the wrong place.
But it can also result in more serious injuries. Having animals in any setting increases the likelihood of chaos.
In such cases, the pet owners can file a malpractice suit. They can also do this when they are not satisfied with the level of professional services rendered.
But guess what?
Malpractice insurance will cover everything from the legal fees in such cases, up to any damages that need to be compensated to clients.
There is another aspect to Malpractice Insurance: Pet owners can also claim that an animal died or contracted an illness in your care. They can then bring a lawsuit against you.
In such cases, you will need the Errors and Omissions Insurance.
Make sure you ask your agent about it when getting malpractice insurance.
3. Commercial Auto Insurance
Does your clinic offer mobile spaying services? Are you operating a neuter clinic?
Do you offer to transport animals for pet owners to and from the clinic?
Well, guess what?
You need commercial auto insurance if your answer is yes to any of the above questions.
Commercial auto insurance kicks in when there are any accidents involving work vehicles. They cover any person in the vehicle, third-party injuries, as well as property damage from auto accidents.
4. Employee Practices Liability and Employee Dishonesty
As unfortunate as it is, you also need to protect yourself and your business from your employees.
How?
In case there is a charge against your business of discrimination, wrongful termination, or harassment by a former or current employee, you will need Employee Practices Liability cover for protection.
Employee dishonesty helps you when you suffer from employee losses.
5. Miscellaneous coverages:
Some other types of insurance coverages worth exploring:
Sewer or Drain coverage - To pay for cleanup following torrential rains or water main break. This can lead to drain back up in your office and can have significant damaging effects on the daily workings of the office.
Utility Services - This cover will help you recover faster in case your practice needs to close due to an interruption in the supply of utilities.
Medical payments - Coverage of medical payments for expenses that result when someone is injured on premises you own or rent.
Now that we have covered the most important coverages you need to have, the big question remains:
How Much Does Veterinary Insurance Cost?
As a practice manager, you can expect to pay $6,000 annually in premiums for a basic policy and some additional coverages.
And let's not forget that every practice does not have the same insurance needs.
Small clinics don't have as much as liability as, say, exotic animal clinics.
Here is a breakdown of the costs of vet insurance in general:
General Liability Insurance: Costs around $900 for coverage of $1 million to $2 million.
Building and Insurance Property Vet Insurance: Costs around $800 for coverage of $100,000.
Malpractice Vet Insurance: Costs around $350 for a coverage of $1 million to $3 million.
Workers' Compensation Vet Insurance: Costs around $4500 for coverage of $100,000 to $500,000.
But these are all estimated costs that vary from region to region.
The easiest way to get an estimate of what insurance costs will be for your practice is to get a free quote online.
There are several online resources you can consult for the same.
Some of them are:
Hartford Veterinary Insurance
Nationwide Insurance
Insurance321
AP Intego
State Farm
Final Thoughts
Your veterinary practice needs to be insured.
But before you dial the number of an agent, take some time to determine what level and type of coverage you need.
You can also consult with the state department of insurance where you live to get some help.
But you get the idea:
You need insurance for your vet clinic. If for nothing else, at least for your own peace of mind.
Related Articles:

&nbsp &nbsp &nbsp &nbsp &nbsp i). SOAP format of Electronic Health Records (EMRs) for Veterinary Practices

&nbsp &nbsp &nbsp &nbsp &nbsp ii). Developing the Key Performance Indicators for Your Veterinary Clinic: With the actual process of KPIs development

&nbsp &nbsp &nbsp &nbsp &nbsp iii). Valuation of a Veterinary Clinic
Get 30 Days FREE Trial
No Credit Cards Required. Sign up Now!!!