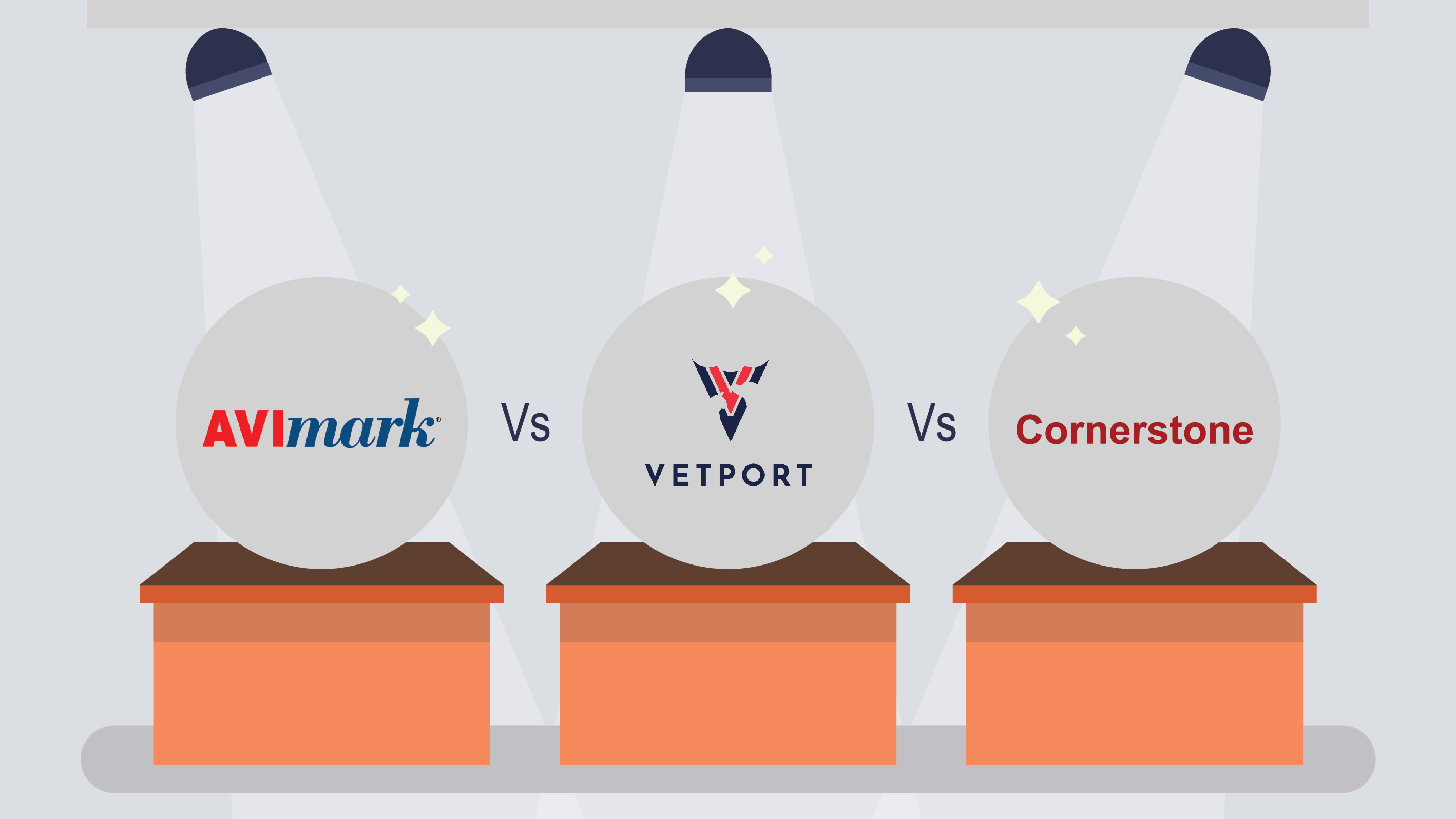 Updated: 25 March 2020
Avimark vs Cornerstone vs VETport
---
A good practice management software in the clinic can massively improve productivity.
A software with the right tools can not only assist in your daily operations, but also facilitate them.
In fact, a good PMS can do a bunch of tasks that leave your hands free for the most important stuff.
What are these tasks, you ask?
Well, an efficient PMS can help you with accounting and invoicing.
It can also help you with inventory tracking, automatic sales tracking, and reorder notifications.
It can generate reports of revenues, lists of services sold, and end of the day summaries.
The bottom line?
A lot of administration related issues will be taken off your hands.
And that's not all:
A good PMS can help you with maintaining patient records, client databases, and even appointment scheduling.
But as is with everything these days, there are way too many options available.
Here are the most important features you need to consider before deciding which PMS will work best for you.
And to help you in your decision-making process, we have also included how the top PMS in the market fare against each other.
Read on to find out which one is perfect for you:
1. Access from anywhere
In this era of digitalization, you need to be able to access clinic data from anywhere in the world.
Most PMS these days are cloud based and allow you access from home, work, or on the go.
VETport, AVImark, eVetPractice, and Cornerstone are all cloud-based applications.
But even with cloud technology, you need to look for some fine points.
For instance, AVImark comes with on-premise deployment along with cloud-based usage, which allows you to get the best of both worlds.
eVetPractice is deployed with a system that eliminates servers altogether. There is no need to worry about costs of buying servers or their maintenance.
On the other hand, Cornerstone is powered by cloud-based technology, but it still runs on a server.
And VETport can be used on laptops, mobiles, and desktops. This feature may be imperative for people who work on multiple systems.
2. Customizations
The biggest problem with most PMS is that they are created with a one-size-fits-all approach.
Due to this, it can be very difficult for practice managers to customize the workflow for their unique needs.
This results in delay in clinical processes and time lost in administration jobs.
Thus, customization options can be the limiting factor when choosing a PMS.
Cornerstone offers customization options like color coding to indicate the status of a treatment plan, enhanced medical notes, and pet pages that can access vaccination records, prescriptions, etc.
AVImark comes with features like special notes that allow staff members to see special information about a client and creates a smooth flow of information in the clinic. It also allows you to integrate medical notes, lab results, and attachments, etc seamlessly.
Additionally, AVImark allows you to create customized lists that can be added quite easily to the patient records. For instance, you can add post-surgery instructions for a patient here.
The Worklists feature of AVImark can make a centralized list of duties of various staff members, which can then be assigned. The whole setup needs minimum configuration and can help increase overall accountability of your team.
At VETport, you can create your own formats for exam forms, client communication, and medical records. And if you don't want to go through the trouble yourself, you can hire a third party to do that for you and integrate it with the software.
And that's not all. The third-party integrations also extend to various labs and payment gateways. AVImark and Cornerstone allow automatic lab integrations as well.
The customization feature also allows you to also set the access level for each member of your staff. This is also possible with AVImark.
3. Electronic Medical Records
The biggest benefit of using a PMS is enhanced SOAP (Subjective, Objective, Assessment and Plan) notes that can save time.
However, with some PMS, it is pretty much easier to write a SOAP by hand. This can become cumbersome very easily.
The EMRs (E-Medical Records) generated by
VETport is based on the concept of SOAP. Just create a template, and you can integrate it with your notes in a matter of seconds.
With VETport, multiple members of your staff can access and edit the same EMRs too. You can also add attachments, lab records, and memos to the records. Plus, you can share them with clients using email, fax, printouts, etc.
AVImark also comes with comprehensive SOAP notes that can help in tracking problems and preparing treatment pans.
Cornerstone has an EMR system that keeps patient records consistent and complete, but doesn't seem to have an option for customization.
4. Work worldwide
In this digital world, some members of your staff may not be working in the same time zone as you. If you are managing a clinic that has employees working into this end, you need a software
The good news is that VETport supports multiple time zones, so you never have to worry about coordination again.
The only other PMS that seems to support this feature is IDEXX Neo. Neither AVImark, nor Cornerstone have this compatibility.
5. Reminders, calendars, and appointments
All things extremely important – like appointments, calendars, and reminders for appointments need to be seamlessly integrated so that you do not lose precious time in tedious jobs.
To that end, VETport offers several great features. You can make quick appointments with a few details of the patient into the system if you are in a hurry. You can also set up a reminder for routine check-ups, vaccines, appointments, etc.
VETport also allows you to check inventory, tasks, billing, and boarding through the calendar and notification window. The softwares comes with appointment reminders in the form of emails, SMS, and postcards.
Cornerstone, too, has an appointment management system that lets you view details without clicking. AVImark comes with solutions that allow appointment booking, patient reminders, and boarding calendars.
6. Managing tasks seamlessly
If it seems too daunting to manage all the things mentioned above manually, you are not alone. It can be quite a task in itself to manage so many things and many Vet practices have designated staff for doing this.
But with the right software and tools, this practice will become obsolete. If you get a PMS that does the task managing for you, you can dedicate the time and effort to other important things.
VETport comes with such a feature- the Task Manager. With one click on the Task Manager, you can glance at all tasks at hand and what their status is.
You can also assign tasks to staff, divide one task among many people, and send notifications to everyone.
Use the dashboard to check the status of various tasks at a glance. You can also drag and drop widgets here for the important stuff.
EzyVet also has the feature of Task Manager. Cornerstone and AVImark do not come with this feature.
7. Marketing
Marketing refers to personalized emails and postcards that you send to clients on special occasions.
While most PMS limit to personalized emails and SMS, VETport goes a step beyond. You can also send postcards to clients with this service.
The only other software in the market capable of doing this besides VETport is IDEXX Neo.
With VETport, you can also create your own templates or use pre-existing ones for the emails, SMS, and postcards.
And that's not all.
VETport also comes with a Client Loyalty Program to enhance custom relations. No other PMS in the market provides this service.
8. Self-check-in, and boarding modules
A PMS can do more than manage your daily tasks and keep track of appointments. It can make your practice more efficient than you ever imagined.
For instance, with the help of the self-check-in feature of VETport, during peak hours, clients can check-in and create appointments for themselves.
This helps save everyone's time. Clients do not have to wait for staff to check them in and staff does not get overwhelmed by the increased number of clients.
VETport also has a boarding module that helps in managing boarding of pets.
Cage numbers can be assigned for various types of ailments and status of each cage can be checked on the dashboard in the software at any time. This will help you keep track of which examination room each animal is in at any time.
AVImark and Cornerstone do not have these features. eZY Vet, on the other hand, matches VETport by providing both these functionalities.
9. Managing supplies
Supply management can be tricky, especially if you are doing it all manually. A good PMS can help you simplify that.
For instance, AVImark comes with an Inventory Management system that alerts you to what you are running low at so that you can easily replenish it. It also keeps track of the stock levels of drugs and retail and the pricing of these items.
VETport comes with a specialized system for inventory management. View reports on stocks you have on hand, items that have expired, and transactions made.
And that's not all.
You can also implement the Basket Management system for creating a seamless link between you and your vendor items. You can also add stock to your purchase orders and avoid the tedium.
Cornerstone also has an inventory tracking system, but it is not as advanced.
On the other hand, VETport does not allow Supplier or vendor integration for a seamless supply management system. The only PMS that support this functionality in the market right now are – Ezy Vet and eVetPractice.
10. Integrations and marketplace
Integrations and marketplace may refer to lab integrations, payment channels, and 3rd party features that the software is able to access.
For instance, VETport allows you to integrate with all the major labs in the country, like VetScan, Abaxsis, Gribbles, and Antech. The generated lab reports are directly attached to EMRs through VETport.
The application also supports all sorts of payment plans, like Credit Cards, Debit Cards, Cheques and Cash. Direct Connect and Open Edge are supported for hands-free transactions.
And if you want to integrate your account with third-party applications, VETport supports several major ones, like, VetSMS -Text Messaging, Open Edge payment gateway, Slack, Vetenvoy, Idexx -Labs, Antech – Labs.
Similarly, AVImark and Cornerstone also integrations with several major labs and third-party applications. Before you pick the PMS for your clinic, you need to decide which labs and applications you will need and check whether your chosen software works with it.
On the other hand, VETport is not integrated with Insurance services, neither does it have a microchip integration. Other integration missing with this PMS are – Smartflow, Dragon Veterinary, Quickbook, DICOM, Cubex, and Supplier Integration.
In fact, Dragon veterinary is one of the most commonly used applications and if your clinic is dependent on it, VETport may not be the right choice for you.
11. Mobile App
There is no mobile app for VETport.
On the other hand, Cornerstone and AVImark are mobile friendly.
12. Invoicing and billing
Billing and invoicing are handled seamlessly by all three PMS.
But Cornerstone stands out of the crows with its unique functionality that adds charges to invoices automatically once a treatment plan is complete.
13. Paperless systems
Both AVImark and VETport allow you to minimize usage of paper, making sure that you can use the software for end to end operations without picking up a single piece of paper.
In fact, AVImark is very well suited for this, as it features a host of services and integrations with various lab machines like Abaxis, Hemavet, Hemagen, Idexx etc. Medical notes, lab results, and attachments can be viewed within the software seamlessly and can be stored without any physical paper
On the other hand, Cornerstone is not well-designed for paperless practices. There is no Physical Exam form or Breed Information Sheets. Vet clinic managers will have to dedicate several hours to generate the templates themselves, which is less than ideal and tedious.
14. Client communication
VETport does not have a client portal to allow you to communicate with your clients. On the other hand, Cornerstone does have such a platform for connecting with clients, as does AVImark.
The communication compatibility software by AVImark is integrated with Rapport and Vetstreet Pro tools, along with other third-party software systems that facilitate the whole process.
15. Pricing
Despite all the considerations, pricing still remains one of the most important factors worth considering when it comes to PMS.
VETport remains one of the most affordable PMS in the industry with a pricing structure that is quite simple and easy to understand.
Incremental pricing for each additional doctor, no installation fee, no training cost, no consulting charges, and no minimum subscription period make it quite attractive.
The application also provides a 15-day free trial so that you can test whether it is suited for your practice or not. Customer support is free and available 24x7. You will also get free updates to the software.
On the other hand, AVImark is priced over twice as much as VETport and does not offer any free trials. There is also a separate installation fee and training cost.
The same is true for Cornerstone.
Closing Thoughts
Ultimately, what will work best for you is largely dependent on your unique requirements.
Instead of going for something that has a lot of bells and trinkets that you will never use, it is better to first analyse the needs of your practice and then pick the PMS that suits you best.
Want to try VETport for FREE?
No Credit Card Required
FREE Telemedicine App till Covid Crisis
Access to VETport PMS Email Course
Related Articles
Streamline your practice with VETport
Sign up Now!!!