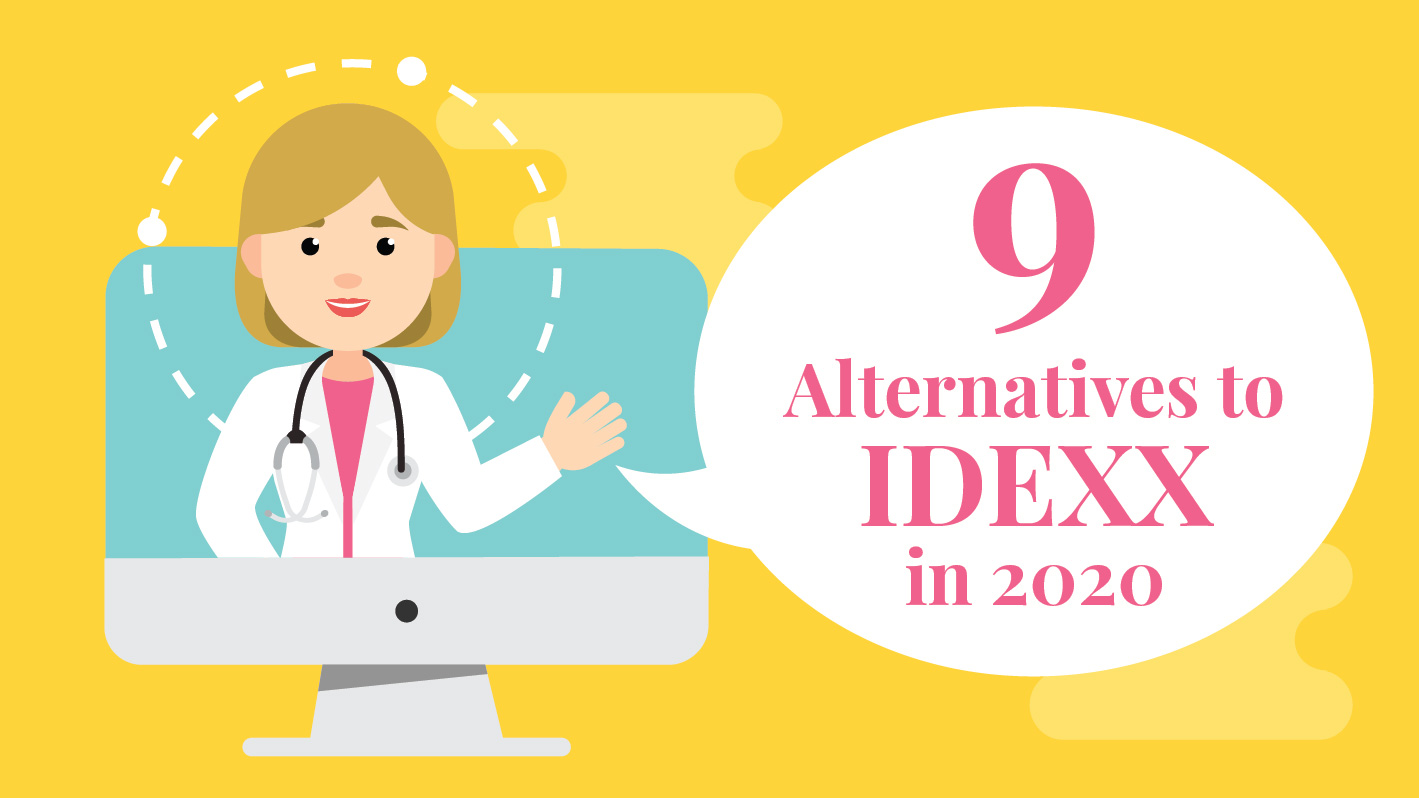 5 April 2020
9 Alternatives to IDEXX in 2020
---
IDEXX is one of the most popular veterinary practice management software in the market right now.
But just because it is the most popular, does not mean it is the right one for you.
Every practice has its unique needs and demands, and with the number of vet management software available in the market, it can be hard to pick the right one for you.
Maybe you don't need all the bells and whistles of IDEXX. Maybe you need something that IDEXX does not offer.
Before picking the practice management software for you, you need to analyze the needs of your clinic and what will work best for you.
Find out what is best suited for you by checking out this list below that offers 9 alternatives for IDEXX.
1. Avimark
Avimark is a popular veterinary system that supports functions like client info display, appointment calendar, and boarding calendar.
Just like IDEXX Neo, the software can be used on SaaS platforms, but Avimark is more suited for use in vet practices of all sizes. Users have also claimed that IDEXX Neo is not as easy to use as Avimark.
The pricing of the two is not that different, and both the software offer a free trial. When it comes to training, though, Avimark wins with its in person training option, besides online options. IDEXX Neo does not offer in person training.
Additionally, Avimark has an edge over IDEXX Neo in two categories – it has the boarding management feature and an option to customize treatment plans. Both these features are missing in IDEXX Neo.
2. DVMAX
DVMAX is a much more expensive alternative to IDEXX Neo for those who are willing to pay the price for its exclusive features.
While IDEXX Neo is limited to Saas platforms, DVMAX can be used on Windows and Mac, so you don't have to install any special OS to run it. Unlike IDEXX Neo, DVMAX also offers 24/7 live support in case you come across any glitches while using the software.
DVMAX does offer several additional features over IDEXX Neo, like boarding management and customization of treatment plans. Unfortunately, for the price you have to pay for DVMAX, there is no way to determine if the software is right for your practice, since there is no trial version available.
3. VETport
VETport is one of the most affordable alternatives to IDEXX Neo, with a host of features to boot.
Besides offering features like time zone compatibility, detailed statistical reports and analysis, task manager, an option to book appointment online, and integrated help files, VETport also offers a much-simplified payment plan that is unrivalled in the market.
On top of this, the cloud-based software is compatible with Windows, Mac, Android, and SaaS platforms. On the other hand, IDEXX Neo only works on SaaS.
Having said that, IDEXX Neo does offer some advantages over VETport, like a client portal, Smartflow integration, and compatibility with DICOM/PACS. Depending on your requirement, these integrations may be the deal breaker when deciding between VETport and IDEXX Neo.
4. Impromed
Created by Henry Schein Veterinary Solutions, Impromed is a Windows based alternative for IDEXX Neo. Keeping in mind the needs of small as well as large Vet practices, Impromed is known for its ease of functionality and color-coded appointment system.
The workflow management and reporting and analysis by Impromed is one of its biggest USPs. The software also comes with boarding management and treatment plan customization features, both of which are missing in IDEXX Neo.
Choose Impromed for its wide-ranged integrations, billing estimation, and ability to streamline workflow between multiple clinic locations.
5. RxWorks
A product of Henry Schein veterinary Solutions, RxWorks is a software designed to streamline and simplify management in the vet clinic. Compatible with both Windows and Saas, RxWorks is focused on minimizing administrative work in the clinic.
For instance, you can easily generate electronic medical records on the software while keeping a clear record of all the patient visits and invoicing. Although RxWorks has 24x7 live support for customers, there are some drawbacks to it.
For instance, there is no trial period during which you can check if it is good option for you. This service is available with IDEXX Neo. But RxWorks does provide boarding management and treatment plan customization, both of which are missing in IDEXX Neo.
6. Ezyvet
One of the most popular veterinary software management products in the market right now, EzyVet has a host of features and integrations that make it a quality tool for vets.
Although the pricing of EzyVet is not that different from IDEXX Neo, there are certain differences in their model. For instance, Ezyvet charges according to the number of users, whereas IDEXX Neo charges as per the number of locations.
With EzyVet, you can determine the access level of your staff and book online appointment – both of the features are missing from IDEXX Neo. Other features unique to EzyVet are – task manager, self-check-in kiosk, integrated help files, and wellness module. The application also has a mobile app, which is not available for IDEXX Neo.
All in all, there are not many things that IDEXX Neo can do that EzyVet cannot. Which one you choose is entirely dependent on your practice and your needs.
7. IntraVet
Intravet is a practice management software that is uniquely advantageous for paperless practices. With the ability to manage and integrate appointments, take care of invoicing, imaging, and patient records – all within the application itself – Intravet is ideal for practices that want to minimize usage of paper.
The user interface is quite easy to understand compared to IDEXX Neo, and the navigation within the software is completely seamless. Although Intravet is not that popular, it certainly has its advantages, especially for small clinics that do not require heavy usage.
8. VitusVet
With VitrusVet, you can streamline workflow, boost the image of your brand, and take client communication to the next level.
But the biggest USP of this software perhaps is the fact that it allows you a chance to test it and determine if it is the right application for you by offering a 60-day free trial. Most practice management software do not have trial periods this long, including IDEXX Neo.
With this application, you can easily share the health records of the animal, grow the reach of your brand, and get intelligent reminders.
9. Vetter
Vetter is an ideal practice management software for small businesses. The layout and architecture of the application is quite simple and easy to understand, and Vetter is perhaps one of the most affordable applications out there.
Migration from any other application to Vetter is easy, but you can definitely tell that the price difference in this case matters. Many features of IDEXX Neo are missing in Vetter.
For instance, there is no time zone compatibility, multi-location feature, client portal, or Quickbook integration. But for a software that is this cheap, Vetter does offer a whole lot of features similar to IDEXX Neo – like boarding, automation of stock orders, and inventory management.
Closing Thoughts
As stated before, only you know what will work best for you.
Don't make a decision without analyzing properly what features you need. After all, a practice management software can severely improve and reduce the quality of work in your clinic.
Want to try VETport for FREE?
No Credit Card Required
FREE Telemedicine App till Covid Crisis
Access to VETport PMS Email Course
Related Articles
Streamline your practice with VETport
Sign up Now!!!