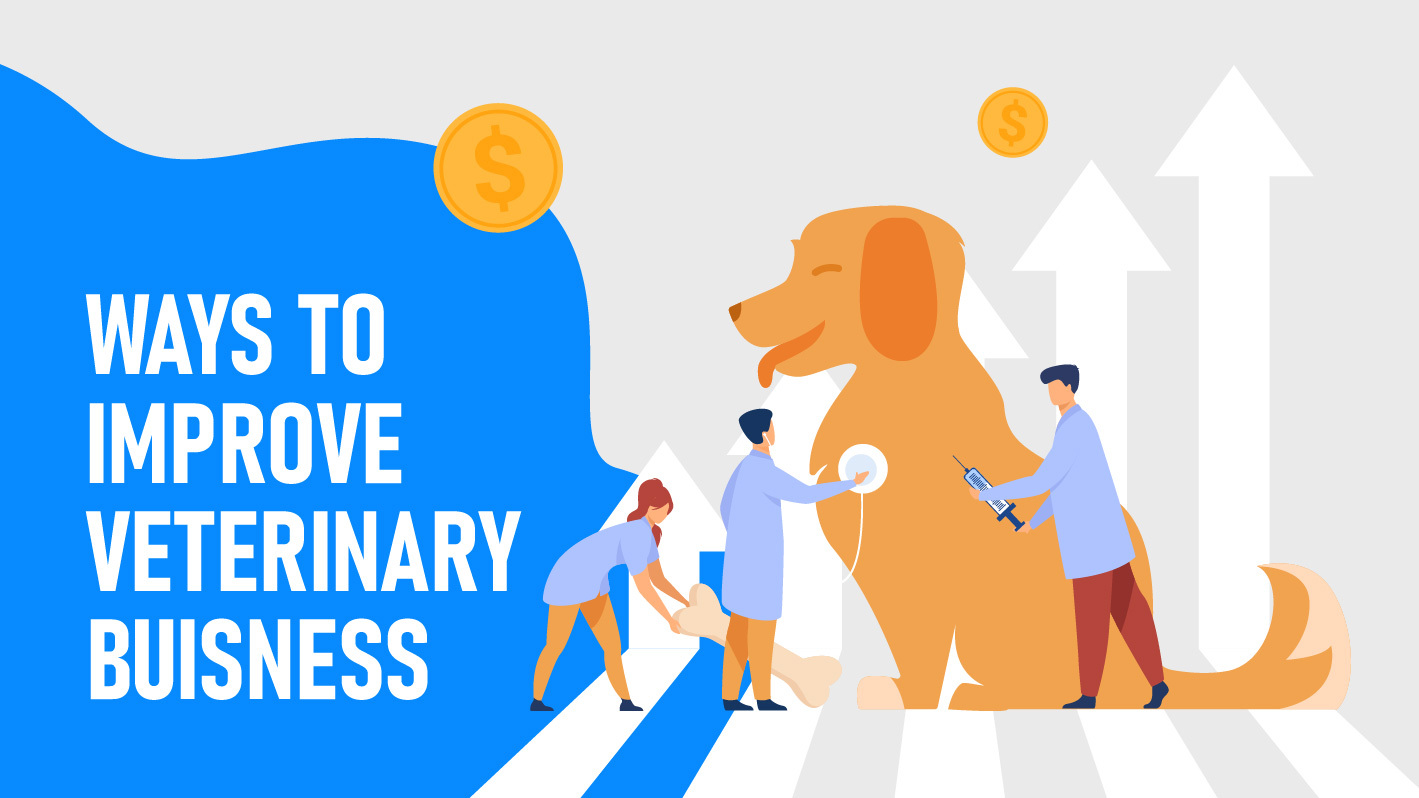 Published: 9 April 2021
Effective Ways to Increase Veterinary Business
---
U.S pet spending hit $103 billion in 2020, out of which $31.4 billion was spent on vet care and product sales. It is expected to reach $110 billion in 2021. The rise in pet ownership has a huge contribution in this. As the industry is growing, more businesses are showing up. Competition for veterinary service providers is constantly increasing. In the years from 2019 to 2024, the number of cats and dogs are predicted to increase at a faster rate.
In such scenarios, running a veterinary practice is no piece of cake. It's filled with ups and downs, risks, failures and at the same time pleasing successes. It requires a lot of skill and patience. When you go down that road, you are required to have detailed knowledge of both the field and the business model.
So, for a veterinary practice to be successful one must have business skills. Being good at managing finances, following up trends, and adapting to changes will give the clinic the boost it needs.
Talking about business skills, often veterinarians fail to pay attention to their practice's marketing plans and branding in their busy schedules. Here are a few suggestions which can help your veterinary practice start growing in a few weeks.
Let's look at a few ways in which veterinary businesses can expect growth.
WAYS TO IMPROVE VETERINARY BUSINESS
Work on Your Clinic's Ambiance
The first and foremost thing that you can work on is your clinic's ambiance. The clients are going to spend a fair amount of time in the clinic which makes it essential to make your clinic look and feel welcoming. Maintaining a clean, comfortable, efficient, and aesthetic clinic is very important.
Build a Reliable Team of Veterinary Staff
Talking about in-clinic experiences it becomes essential to hire efficient staff members. The clients need to feel a connection with your staff and be comfortable enough to pay a visit again. Staff members must provide high-quality services and treat all patients like their own.
The need to sustain the existing clients is equally important as getting new clients. And the only way to do that is to have a healthy bond between the clients and the staff.
Stay Updated
It's very important to stay up to date with all the new and advanced technologies being introduced in the field. Which also makes it possible for a clinic to provide any services a customer asks for.
Emergency cases are very usual for veterinarians. It can be resolved easily with quick decision-making skills and having the confidence to implement them at the right time. This also makes it crucial for a vet to possess appreciable leadership qualities.
Maintain a Healthy Work-life Balance
It is rightly said that nobody works better under stress, they just work faster, which is not really what is expected out of a vet at most times.
A great vet needs to be all calm and composed when dealing with their clients. This is what makes having a good work-life balance important. It's important to take time off clinic and spend quality time with family and friends which will help keep the mind calm and ready to work better.
Improve Client Communication
Communication skills are necessary for everyone to possess and it gets even more vital for a profession like that of veterinary. Communicating well with the clients to draw out the important information and explaining the diagnosis along with the treatment plans, is of prime importance.
According to a study,
54% of veterinary clinics use e-mails to communicate with their clients.
76% of veterinarians slightly know or don't know at all about social media sites.
And 50% consider social media as a marketing strategy.
The catch here is that one needs to communicate with their client in the way they prefer communicating in.
One way to do that is social media but what's something more you can do for this?
Conduct Webinars and Learning Sessions
Well, how about having educational courses for your clients to make them know more about their pets and also the services you're providing them. This will also make you know your clients well and form a healthy bond between you and them.
Consider doing some sessions on topics like "how to trim nails of your pet at home" or "giving therapeutic baths at home" or "hairfall management for your furry friends".
Though these are all interesting ideas to boost up your client engagement, we cannot forget the social media aspect of the same.
Use Social Media Contests
For that, one must think of some interesting ideas like that of a social media contest!
It can be as simple as you asking your clients to put up a video of their pets' reacting to when they are given their favorite treat.
And in return for uploading the video, the cutest reaction gets points that when added up to a certain number will help them get a discount coupon for their next visit.
In this way, they'll be drawn to have the next visit and also would remember your clinic as "the one where I won the social media contest".
Optimise Your Website
It's 2021 and we all by now know that every client that has stepped into your clinic has done their research on the problems their pets are having, the possible solutions to them, and the quality/ reviews of your clinic.
So how about you give them all of this on one single platform and that is your very own website.
Creating a website for your clinic is probably the best way to have client engagement. There are so many things to offer on your website for your clients. But, how can you have an edge over them?
It's a visual world and people respond to visuals.
Try incorporating short visual clips on your website where you could be giving some important information to the clients or maybe like a tutorial for them to teach tricks to their furry friends.
Start Email Marketing
As we saw that 54% of clinics still use e-mails to communicate. It's important to talk about how you can increase engagement via e-mails.
Plan your email campaigns beforehand. Decide what you want to communicate through the email, whether it's a reminder email or a special offer or just an email to stay in touch with your clients.
Planning out email discounts and email marketing campaigns will make more clients engage with your emails.
For example, creating campaigns related to the current offers you're offering of say 40% on micro chipping.
Get a Practice Management Software
All this email work along with handling client-related documents, functions can take up a lot of your practice time.
A lot of veterinary doctors recommend the use of technology to manage all this documentation work. EMR (electronic medical record) software and PMS (Practice Management Systems) can help you maintain and recover all the information in no time.
These management systems are easy to use and designed to assist every need of veterinarians. You will no longer need to record everything manually and shuffle through dozens of pages when looking for an important document.
Practice management softwares is worth your time and money. It gives you maximum control with minimum efforts.
Provide Flexible Payment Options
You'd agree that sometimes payments and transactions can be a challenge. Client's like to have convenient and easy payment processings. Also, treatments are expensive which makes it challenging for a lot of clients to be able to afford it.
So, providing flexible payment methods to the clients is a good way to show them how you care about the health of their pet and your services rather than just the money.
This helps you to gain your client's trust and will help you not face a no-show game.
Case Study
Let us look at a case study conducted by our team.
The problem being faced by the clinics was that they had no returning clients. They were continuously losing valuable clients.
To find the solution to this, the clinic came onboard with VETport which is a cloud based practice management software with SOAP-based EMR, online appointment scheduling, telemedicine app, CEO dashboard and more.
The easy-to-use interface made it possible for the staff to work without any hassle and devote more time to the clients resulting in the formation of a healthy bond between the two.
Now, as a result, the clinic saw a huge improvement in the no-show game Veterinary staff were able to interact more with in-build email templates, postcards and online reminders. This resulted in improved communication and a healthy client relationship.
Looking at the statistics, which tell that there was a decline from 11% to 3% in the no show rate of the clients.
Conclusion
Keeping all this in mind, try and make strategies that you can use to boost up your business. Remember to not follow your competitor's footsteps and come up with a plan that particularly suits your veterinary practice.
As you think of expanding your business later on, consider some business funding solutions available to you.
Want to try VETport for FREE?
No Credit Card Required
FREE Telemedicine App till Covid Crisis
Access to VETport PMS Email Course
Related Articles
Streamline your practice with VETport
Sign up Now!!!