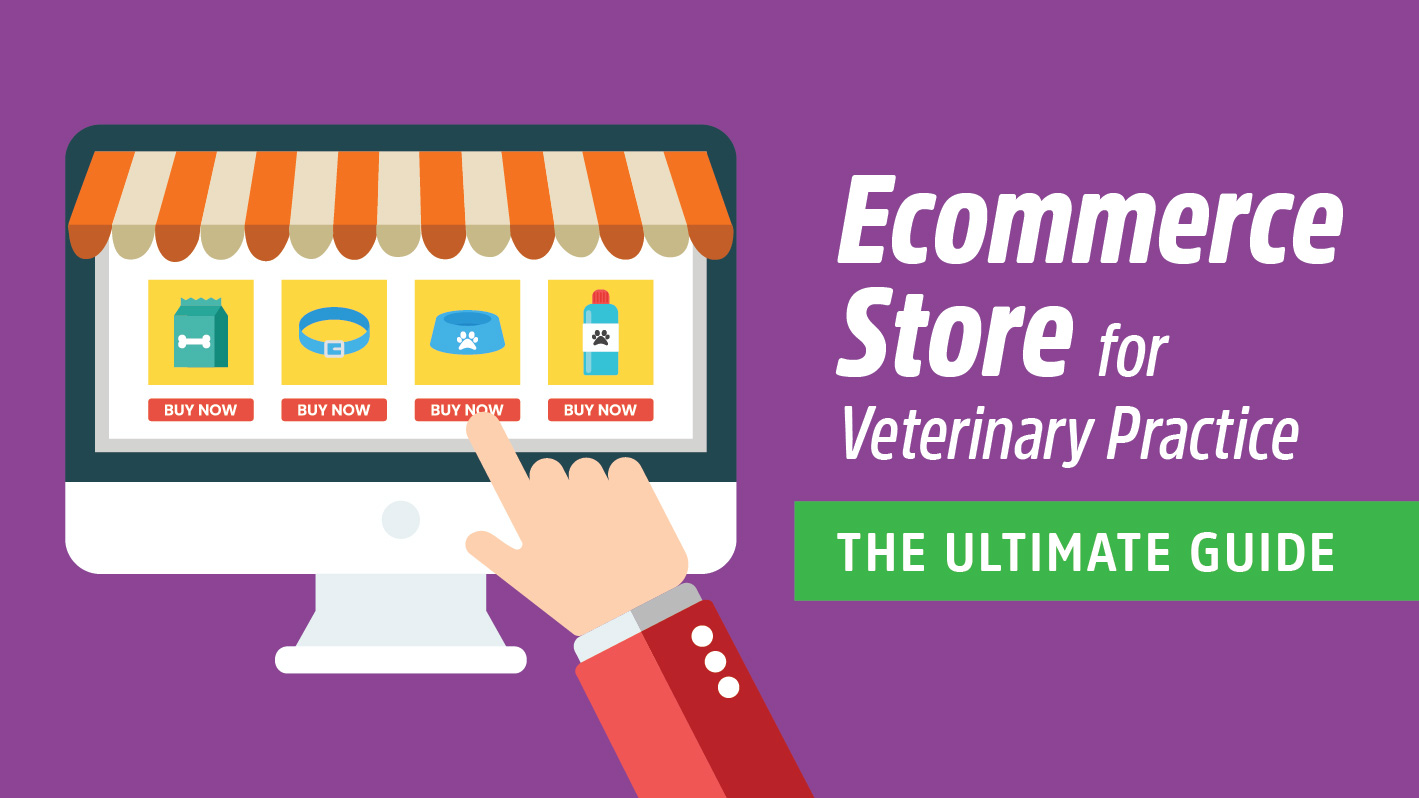 Last Updated: 04 June 2020
Ecommerce for Veterinary Practice: The Ultimate Guide
---
Why You Need an Ecommerce Store?
The percentage of people who bought pet products from veterinary practice fell from 16% to 9.4% between 2010 and 2018. (AAHA)
And according to this report from last year, Walmart is planning on having 100 vet clinics in its stores within the next 12 months, growing from the 21 it has today.
Scary as these stats may seem, what does this mean for your vet practice?
Before we get into all that, I think we can all agree on one thing: Vet clinics are one of the most significant parts of the pet industry.
But there's competition on the horizon. And you can no longer limit your business to brick-and-mortar channels.
More and more retail stores are combining pet care with their business.
If you want to say relevant in this climate, you need to up the ante.
Today's pet industry is an omni market channel. And you need to keep up.
Why?
Because you are not just competing with the physical vet clinics.
You are competing with the Internet. The internet is one of the largest competitors of vet clinics when it comes to pet medications and pet food sales.
Luckily, the solution isn't too complex.
Here's the deal: You have to start an ecommerce store for your clinic.
And we are here to help you with that.
But first, allow me to explain: Why you need an ecommerce store?
It is indeed true that vets hold the trump card when it comes to hand-on pet care.
But there's a catch.
The consumer market is becoming increasingly disruptive.
With the advent of modern digital trends, you need to become an expert at both competing and partnering with these market forces.
And that's where an ecommerce store will help you.
So here we go.
How to Start an Ecommerce Store for Your Vet Clinic?
Starting an ecommerce store is like starting a new business. And it is hard. And there is no single structure to opening an ecommerce store.
But since you are so close to pet owners, you've already crossed the biggest barrier to start an online business: You know your target audience inside out, like no-one else.
Here are certain steps that will make the whole process easier for you:
1. Pick a Business Model
This is a critical step. Don't start your business with a hunch.
Remember:
An ecommerce store is an investment. So, pick a business model that works for you.
Do you want to specialize in pet medicine? Will there be a subscription service? Do you want to offer grooming advice online?
These questions will help you chose the right business model.
2. Choose Your Niche
Ask yourself this:
Do you order pizza from a chain that specializes in pizzas (like Dominos,) or a restaurant that offers a wide range of foods, including pizzas?
Here's the thing: niches are important.
Pick one thing you want to start with and expand slowly. (Do you know that Amazon, popularly called 'The everything store', started by selling books only.)
We recommend starting with pet food.
Why?
Millennial and Gen Z pet owners are more likely to shop for pet food online.
According to a report, 26% of cat owners and 27% of millennial dog owners prefer home delivery of their pet food. (Source)
Other products' categories you can add to your catalog are:
Flea and tick products
Oral care supplies
Pet training tools and supplies
Pet calming products
Pet supplements
Enrichment toys
Here you have an edge too. Clients believe that any product that is recommended by a vet is more reliable than that by food retailers or manufacturers.
Take advantage of the position of authority you have.
3. Brand and Vendor Selection
It is important to pick a brand that is good for pets, but you also need to keep in mind your clients' preferences. To this end, you can have a survey asking for clients' opinions and do your research as well.
Here's our post on conducting surveys and getting clients feedback, if you want to read in detail.
Once you have picked the brand, it is time to decide what vendors you will order from.
One more thing:
Make sure you meet the vendor before finalizing everything. Let them know about your expectations and what kind of service you expect.
Here are some vendors to get you started:
Hill's
My Vet Store Online
Purina Pet Direct
Vetsource
A side note: We are not associated with these brands in any manner and don't profit by recommending them. We just love sharing resources we think you'll appreciate.
4. Register Your Business
It is recommended to start your ecommerce store with a name that is the same, or similar to your clinic's name.
Why?
So that you don't lose your regular clients when they search for you on the internet.
Other details that you need to take care of are:
Make sure you have an incorporate business. This will help you with legal protections and you will also get some tax benefits.
Get relevant licenses. To this end, you can check out the resources at Small Business Association. The website has some excellent courses and a mentor-protégé network.
Apply for permits. Online businesses also need to follow certain regulations. You can check with city hall to see what sort of permits you need.
5. Create Your Website (In Case if You Don't Have One)
After registering your store legally, now you have to think about the design of the website, domain name, and URLs.
You can refer to this detailed post on creating a website for your veterianry practice.
It's better to have an ecommerce section on your main website.
You can only have an ecommece website also. For this you can choose any of the ecommerce platforms below:
BigCommerce (Open Source)
Shopify (Plan starts from $29/month)
WooCommerce (Open Source)
6. Marketing
Now your website is ready and you have an inventory of products. So you need to market your store so that orders start rolling in.
If you want to convert your regular clients into online shoppers at your store, you need to inform them about your store.
For starters, you can announce the launch of your store via email, texts and postcards.
Ramp up your social media marketing marketing. Build up online engagement with clients. Ensure that you post regularly on the most robust platforms relevant to your niche.
For the word of mouth marketing, you can also offer a gift card for clients on their very first order or any referrals by them.
Here we've discussed 4 highly effective marketing tactices.
After the Launch
There are certain things you need to keep an eye on once you launch your store.
These are:
1. Measure the results
This will include monitoring the effects of online sales on your business.
Some of the most important KPIs to measure are:
Product sales
Retention rate
Average order value (Open Source)
This will tell you if your promotions are giving you a positive result.
2. Make recommendations consistently
Personalized, specific, and detailed recommendations will be helpful to your clients and help you close more deals. It'll help your clients save time and effort.
Let's imagine a scenario:
Suppose a client is struggling with a dog that doesn't do well with the leash.
Here's how you can address such concerns on your website:
For Spot, who is active and strong, we recommend Harnesses instead of leashes. This will keep the pressure away from the dog's neck, and also prevent any orthopedic pains in the future. You can check out our samples in the lobby, and find the right size for your dog. Then, you can order the color and size you want from our online store.
Such messages are more effective than simply telling a client, "Maybe try a no-pull harness."
It's also a very good place to upsell or cross-sell by clubbing things together.
3. Learn how to be uncomfortable
This is a new business for you, and you are bound to feel uncomfortable and awkward in the beginning.
But omnichannel business is the only way to grow in this age.
A tip for growth: Install any analytics on your website and dig it for patterns and insights.
Final Thoughts
Here are some facts:
In 2018, more than 12 million households in the US bought items for their pets online.
Pet industry predictors indicate that by 2023, online stores will control 23% of the market share in the pet product industry.
Online pet-product shoppers are 64% more likely to shop for a product recommended by their vets.
To sum up:
Just like every other consumer in the market, technology is now driving pet-shoppers' needs.
But the golden opportunity lies within these trends.
How?
Pet parents buying habits are highly influenced by vet recommendations.
What's more:
The newer generations, that is, millennials and Gen Z are more likely take a vet advice on pet product recommendations than baby boomers.
Although people buy all types of pet products online, those that affect pet health assume higher importance when recommended by vets.
In times of technological changes, we recommend vet clinic owners to get ahead of the curve and take small steps today to improve the sales and growth of their clinic tomorrow.
We'd love to know your thoughts.
Want to try VETport for FREE?
No Credit Card Required
FREE Telemedicine App till Covid Crisis
Access to VETport PMS Email Course
Related Articles
Streamline your practice with VETport
Sign up Now!!!